Athrú (pronounced something like Ach-roo) is the Irish whiskey produced at Lough Gill distillery. Built in 2019 they are currently bottling whiskey sourced from other distilleries while starting their own production.
They started with a 'creation triology' of 14 year old single malt releases. Later they also bottled younger and older whiskey. I have to admit I was impressed by the packaging, which is modern and quite luxurious at the same time.
Apparently Billy Walker played a role at this distillery (his signature is on the label). He sourced 500 casks of Irish whiskey from his friend John Teeling to get this project started.
So, let's get started with Ahtrú Keshcorran. This single malt aged in American oak barrels for 11 years. Then it was moved over to Tokaji barrels from one of the oldest wineries in Hungary.
Athrú Keshcorran 14 yo (48%, OB 2019, Tokaji wine cask finish, 6600 btl.)
Nose: a lot of honey and peach aromas, with hints of dusty wood shavings. Then raisins and grapes, as well as drier cereals and hints of coconut flakes. Hints of caramel and vanilla. Tinned pineapple and passion fruit syrup come out as well.
Mouth: still very sweet and creamy. A lot of honey, a lot of tinned peaches. Then there's a hint of tropical fruits (mango, pineapple, lime) and a hint of lychee – much like some of the whiskey bottled by Teeling. Cinnamon, clove and white pepper appear in the end, with an edge of green wood.
Finish: quite long, with a hint of late harvest wine, ripe fruits and some drying leafy notes.
Really nice. The sweet Tokaji dessert wine leaves a big mark, balancing the spicy notes and highlighting the fruits at the same time. Still available from Master of Malt and HTFW for instance. It seems to be under the launch price now, delivering good value for money in my opinion.
Athrú Knocknarea 14 yo (48%, OB 2019, Oloroso sherry cask finish, 6600 btl.)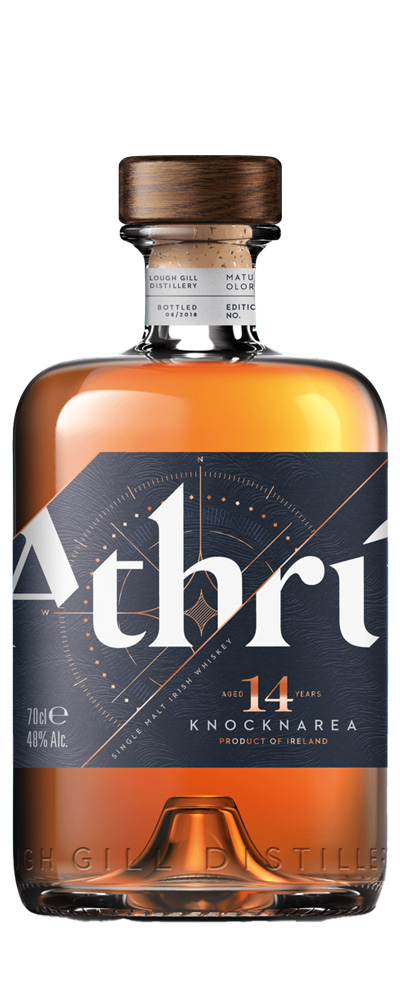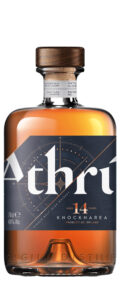 Nose: much drier, with more pencil shavings. Hazelnuts, hints of cedar wood, alongside cinnamon and nutmeg. Very spicy, underscored by grassy notes and a wee hint of unlit matches. Some red berry sweetness in the background.
Mouth: not bad, the sherry is easy to note but it's on the drier side again. Cinnamon and nutmeg galore. Orange zests with raisins and a hint of brown sugar. Mid-palate there is an echo of fruits, but more like orange juice, certainly not as tropical as in the Tokaji sister. A lot of grassy notes appear, with a return of the bready spice.
Finish: quite long, nicely nutty like a proper Oloroso, with more of the baking spices, cigar boxes and caramel sweetness.
This goes in different directions. It's not a perfectly classic sherry profile, only consider this if you're into dry and spicy whiskey. Still available from Master of Malt or HTFW. Score: 84/100
As a side note, I bought a sample of these whiskeys from Celtic Whiskey. I didn't know they had a dedicated sample service called Drams Delivered, but I must say the range of Irish whiskeys they have on offer is incredible. They should invest in other closures (the screw caps have a sealing ring but it doesn't work as it should) but other than that, good service.