Following on from their Revival and Renaissance series, Teeling distillery kicked off the Rising Reserve series recently. It consists of hand-selected casks from reserves of their best and oldest single malt whiskey.
Teeling Rising Reserve No.1 is the first to hit the market, as a 21 year old. It is initially aged in ex-bourbon casks and then finished in Carcavelos casks. For some background information on this fortified wine from Portugal, check my review of the Teeling Brabazon 04 which used the same type of casks. However this time they only used French oak barrels.
Teeling Rising Reserve No.1 21 yo (46%, OB 2022, Carcavelos finish, 6000 btl.)
Nose: initially this has a funky note that I've not had in whisk(e)y before. Something in between a cheesy note and the kind of fermenting fruits that you get in some rums. Interesting and certainly not wrong. It fades away, making place for yellow plums, pears, tinned pineapples and bergamot. I'm also getting a leathery touch, whiffs of candyfloss and pastry.
Mouth: sweet and quite spicy now, with both salt and pepper coming through. Also cinnamon. Somehow the typical Teeling fruits don't really express themselves as much as we expected. There is grapefruit, green pear and vanilla. After a while a light caramel / chocolate note comes forward, as well as a woody note.
Finish: medium, going back and forth between orchard fruits and citrus zest. Subtle hints of sour wood but also coffee beans.
This is a slightly uncommon release in my opinion, with a firm woody note and some unexpected aromas. Somehow the tropical fruits disappear behind the wine. Not exactly in tune with what I adore in Teeling whiskey, but it's an intresting variation. Now available in several countries for around € 225.
While trying the Rising Reserve No.1 in an online tasting recently, there was also a sneak peek at the rest of this series! In the following years two more versions will be bottled, at the same age. Teeling Rising Reserve No.2 matured for 17 years in ex-bourbon and then in Marsala casks.
Teeling Rising Reserve No.2 21 yo (46%, OB, Marsala finish)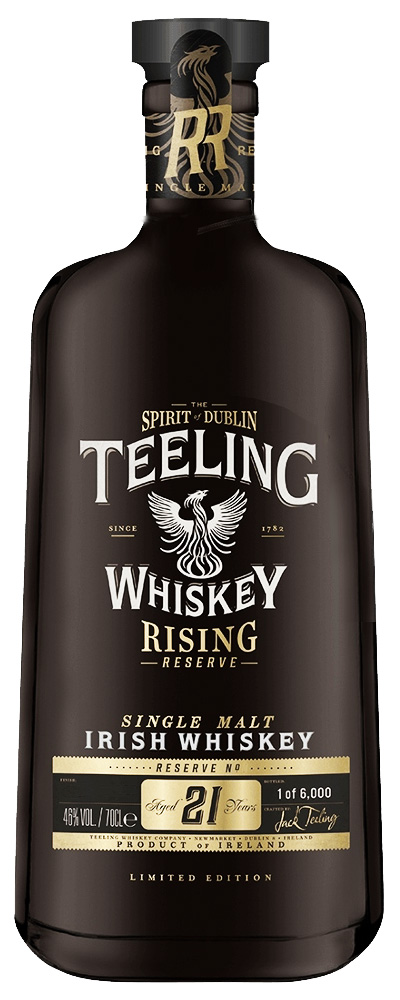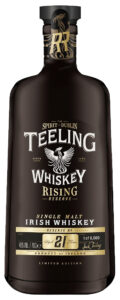 Nose: some fresh woody notes up front, I even thought of (virgin) wood at some point. Then a leathery note, with hints of tobacco, nutmeg and cardamom. Manuka honey. After a few minutes mango, banana and kiwi start to appear. A subtle floral touch as well. Nice.
Mouth: there's still this woody and leathery side to it, as well as some tobacco leaf dryness, but lovely fruity notes boast forward quickly. Tropical notes like passion fruits, dragon fruits and star fruit. A nice tart character. More honey. Towards the end it turns to wood spice.
Finish: quite long, getting drier now with a light tannic touch. Hints of mint and dried fruits in the background.
I'm guessing these Marsala casks were quickly seasoned, as they are still adding a newish woody note. On the other hand the tropical fruitiness is much clearer in this expression. I loved this one, keep your eyes peeled. Score: 90/100
Teeling Rising Reserve No.3 uses Ruby Port casks. Mind that we were probably trying a preliminary sample. I expect these two to be bottled later, so there may be a (negligable) change in profile. Keep an eye on the distillery website for more details about the upcoming whiskey releases.
Teeling Rising Reserve No.3 21 yo (46%, OB, Ruby Port finish)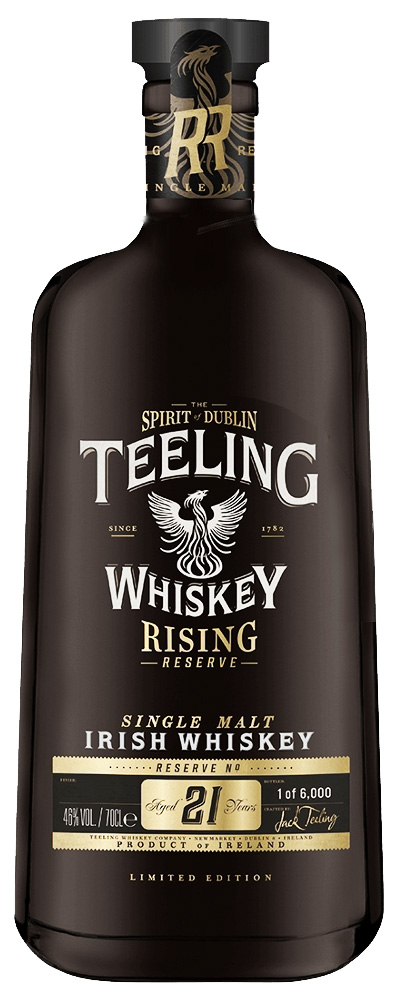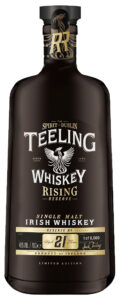 Nose: the sweetest of them all. Strawberry and blackberry jams, with rose petals and candy apples, nicely fragrant like a rosé wine. Then raisins with a subtle hint of chocolate and cinnamon. Hints of toffee. A hint of toasted oak in the background.
Mouth: more strawberries and red grapes. Cinnamon pastry and cloves. There's an almost velvety texture to it, with a lot of candied fruits and brown sugar. Some flashes of brighter fruits appear in the middle, but not the tropical kind and always with a caramelized edge.
Finish: sweet and dry notes side-by-side, with toffee and wood spice (nutmeg among others).
I think the jammy sweetness is a little too much here, but I totally get why others would say this is the richest whiskey in the series. Also, wood spice appears to be a common thread in these whiskeys – isn't that a downside of the quickly seasoned (newish) oak that everyone is turning to these days? Score: 86/100