Zuidam distillery, as you may know, sticks to 'proper' ex-solera casks to mature its whisky, rather than the ubiquitous seasoned casks. Many of them seem to be re-coopered or re-composed though, so smaller than the original sherry butts.
I must admit Millstone whisky has been hit-or-miss in my experience. There was a lovely young TBWC bottling but also less impressive older casks. Most were brought to the market at quite a young age anyway.
Today we're trying the oldest bottling of Millstone so far, as far as I can tell. Millstone 26 year old 1996, matured in an Oloroso sherry cask and exclusive to The Whisky Exchange. Next up we have a Millstone 2017, a peated expression, also for TWE. Both are celebrating the Singh family's 50th year working in the drinks industry.
Millstone 26 yo 1996 (42,4%, OB for The Whisky Exchange 2022, Oloroso sherry cask #4152, 233 btl.)
Nose: pretty fantastic although it reminds me of other spirits (Brandy de Jerez mixed with cognac) more than of whisky. Great acidic fruits like juicy plums and figs, raspberries, cassis and orange peels. Marmalade and sour tobacco. Rosehip tea. Cigar boxes and walnut cake. Hints of marzipan in the background. I'm sometimes missing fruits in Millstone spirits, but this is so juicy!
Mouth: more of this high acidity, now with hints of vermouth (orange / clove combo), raspberries again, as well as cranberries. Egyptian karkadeh. Mint leaves and star anise, raisins in rum, tobacco leaves. Then this cognac-like fruitiness (pink grapefruit and lovely mango slices) with a hint of rancio. Wonderful.
Finish: long, on leathery notes, plums, walnuts and red berry jam.
The combination of fruity sherry, polished oak, rancio and even tropical fruits remind me of some of the best old Redbreast. This is superb and quite unique, a great advocate for ex-solera sherry casks. It offers many different elements, it's never woody and utterly drinkable. A future classic, exclusive to The Whisky Exchange.
Millstone 5 yo 2017 (54,7%, OB for The Whisky Exchange 2022, Oloroso sherry cask #170444, 315 btl.)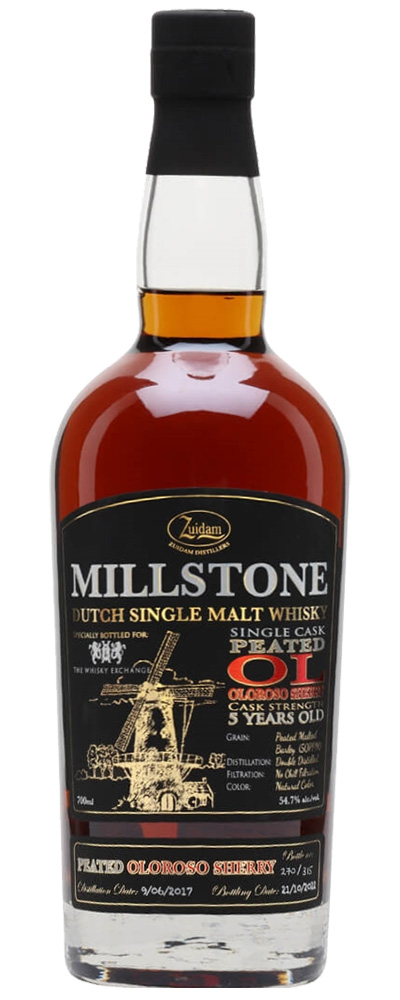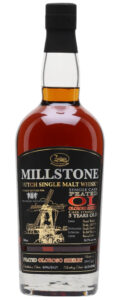 Nose: coal smoke and fireplace ashes, as well as tobacco leaves. The sherry is much less fruity here, mostly on cooked meat and Maggi sauce over toasted bread. Then hints of soy, coffee grounds, old Pu-Erh cakes and increasing amounts of fresh and burnt herbs with tobacco leaves. Very umami-driven, reminding me of Edradour at times (never dirty though).
Mouth: right, quite a powerhouse. The herbal and spicy side is probably bigger than the peaty side or the pure sherry. More tobacco and hints of cedar wood. Then sour elements, crushed peppercorns, some tannins too. Coffee and leathery dryness, with sooty undertones and prunes.
Finish: long and rather dry, with leather and dark ashy notes.
Impressive how much intensity this picked up after five years. Expertly matched to an active sherry cask, I think, although the wood is leaving a firm, rustic footprint. A nice wintery dram. Still available from The Whisky Exchange. Score: 86/100