This a bit of a sentimental session. Peated Cooley is something I discovered early on in my whisky career. In the early 2000s they were high on the lists of many (Belgian) whiskylovers, leading to a series of excellent Connemara single casks exclusive to clubs, festivals and retailers. I vividly recall the 1992 for 100° Proof for instance.
Around the same time independent bottler Cadenhead's started bottling a series of Cooley 1992 casks in the Individual Casks range. I remember reviewing a young version that came close to Brora in some respects. They went on and bottled one of these casks each year, so you could follow the evolution as they grew older. To me they are some of the best products I've ever tried from Cooley.
Today I'm reviewing three others that I hadn't tried before. It should have been four though, I'll explain later.
Cooley 12 yo 1992 (60%, Cadenhead's 'Individual Cask', 2004 bourbon barrel, 234 btl.)
Nose: still very beautiful in my opinion. It is a very medicinal profile, with lots of dried herbs and burning wood logs, as well as barbecue ashes. Wet dogs. Hints of iodine and TCP. It gets sootier and deeper over time. In the background there is a layer of sweet vanilla ceam, sourdough and yellow apple. A late hint of roasted pineapple as well.
Mouth: quite punchy, with lots of herbal notes again, as well as white pepper and plenty of sooty peat smoke. Then there's some fruity acidity (lemons) and grassy sharpness. Subtle melons. Charred notes and a wee chalky note in the end.
Finish: nicely long, with a spicy core, followed by medicinal smoke and vague hints of fruit.
Excellent Cooley, I vividly remember why I found this so special. A perfect combination of herbal peat, sooty notes and fruits. That said, there's less of that farmy side that reminded me of Brora.
Cooley 16 yo 1992 (57,4%, Cadenhead's 'Individual Cask' 2008, bourbon barrel, 194 btl.)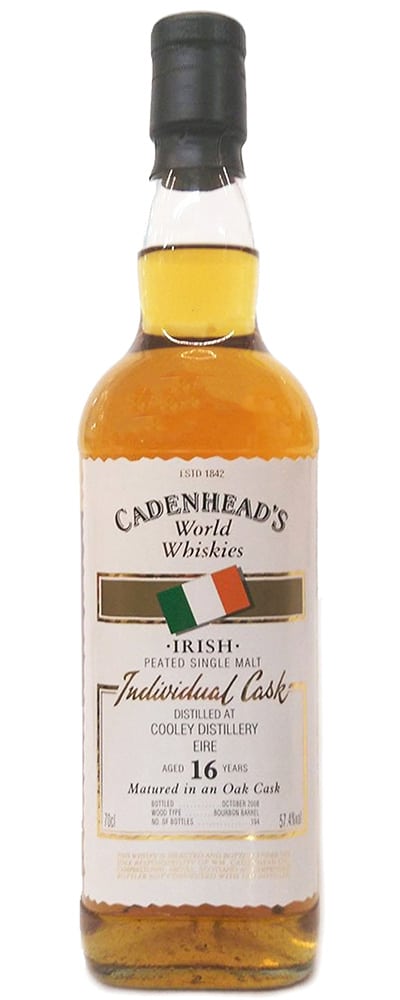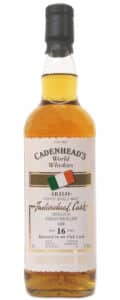 Nose: initially this shows more vanilla roundness. Then there's that hint of Brora I was looking for. I can only describe it as a mix of wet sheep and wet hay, maybe a bit of dried horse dung – a stable aroma if you like. I love this. Some antiseptics, charcoal, with light toffee and heather honey in the distance. A bit of library dust as well.
Mouth: warmer than the 12 year old, which means more hay and burnt grass, crushed black peppercorns, against a backdrop of barley sugar, lime zest and tobacco leaves. Lots of ashy notes and medicinal oils. Hints of roasted coffee beans too. Slightly rough around the edges, but very good.
Finish: long, sooty and slightly camphory, with burnt vanilla and ashy notes.
Superb whiskey. It has everything I like about Connemara and then some. The Brora-like notes are really excellent. I almost went for a higher score, but let's not be influenced by memories from the old days. Score: 91/100
Cooley 21 yo 1992 (56,3%, Cadenhead's 'Individual Cask' 2013, bourbon barrel, 210 btl.)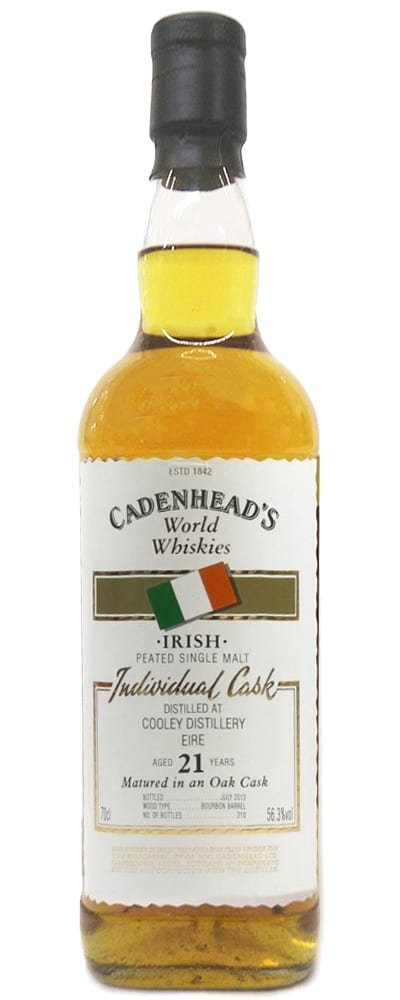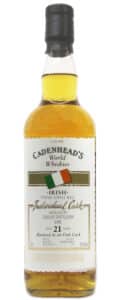 Nose: now there's a great fruity side that comes out first. Juicy pears and kiwi fruit mixed with herbal smoke and candied lemon peels. Earthy notes, herbal extracts, eucalyptus and mint, subtle vanilla cream. Then hints of chamois leather as well as a faint hint of pink grapefruit. The farmy side is subdued again.
Mouth: fresh and relatively tart, with more pink grapefruit and green apple coming out. Then it becomes darker, with peat smoke, a hint of cocoa, leading up to roasted coffee beans again. Some wood spice and grassy notes. A hint of herbal bitterness too. Plenty of ashes and black pepper. Already subtle hints of tropical fruits in the distance.
Finish: long and fairly oily, with more ashes and citrus, as well as a light heat.
This reminds me of the undisclosed peated 1991 Irish whiskeys we saw around 2014-2016, though not quite on the same level of fruitiness (yet). Still really good though. Score: 89/100
Drams Delivered revisited
For this session I bought four samples from Drams Delivered, the sample service of Celtic Whiskey. I thoroughly appreciate such ventures. They are incredibly valuable to whisky enthusiasts, especially bloggers like me, allowing us to widen our horizon without breaking the bank.
I ordered four Cooley 1992 samples from them, about eight months ago. Now I discovered one had been leaking severely: it had evaporated entirely, only leaving a few stains on the glass. The reason seems simple: their sealings don't function as they should. The black plastic caps have a security ring which is supposed to crack open once you open the sample. In reality none of the stoppers actually do that, you simply screw off the entire cap including the security ring. I already noticed this when I received the package but I never expected this to happen. I admit I stored the samples horizontally – probably not the smartest idea but pretty logical considering the horizontal presentation box they supply.
Before writing this review, I informed them of the problem and they kindly sent me a couple of replacement samples to make up for it. Nice enough, but I do hope they look into this and find a fitting combination of bottles and stoppers.