Independent bottler Signatory Vintage was founded in 1988 by Andrew Symington and his brother (who withdrew in 1997). The first cask was a Glenlivet 1968 released in Japan. Apparently the name comes from his original idea to get a celebrity to approve and sign every release. Although the first few casks were sold before he could find a famous person, the name Signatory remains.
Recently Signatory started a new series: Symington's Choice. It showcases the most brilliant casks they have in their Pitlochry warehouse. All three are distributed to Germany by Kirsch Import.
Macallan 25 yo 1997 (55%, Signatory Vintage 'Symington's Choice' 2023, first fill Oloroso sherry butt #12/4, 660 btl.)
Nose: really classic and clean, with a great dry / sweet balance. It is full of raisins and blackberries, later also rasberries and jammy plums. Chocolate notes and tobacco follow closely. Then hints of caramelized almonds, walnuts, cinnamon and a little vanilla in the background, as well as light eucalyptus and polished thuja wood. Very typical Macallan (well, maybe not any more).
Mouth: very rich again, with a lot of dark chocolate now, (Turkish) coffee, prunes and tobacco. Liquorice and peppermint. Bread crust, even a light smoky note in the background. Then treacle and hints of forest fruit jam. Some cloves and herbal notes adding freshness. Subtle meaty and leafy notes. Fairly dry and oak-infused by now, but never bitter.
Finish: long and dark, with more dates, raisins, brown bread and a touch of smoky wood.
A dark sherry bomb reminiscent of old GlenDronach bottlings or indeed pre-2000 Macallan. Prices for these kind of Macallans are hard to justify (just my two cents) but this whisky certainly belongs in a series like this. In any case: Macallan as it should be.
Laphroaig 25 yo 1997 (52,2%, Signatory Vintage 'Symington's Choice' 2023, bourbon hogshead #3372, 196 btl.)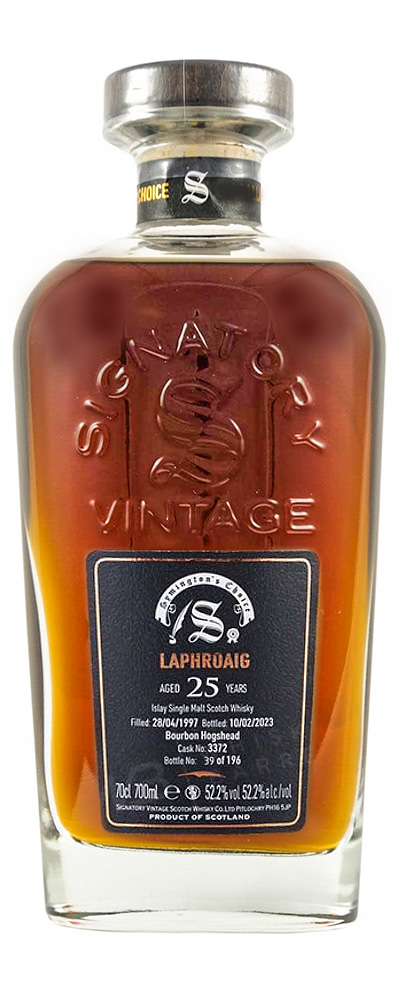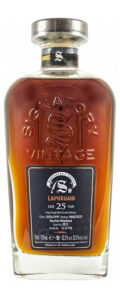 Nose: bourbon, really? Sure, there's the classic carbon paper, old fabrics, as well as camphor and Vicks Vaporub. But also hints of tobacco which hints more at refill sherry perhaps. Subtle bandages and broken branches. Grilled oysters. Just a bright citrusy note in the background.
Mouth: oh, very powerful still. Definitely Laphroaig, with brine, smoke, liquorice, hints of tinned sardines and camphor. Big hints of black peppercorns. Then hints of menthol and black olives, as well as a tiny hint of passion fruit. Tiger balm, wood resin and iodine too. Clearly the work of a fisherman.
Finish: long and smoky, with hints of kiln air, drying herbal touches and coastal notes.
A deep profile with more smoke and coastal power than the official 25 Year Old or 27 Year Olds for instance. While I was hoping for a little more tropical fruits (unfair perhaps), this is simply a very intense, exemplary cask of Laphroaig. Score: 91/100
Bowmore 25 yo 1997 (55,9%, Signatory Vintage 'Symington's Choice' 2023, Oloroso sherry butt #2422, 616 btl.)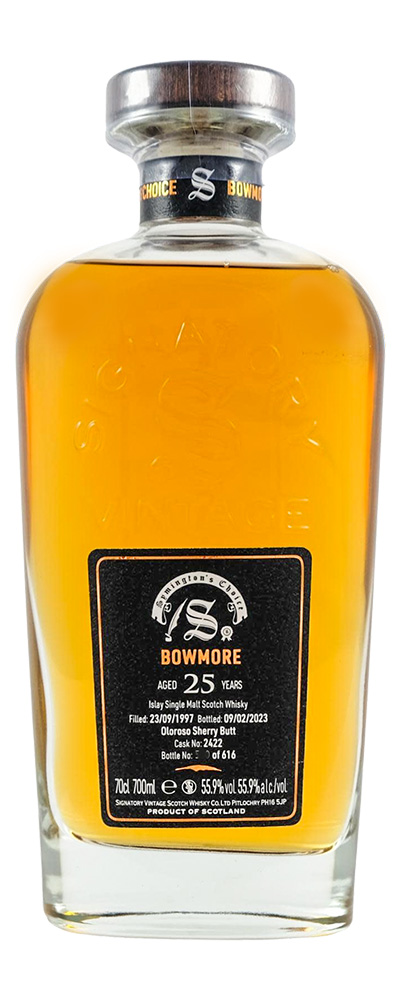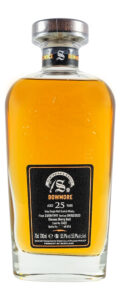 Nose: paraffin, mineral notes, grapefruits and lime. Hints of sourdough. Then oysters, damp gravel and hints of wet tweed. Apple peelings and barbecued pineapple. Lovely mango custard with vanilla as it opens up, as well as a whiff of medicinal menthol. Pretty perfect.
Mouth: really perfect. Exotic fruit juice mixed with seawater. Mango, pink grapefruit and passion fruits. Lemon liqueur, waxy hints and a slightly acrid, grassy smokiness. A few drops of late harvest Riesling too. Increasingly coastal, with drops of herbal tea towards the end.
Finish: long, slightly drier and more herbal, with vague smoke, a little beeswax and the usual seawater.
A beautiful hattrick! Overall this Bowmore stands out in my book, but I'm in a period when I'm rather partial to these tropical fruits with evolved peat. It needs some time but it's all I ask for in old Bowmore. This one is also available from MoM for instance. Score: 92/100