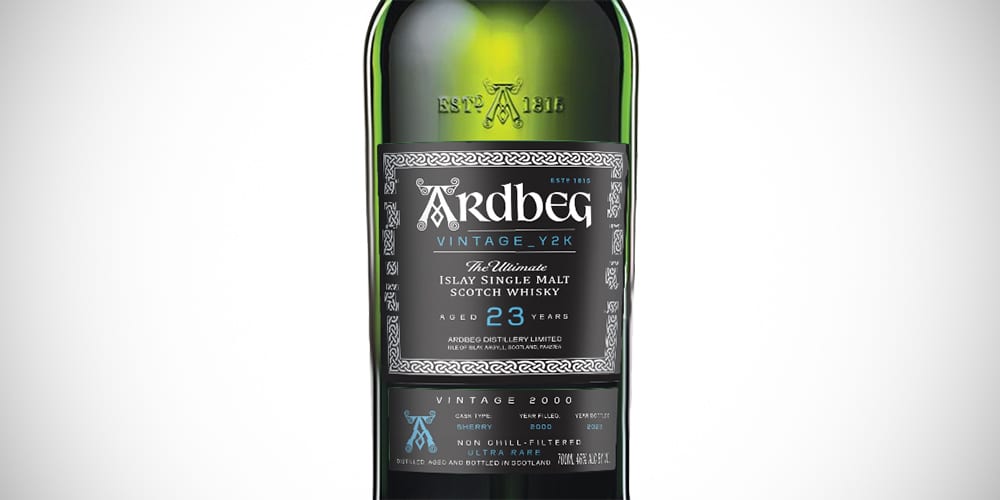 Ardbeg Vintage Y2K 23 Years
Ardbeg will soon release a whisky laid down in the year 2000, amidst the millennium bug frenzy. The new release Ardbeg Y2K is the first of this serendipitous rare stock. It comes from Oloroso sherry and bourbon casks. Official tasting notes mention lemon balsam, linseed oil, heather honey, smoke, ground coffee and tannins. The bottling strength is a standard 46% ABV.
We may sometimes mock Ardbeg for coming up with so many silly names and superfluous reasons to release a vague NAS whisky, but recently they are also bringing out a lot of vintage whiskies and higher age statement. They are usually much nicer than the NAS releases too.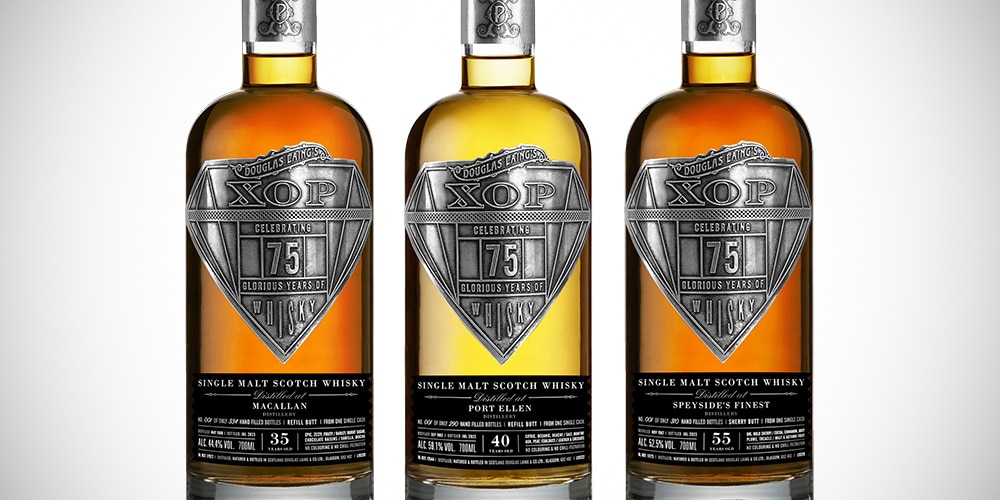 Douglas Laing 75th Anniversary
Douglas Laing celebrates its 75th anniversary in style. Established in 1948 by Fred Douglas Laing, they are now showcasing some very exclusive whiskies. There are six single cask releases:
Macallan 35 Years
Port Ellen 40 Years
Speyside's Finest 55 Years
Port Dundas 45 Years
Blair Athol 30 Years
Cameronbridge 45 Years
The 75th Connoisseur Diamond Set includes bottles with metal labels. Every anniversary bottle is accompanied by a decanter, glass and coaster to deliver the ultimate whisky drinking experience. More details on Douglas Laing's website.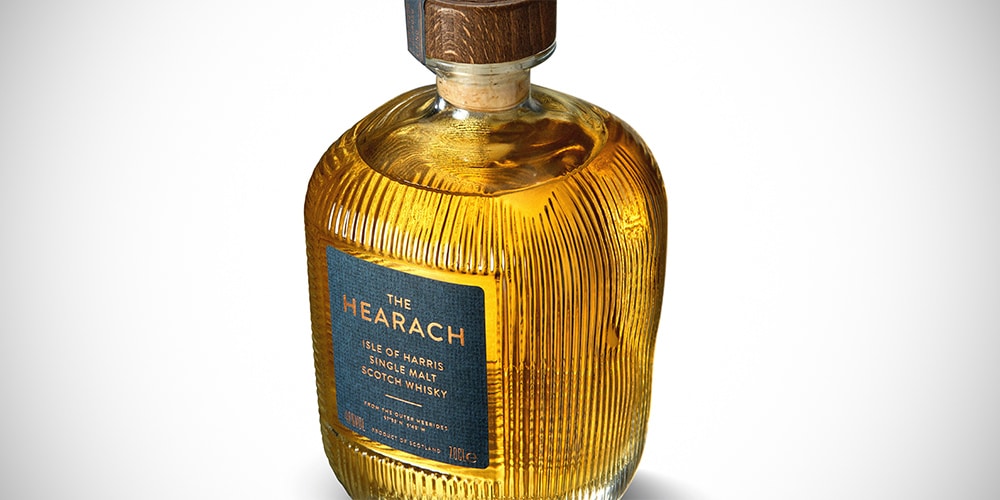 Isle of Harris – The Hearach
Isle of Harris distillers releaved its first single malt whisky: The Hearach. The distillery opened in 2015 and produces the first (legal) dram from the Outer Hebridean Isle of Harris, distilled, matured and bottled on the island. It is a mix of first-fill bourbon, Oloroso and Fino sherry casks at 46% ABV.
Apparently eight batches are released at the same time. Each could be purchased from the website for £ 65 (but they are now sold out).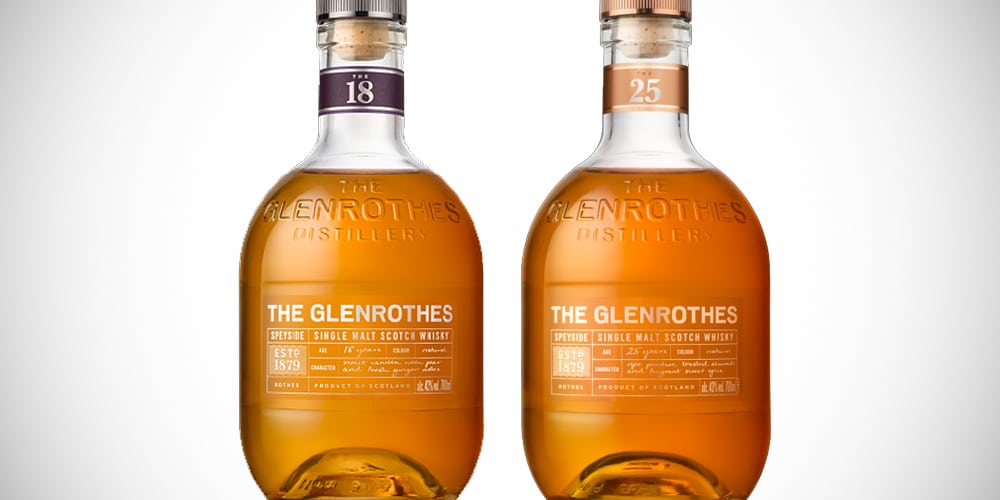 The Glenrothes redesign
The Glenrothes seems to be introducing a new bottle presentation. The Glenrothes 18 Years and Glenrothes 25 Years have been unveiled. In fact if you have a look at their website, you'll notice the range has been decimated. The 18 Year Old is now effectively the youngest in the range, moving the entire brand into a more premium market.
The new presentation features transparent labels that showcase the (now natural, hopefully?) colour of the whisky. There is also a coloured tube etched with the contours of the Glenrothes estate.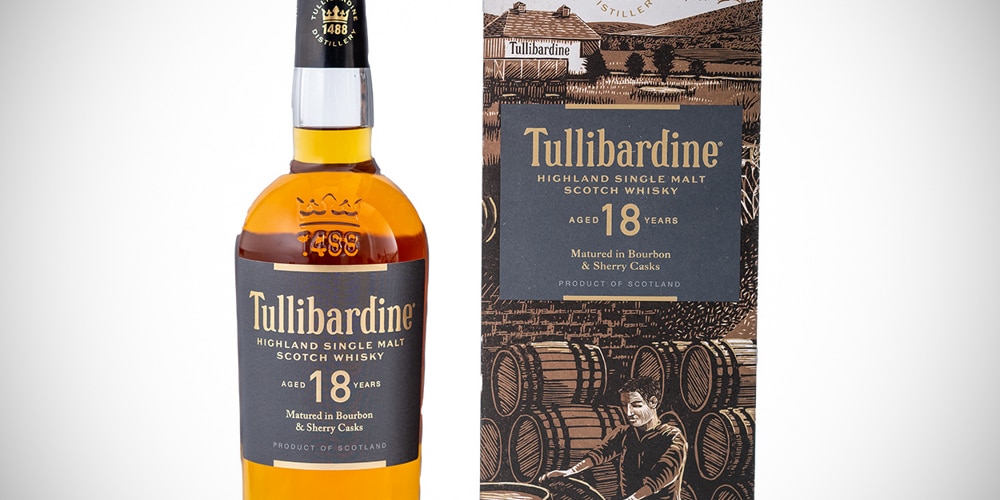 Tullibardine 18 Year Old
Tullibardine adds an 18 Year Old expression to its core range. This single malt has been aged in a combination of first-fill bourbon and sherry casks. The bottling strength is fairly low at 43% ABV. It will get a recomended price of £ 90.
The launch comes alongside a packaging redesign will will also be rolled out on the 15 Year Old. New boxes feature illustrations from Scottish artist Bryan Angus, depicting distillery scenes.
Also interesting
Last but not least, here are some things that grabbed my attention in shops recently…