If the name Macaloney's rings a bell, then it's probably from their legal issues with the SWA who claimed their product names were too Scottish. Graeme Macaloney was born in Scotland but started his distillery on Vancouver Island in Canada. The fight was settled by renaming Macaloney's Caledonian Distillery to Macaloney's Island Distillery.
The Glenloy single malt is now named Macaloney's An Loy. They also produce pot still whisky and a peated single malt spirit (not old enough to be called whisky yet).
Macaloney uses Canadian barley from British Columbia, which results in a thicker malt base, but they also want to highlight fruitiness in their house style. Jim Swan (of Kavalan, Gouden Carolus, Nc'Nean, Cotswolds…) instructed them to use a very narrow spirit cut, and learned them all about STR casks.
While their whiskies are not that easy to find in this part of the world, they do have a European webshop and they're distributed in several countries.
Macaloney's Single Malt – An Loy (46%, OB 'Signature Collection' +/- 2022, bourbon + STR + Oloroso + PX casks)
Nose: very grainy, with brown bread and dark ale, as well as a caramelly sweetness. Then milk chocolate, hints of toasted bread, toasted almonds and some leafy notes. Nutmeg and cinnamon as well. Light hints of red wine in the background. A rather autumnal profile.
Mouth: more of this spicy and grainy character. Black pepper, hints of clove, on a background of rye bread and caramel. Hints of blackberry jam and liquorice. The grainy side seems to highlight the alcohol.
Finish: medium, still grainy with a hint of aniseed. At this point it has some difficulty hiding its youth.
Maybe not my idea of a sipping whisky but this should work well on the rocks. It goes in different directions so I had a hard time putting my finger on the house style, so to speak. Overall there's certainly a nice richness to it, which might be due to the Canadian barley. The old Glenloy release is still available from Master of Malt for instance, but An Loy doesn't seem to have reached Europe yet.
Macaloney's Pot Still – Killeigh (46%, OB 'Signature Collection' +/- 2022, bourbon + Moscatel + virgin casks)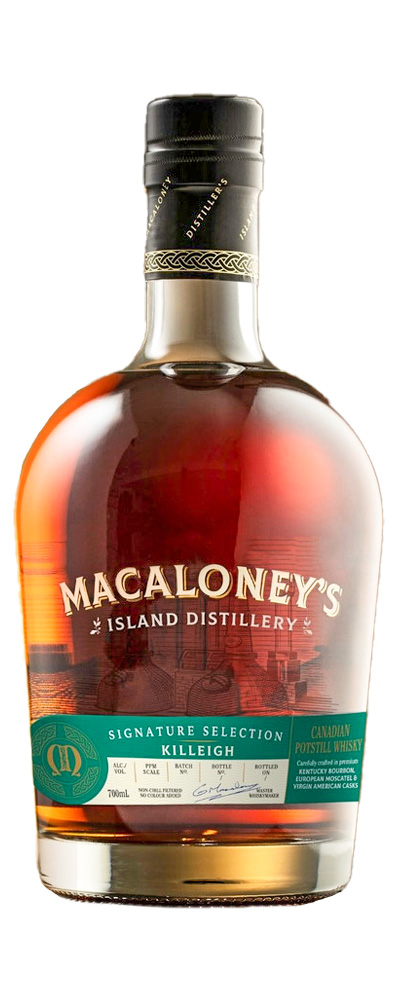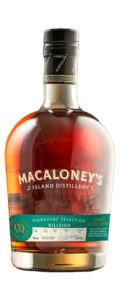 Nose: much lighter, on fruity notes (banana, pear) with vanilla. A friendly, rather Irish style. Then fresh citrusy hints and bright, floral honey. Light whiffs of white grapes, probably from the Moscatel casks. Hints of breakfast cereals too.
Mouth: less convincing now. Fresh grains at its core, but they are quickly taken over by oak shavings and freshly sawn wood. Hints of tangerine and banana, but they fail to come out of the shadow. White pepper towards the end.
Finish: long and smoky, with hints of kiln air, drying herbal touches and coastal notes.
The nose of this Killeigh expression was pleasantly bright and inviting, on par with many an Irish whiskey. However it has limited complexity in the mouth, slightly dominated by the virgin oak. Score: 80/100
Macaloney's Pot Still – Kildara (46%, OB 'Signature Collection' +/- 2022, bourbon + Oloroso + PX + virgin casks)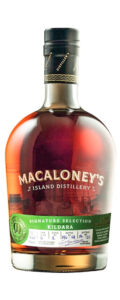 Nose: clearly more sherried now, in a nice way. Raisins and cinnamon pastry stand out, followed by hints of varnish. Molasses and red fruit jam. Still whiffs of newish wood underneath. Hints of tobacco as well.
Mouth: quite dark, on caramelized nuts, plum jam and hints of toffee. Then fresh citrusy notes and wood spice comes forward (pepper, nutmeg). Milk chocolate. A good combination of the pot still brightness and the sherry.
Finish: medium length, on baking spice, red fruit jam and grainy notes.
Overall I'm more impressed with their pot still than their single malt, I'd say. This is my favourite in this session. The quality of their triple distilled pot still spirit is good, and it works nicely alongside the sherry character. Score: 85/100
Macaloney's Pot Still – Kirkinriola (46%, OB 'Single Cask Series' +/- 2022, Portuguese STR barriques)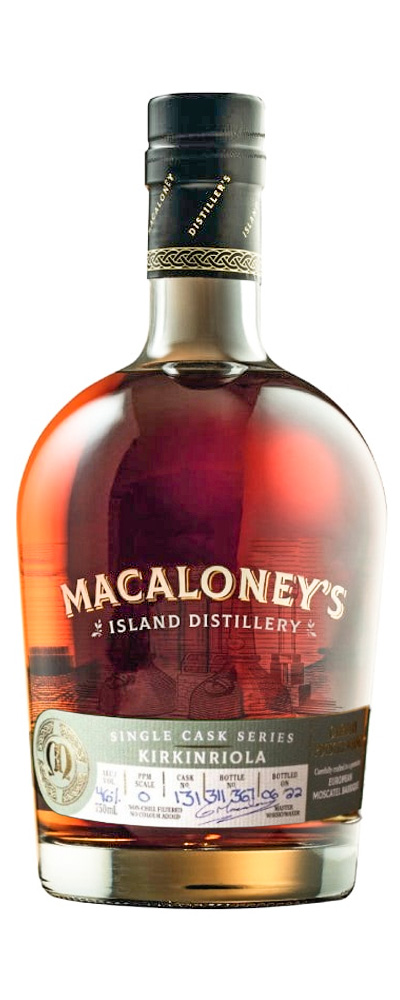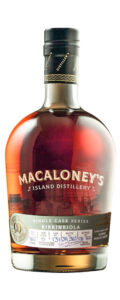 Nose: quite meaty and winey. Earthy notes and nutmeg prevail, alongside pipe tobacco. Then maple syrup and caramel candy. Dried apricot, raisins and honey, as well as toasted nuts. A light mentholated touch as well.
Mouth: still a tad bloated. A lot of maple syrup with caramelized walnuts, light herbal notes and hints of tobacco. Hints of red wine again. Blackberry leaves and wood spice take over after a while (nutmeg, clove). Bitterness comes out in the end.
Finish: quite long, still quite herbal, with heavily infused tea and woody notes.
I'm not sure Jim Swan intended these STR casks for long ageing or even a full-time STR single cask bottling. They surely add body to a composition, even at a young age, but they can be quite loud on their own. Master of Malt is selling a sibling cask with the old name. Score: 83/100
Macaloney's Single Malt Spirit – Peated Mac Na Braiche (46%, OB +/- 2022, Portuguese STR barriques)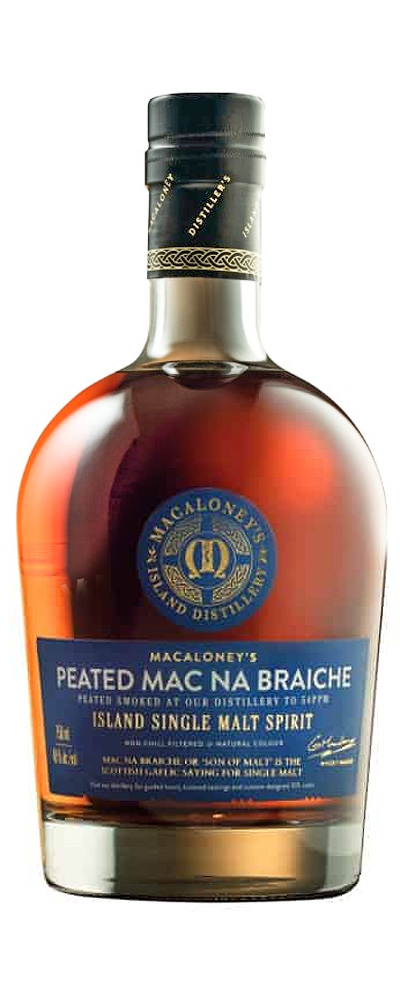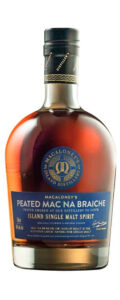 Nose: young peat with overtones of tequila? There's a lot of savoury, ashy smoke, with meaty undertones. It reminds me of the mesquite smoked whiskey I once tried. Light pipe tobacco. Hints of red apples, citrus and cookies in the background, but also hints of cooked cabbage.
Mouth: young peat again, and somehow it feels underpowered. Pine sap, spicy notes, dry ashes and hints of cake batter. Then mid-palate it shows a lot of hazelnuts and hints of nocciola. Burnt heather as well.
Finish: medium length, mixing ashy smoke with hazelnut.
A decent attempt at peated whisky, albeit really young, with fairly limited complexity. I really liked the hint of hazelnut though. Keep an eye on older versions in the future. Score: 82/100