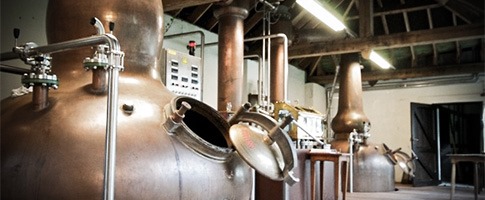 This is the 2016 'distillery edition' of Gouden Carolus whisky, presented at the Molenberg festival last week-end.
After the 2015 Pure Taste Bourbon Cask, which spent the whole 36 months in ex-bourbon casks, we now have the counterpart Pure Taste Anker Cask, matured for 36 months in Het Anker casks (Het Anker is the name of the parent brewery).
The original Gouden Carolus whisky is matured in ex-bourbon casks for 30 months and then finished in Anker casks for 6 months. It remains a bit of a secret what an Anker cask is exactly, but the distillery confirmed that they are re-coopered American oak casks that are produced by the Portuguese cooperage J. Dias, scraped on the inside and then toasted / charred to their specifications. It is also called an STR cask: red wine casks which are shaved to expose a bit of virgin oak, toasted using oak chips and re-charred to maximise flavour extraction. These casks are the brainchild of Dr. Jim Swan who was the consultant for Gouden Carolus when they started the distillery.
We now have both wood components of the original Gouden Carolus in two Pure Taste expressions, which are only available as 20 cl bottles. After the base whisky and four variations on this theme, I believe it's time for a new core range expression?
Gouden Carolus 'Pure Taste Anker Cask' (50%, OB 2016)
Nose: basically confirms what we knew about the casks. It shares a lot of characteristics with virgin oak (nutmeg, cinnamon, freshly sawn wood, grated coconut) and on the other hand you get some hints of American whiskey (vanilla, a slight leathery edge). Hints of mint, with apricots underneath.

Mouth: sweet and spicy again. Enough honey sweetness to balance the ginger, cinnamon and other oak spices. A bit of fruit cake in the background. A slightly grainy roughness as well as burnt oak, but well within limits.

Finish: long, slightly drying, with vanilla and warm oak.
Not necessarily better, but a spicy, punchy variation on the original. Playing with newish oak can be tricky, but they managed to keep a fair balance. I like it. It costs € 21 for a small 20 cl bottle. Only available at the distillery.
Score: 80/100
As a side note, I also tried their Gouden Carolus Fado Vivo release which matured mostly in Tawny Port casks. It's nice, with some candied red fruit notes (but not overdone) and subtle cinnamon. I prefer the Bourbon cask and Anker cask though, but I should add that Port wine has never been my favourite finish.