A couple of weeks ago, Decadent Drinks surprised us with a Whisky Sponge release with a German twist.
Destillerie Ralf Hauer is a city distillery located in Bad Dürkheim. While the production of whisky didn't start until 2012, its brewery / distillery roots date back to 1602. Their whisky comes under several names: Saillt Mór (which sounds Gaelic and has therefore been attacked by the SWA), Distillerie Ralf Hauer and Gerlach & Papst (the older name). For the occasion Whisky Sponge becomes Whisky Schwamm.
Two whiskies form a contrasting pair. Both were distilled in 2014 and matured in first fill bourbon barrels. However one is made with peat smoked malt (not from Germany?), while the other is made with beechwood smoked German malt.
Saillt Mór 8 yo 2014 (57,1%, WhiskySchwamm 2022, peat smoked malt, first fill bourbon barrel, 230 btl.)
Nose: nice sweet bready notes at first, with fresh herbs, pine wood and juniper notes following closely. Then an oily sweetness and light sea spray, hints of rye whisky and a faint hint of heather smoke. Whiffs of floral honey and resins with a hint of pear and banana peels in the background.
Mouth: still this firm bready / malty sweetness at its core. Now the peaty and sooty side comes forward after being silent on the nose. It's still far from loud though. Overall very warm and spicy, with a subtle fruity sweetness (almost syrupy) and vanilla as a support act. It's lifted by herbal notes and salt. Always a black peppercorn warmth underneath.
Finish: long and warming, with lingering grassy smoke, black pepper and spicy toffee.
I found the nose really good and interestingly different from all things Scotch. On the palate it becomes much more classic and more Scottish in a way, but also more narrow. Well made in any case. Available as a set from Decadent Drinks or individually from Master of Malt.
Saillt Mór 8 yo 2014 (57,1%, WhiskySchwamm 2022, beechwood smoked malt, first fill bourbon barrel, 250 btl.)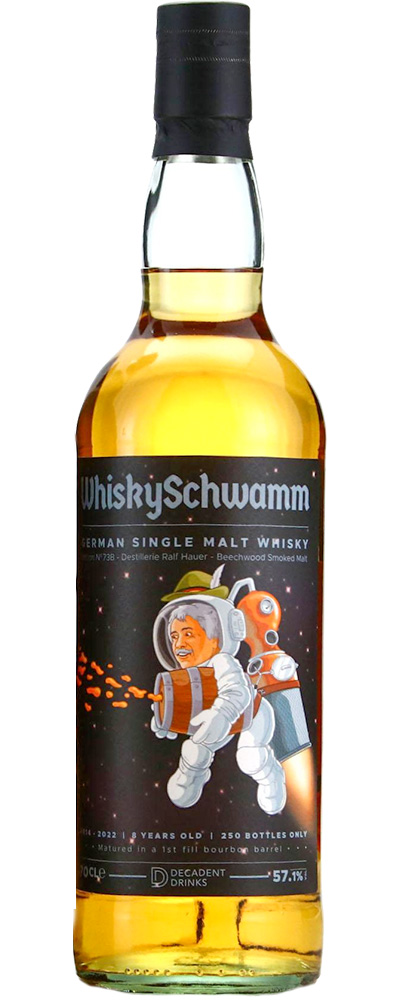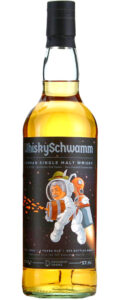 Nose: this one is more narrow and more subtle. It makes it seem older as well. There's a medicinal side to it, with lots of fresh herbs, mint and an interesting dusty hay and wood note. Greener and cleaner. Still some bready notes, with mossy touches and vegetal oils, as well as faint grape notes.
Mouth: nice texture, but a slightly weird combination of flavours. Whisky mixed with a high ester rum? I'm getting echoes of Jamaican funk, combined with rye spice again. Then firm salty notes. White pepper, citrusy spice and aniseed as well as an apple sweetness. Very blade-y smoke underneath.
Finish: long and spicy, with herbal potions and more of this 'Jamaican smoke' note.
This version is even more uncommon and unexpected. A fun(ky) whisky with less complexity perhaps, but a very nice focus. Really interesting to try them as a pair. Available as a set from Decadent Drinks or individually from Master of Malt. Score: 87/100