I am suffering from a blocked nose, so it will take a few days before I can pick up my usual tempo of tasting notes. Sorry!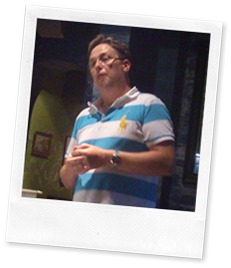 About two weeks ago I attended a tasting of Japanese whisky organized by The Bonding Dram. I felt I had to be there, as Stefan Van Eycken hosted the tasting and picked the whiskies. Stefan is Belgian, but he has been living in Japan since 2000, and he is currently managing Nonjatta, the reference website when it comes to Japanese whisky.
The line-up he prepared was a mixture of common Japanese releases and a few Japan-only expressions which he brought in his suitcase. I would have sworn there was going to be a single cask Karuizawa, but alas, due to customs restrictions etc. that didn't happen.
Here's an overview of the tasting:
Nine Leaves rum (50%)
An interesting project of a Japanese guy who owns a company that produces car parts but then felt the urge to produce something from start to finish, not just parts of a bigger story. Nine Leaves Clear is the first release. It made us think it was new-make whisky although I thought it was closer to grappa. It's nicely fruity (pear / melon) but the taste is rather flat and a tad alcoholic as well. Promising but room for improvement.
Nikka Miyagikyo 12 Year Old (45%)
Light, fruity and floral with subtle hints of sherry. The body has more oak, honey, citrus, toast and soft potpourri notes with a slightly sharp, resinous finish. Blind score: 84/100 That's the same score I gave to Nikka Miyagikyo 15 Year Old
Nikka Miyagikyo NAS (43%)
Waxy, very fruity again. Honeyed and smooth. A bit light on the palate. Some pepper and apricot. Blind score: 83/100
Nikka Yoichi 10 Year Old (43%)
Slightly disappointing to me. I have a bottle of this one at home (reviewed here) and I'm quite sure this time it had a lot more matchstick notes. Other than that, I found it surprisingly one-dimensional after the Miyagikyo's. Probably a case of batch variation. Blind score: 77/100
Karuizawa 12 Year Old (40%)
Rarely seen in Europe, but this is part of the standard range in Japan. Very malty with hints of dried fruits and toffee. On the palate toffee and vanilla – way too caramelly for my taste. This has nothing to do with single cask Karuizawa. I even like the Karuizawa Asama expressions better. Blind score: 79/100
Ichiro's Malt Wine Wood Reserve (46%)
The surprise of the evening. It contains only Hanyu whisky, finished in a French oak cask that contained Japanese red wine. Closer to a sherry finish than a wine finish, which is good news. Mint, figs, pine wood, ginger and grapes on the nose. Spicy palate with a chocolate background, nuts, ginger and candied banana. Very limited (no chance of still finding it here) but very good. Blind score: 88/100
Yamazaki 18 Year Old (43%)
Yamazaki 18 is one of my all-time favourites in Japanese whisky, but it didn't shine as much as I would have expected. Polished oak, herbs, dried fruits, wax, mint and floral notes. On the palate more sherry goodness but also a slight soapy edge which set me off. Strange. Blind score: 85/100
Hakushu Heavily Peated (48%, first edition 2010, L9E01)
Nice, young peat – Kilchoman style. Mixed with some medicinal notes – Laphroaig style. Peat, pear sweetness and smoke in the mouth. Simple but well-made. Recent batches have higher ppm levels (50 ppm vs. 35 ppm) so this is one of the more gentle batches. Blind score: 83/100
Eigashima 12 Year Old (59%, 2010)
From White Oak distillery. Distilled in 1997 and bottled in 2010 from a Spanish oak sherry butt. Wrecked by sulphur and rubber. Add to that a winey, sharp palate that shows little more than rough peat. Not my style. Only 102 bottles were available and believe it or not, half of the audience was dying to buy a bottle. Blind score: 70/100
An interesting tasting. Too bad it ended in minor key for me, but obviously having the peated ones first would have been wrong as well. The highlights were in places you wouldn't expect them. Also a good reminder of batch variation in official bottlings (Yoichi in particular has a bit of a reputation for this) – we don't always pay attention to it, but trying different bottles over many years can be surprising.
I'll try to revisit the Hakushu Heavily Peated and Ichiro's Malt Wine Wood Reserve later in a proper review.