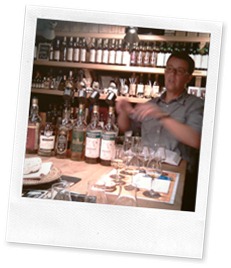 Last night I went to an event that I always look forward to: a whisky tasting chez Luc Timmermans, composed with whisky from his own (legendary) stash. It was a surprise tasting so we didn't know what to expect.
As an aperitif, we tried the Glen Elgin 1984 by Thosop, a nice dram with fruity, waxy and mineral notes on the nose, joined by some herbs and soft bitter notes on the palate.
Then it turned out the theme was Caperdonich 1972.
Here's the line-up:
Caperdonich 1972 (46%, G&M 2010, Connoisseurs Choice)

Caperdonich 1972 (46%, G&M 2011, Connoisseurs Choice)

Caperdonich 35 yo 1972 (48,3%, The Whisky Fair, 188 btl.)

Caperdonich 38 yo 1972 (53,6%, DT RoR, cask #7440, 181 btl.)

Caperdonich 38 yo 1972 (57,4%, Malts of Scotland, cask #1144, 98 btl.)

Caperdonich 39 yo 1972 (52,8%, Whisky Agency Private Stock, 57 btl.)
I had already tried most of them, except for the first two and the last one. The Gordon & MacPhail bottlings stood out because of their rather heavy sherry influence. At first I really liked them, but they came out last in our ranking as the refill sherry of the other releases suits the natural Caperdonich fruitiness much better.
Not everyone agreed on the rest of the ranking, but the recent release in the Private Stock series won the battle with a surprisingly unanimous vote. Indeed it's marginally better than the Perfect Dram version which Luc, Johan and myself raved about no so long ago. Don't bother looking for it, it's gone already and I don't even have a bottle myself.
By the way, I'm planning a big Caperdonich 1972 line-up myself with at least 24 versions waiting to be sampled. This will also include the 1972 DT for The Nectar which some people think of as the benchmark Caperdonich.