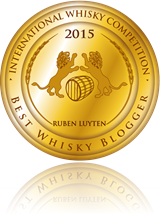 There you have it, I was elected Best Whisky Blogger of the Year 2015, as part of this year's International Whisky Competition which awards outstanding whiskies as well as bars, brand ambassadors and master distillers.
This was the first time there was a Best Whisky Blogger award. The organisation presented a shortlist of 20 candidates, from which the general public could pick their favourite by sending an e-mail. I came out in the top-5 – a sincere thank you to all of you who supported me.
We were then asked to send our best article of the past six months. I found this particularly difficult. I'm focused on daily reviews and rarely write opinion pieces, so which review is 'the best review'? Not necessarily a review of the best whisky, I guess. Anyway the overall quality was taken into account, popularity, social media involvement, etc.
I will also be featured in the upcoming 2016 International Whisky Guide, due to be released this summer.