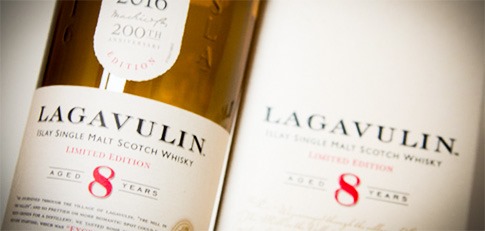 In 1887 Alfred Barnard, the writer of The Whisky Distilleries of the United Kingdom, said this about Lagavulin:
"From Ardbeg our route homeward lay through the beautiful village of Lagganmhouillin or Lagavulin, "the Mill in the Valley", and no prettier or more romantic spot could have been chosen for a distillery. The make is pure Islay Malt, and is principally sold in Glasgow, England and the Colonies.  The make is held in high repute; we tasted some eight years old before starting, which was exceptionally fine."
To celebrate the 200th anniversary of the distillery, they decided to bring this back and bottle an 8 year old. A fitting tribute for the milestone.
Lagavulin 8 Year Old is matured in refill European and American oak casks and bottled at 48%.
In addition to this, the distillery announced a Lagavulin 24 years old 1991 cask that will be sold for charity, and if the rumours are right, some of this should also appear as a limited edition Lagavulin 25 Year Old.
Lagavulin 8 yo (48%, OB 2016, 200th Anniversary, 30.000 btl.)
Nose: initially a tad underwhelming maybe, as it's obviously young and a little soft. Lots of sugarcane notes on top of the tarry, smoky and slightly Mezcal-like base. Plums and hints of berries. Subtle iodine and some peppery heat. Vanilla custard. Simple, quite easy-going.

Mouth: a much bigger smokiness now, with an equally big sweet side. Sooty and ashy like a Lagavulin should be, here coupled to some sugar syrup, honey and a biscuity sweetness. Still a cracked peppercorn note.

Finish: long, with smoky notes, chocolate.
This is a very fine dram, kind of a toned down 12 Year Old, with an inoffensive nose but enough Lagavulin character on the palate. It's great to get some variation in their core range but the 16yo still offers a much better price vs. quality ratio. Around € 60-70. It won't be around for long, but there was enough for everyone, I think.
Score: 88/100
Update: read my new Lagavulin 8 Year Old review (the core range 2017 release)