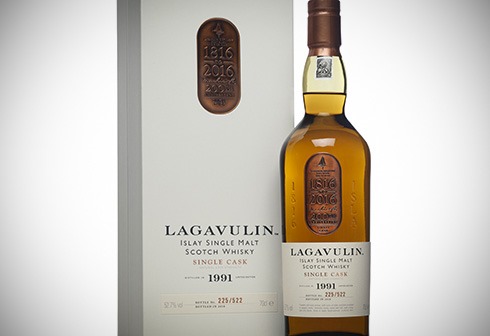 Lagavulin distillery concludes its 200th anniversary year with a special single cask bottling of a 24 year old whisky distilled in 1991.
All proceeds of this Lagavulin 1991, exceeding £0.5 million, will be divided between seven charities on the island.
The Lagavulin 1991 sherry butt of just 522 bottles was carefully selected by the distillery team and Ivan Menezes, CEO of Diageo. Bottles can only be purchased via a special ballot on The Whisky Exchange that launches today, 31st December, with bottle No. 1 being auctioned separately to raise even more charitable funds, and one bottle being donated to each of the Diageo Archive and our partners at The Whisky Exchange respectively.
Lagavulin 24 yo 1991
(52,7%, OB 2016, sherry butt, 522 btl.)
Potential customers can register interest in purchasing a bottle of Lagavulin 1991 priced at £1,494 (€ 1750) with The Whisky Exchange. The pricing reflects the significant and historic date that marks the first ever recorded distillation of Scotch Whisky. To ensure that demand for these rare bottles is managed fairly, the ballot on 12th February will be drawn and the bottles allocated at random.