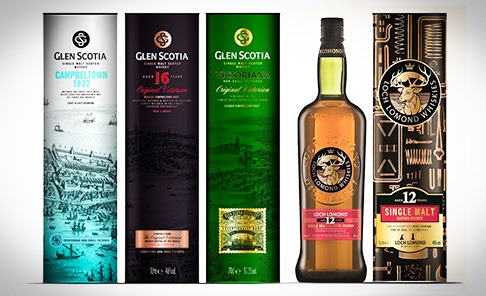 Sister distilleries Glen Scotia and Loch Lomond will launch seven expressions in the travel retail market. Prices range from around € 35 to € 90, and it's quite an untraditional list of whiskies, if you ask me:
Loch Lomond Single Grain (distilled with malted barley)
Loch Lomond Signature, a blend produced in a 100-cask solera process
Loch Lomond 12 year old, a single malt which contains spirit from two types of stills
Loch Lomond Inchmurrin Madeira, a second single malt which comes exclusively from their pot stills with the rectifying head
Glen Scotia Campbeltown 1832
Glen Scotia 16 Year Old
Glen Scotia Victoriana, which we already knew from traditional retail channels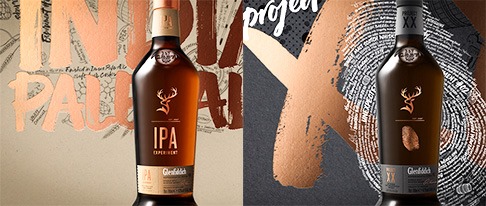 Glenfiddich unveiled its Experimental Series, a range of innovative whiskies that intend to push the boundaries of Scotch whisky. For now we're talking casks finishes and vattings, but in the future they will experiment with yeast strains, the distillery environment, milling or other parameters of the distillation process.
Roughly once a year the distillery will present a new addition, starting with two permanent releases:
Glenfiddichh IPA Experiment, finished for three months in a bespoken IPA beer cask (NAS, at 43%, around € 55)
Glenfiddich Project XX ('twenty'), a vatting of 20 different casks, including Port pipes, sherry butts and first-fill bourbon casks, each chosen by one of the brand's 20 ambassadors around the world (NAS, 47%, around € 60)
Also new or upcoming:
Benromach Hermitage 2007, part of the Wood Finish series that also includes Hermitage 2005, Château Cissac 2006 and Sassicaia 2007.
The Macallan Steven Klein edition (Master of Photography)
Johnnie Walker 'Year of the Rooster' 2017 limited edition
Kilchoman 2010 Original Cask Strength
Kilchoman 2011 Sauternes Cask Matured
Glenrothes 2000 single cask #2364 (600 btl.)