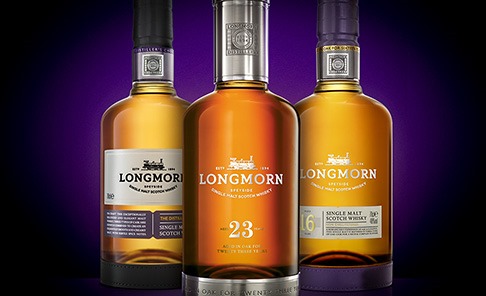 Longmorn core range update
Longmorn presented its new core range, which now includes the Longmorn Distiller's Choice (around € 65), a "reinterpreted" Longmorn 16 Year Old (€ 220) and a brand-new Longmorn 23 Year Old (€ 1350).
The new 16 Years is created with a higher proportion of first-fill American oak casks than before, besides sherry casks and refill casks. The new 23 Years is entirely matured in "traditional" (refill) casks.
The introduction of the Distiller's Choice (then seen as a permanent replacement for the popular 16 Year Old) caused quite a stir. It's nice to see the 16 is back, but the pricing is… well… also causing a stir. With a bit of luck you can still find the old 16 for around € 75. Not the mention the list of legendary independent bottlings that you can find for the same amount as the new 23.
Diageo has been trying to pull the same trick on Mortlach and others. It didn't work out as planned. I fear Chivas is now shooting itself in the foot by going down the same route.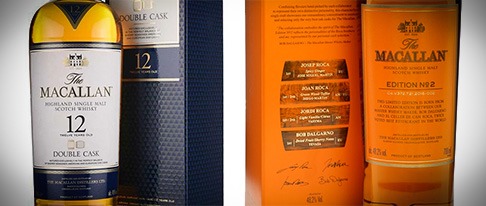 Macallan 12 Year Old Double Cask
The Macallan announced a new addition to its core range: The Macallan 12 Years Double Cask. It is a reinterpretation of the previous 12 and a combination of sherry seasoned casks from American and European oak.
Only sherry oak AND an age statement, that's certainly a direction we can support. Available as we speak for around € 70.
Update: see my review of the Macallan 12 Years Double Cask
Macallan Edition N°2
Also new: The Macallan Edition N°2, a limited edition born from a collaboration between Master Whisky Maker Bob Dalgarno and the Spanish restaurant El Celler de Can Roca, twice voted best restaurant in the world. The brothers Josep, Joan and Jordi Roca, as well as Bob Dalgarno each selected sherry casks from different coopers which are mentioned on the label. There's some 1st fill and 2nd fill, American and European oak involved.
Again: only sherry and a good dose of transparency. We like. Bottled at 48,2%, available for around € 100.
Update: see my review of the Macallan Edition No.2

The Whisky Exchange releases
After the TWE Whisky Show in London, it comes as no surprise that The Whisky Exchange (and subsidiaries) have a lot of new bottlings. Too many to list them all, so we highlight a new Port Askaig 8 Year Old, the Elements of Islay Peat Pure Islay (a lower-strength version) and a new Time series which includes a Glenfarclas 15 Years, Ledaig 11 Years, Benrinnes 20 Years and Glen Moray 8 Years.
Also new: Laphroaig 20yo Masterpiece and Whisky Show Springbank 21yo – both sold out.
There should be new Single Malts of Scotland 'Manager's Special' releases in the near future as well. One of them is a Glengoyne 40 Years no less, the other is an old Tamnavulin.