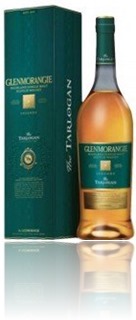 The Glenmorangie will soon be launching Glenmorangie Tarlogan, another NAS expression for travel retail, the third release in the Travel Retail Legends following Duthac and Tayne.
Tarlogan was a king of the Picts who gave his name to the woodland surrounding Glenmorangie's water source.
This expression it is a combination of ex-bourbon and virgin oak casks, bottled at 43%.
It will first be available in World Duty Free's UK airports. After that it will reach other countries and normal retail as well, I suppose.