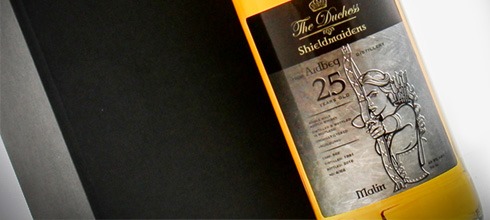 The Duchess is the indepdent bottler brand of the Dutch retailer Best of Wines. In their Shieldmaiden series the first bottling was this Ardbeg 1991 single cask.
Remember Ardbeg was closed from March 1981 until 1989, and was only operating for two months every year between 1989 and the next closure in July 1996. Back then Iain Henderson of Laphroaig was the Caretaker Manager – both distilleries were part of the Allied Distillers group. Very little stock from this era remains – as a first bottling this is quite impressive.
Ardbeg 'Malin' 25 yo 1991 (49,8%, The Duchess 'Shieldmaidens' 2016, bourbon cask #649, 168 btl.)
Nose: nice earthy peat, quite mellow, round and elegant, with toffee undertones and a slight farmy edge. Big hints of sackcloth. A little banana custard underneath. Hints of tarry ropes. Some Pu-Erh. Kelp. After a while a sour lemon and salt combo comes out, as well as light medicinal notes.

Mouth: compact start but growing wider by the second. Nice velvelty / almondy texture. Smoked fish, walnuts, medicinal notes, sweet grapefruits and a big earthiness. Quite a big briney side too (olives), but always with a sweet, fruity undertone.

Finish: long, oily, refined and earthy. A feeling of warm ashes.
This is rather excellent Ardbeg. Warm, gentle peat with perfectly dosed sweetness, brine and medicinal notes. More balanced than powerful. Expensive though: around € 800.
Score: 90/100