Knappogue Castle is not a distillery, it is an Irish castle near Limerick, acquired and restored by Mark Edwin Andrews and his wife in 1966. He was a whisky collector and started buying casks of fine pot still whiskey from top distilleries in the country. The casks were further aged and privately bottled under what is now the Knappogue Castle label.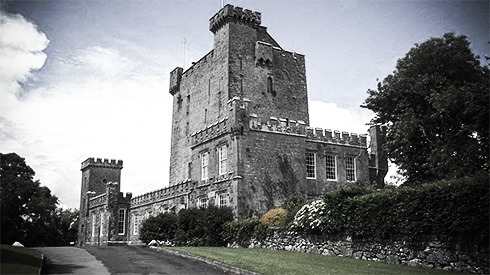 All of his bottles stayed in the private collection until Mark's son launched Great Spirits LLC and sold them off. The last bottling, a Knappogue Castle 1951 is particularly famous. It is often described as the rarest single malt Irish whiskey in the world, but our bottle is actually older and far more rare.
The sample that I'll be tasting comes from the Dutch retailer van der Boog. The label once included some handwritten details but all of these have faded, which makes it difficult to know exactly what we're dealing with. However we have some tiny clues. In any case it says a very special reserve of unblended pot still rare malt.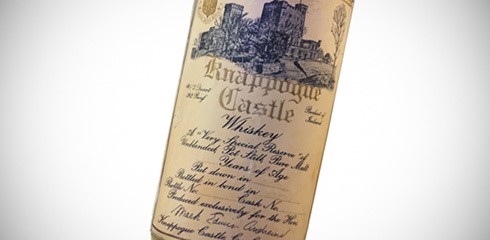 Most of these bottlings were done at 40%, only two vintages of Knappogue Castle exist in 92 proof: three 1949 bottlings and three 1950 bottlings. They all have some subtle differences in the label design. Add to this the red wax sealing of this particular bottle and we can narrow it down to Knappogue Castle 1950 cask #1, bottled in 1976 (among the first bottlings of Knappogue Castle).
The whisky itself comes from the lost Daly's distillery in Tullamore, which was founded in 1829 and closed its doors in 1954. It was the distillery that introduced the famous Tullamore Dew and Irish Mist brands.
What a beautiful find, right?
Update: apparently it was bottled in dark brown glass, which would narrow it down to the Knappogue Castle 25 yo 1950 cask #3 bottled in 1978.
Knappogue Castle 25 yo 1950
(92 proof, OB 1976, cask #1, 4/5 quart)
Nose: some rummy notes at first. Overripe bananas and mint, some polished leather and waxed wood. Sandalwood. There's a light rancio note (Madeira-style) and something of bouillon in the background, but it works beautifully (and it fades away). Something of old metals. Then back to honey and brown sugar, with hints of yellow plums perhaps.

Mouth: surprisingly sweet at first, with quite some herbal honey and vanilla. Fairly oily. Then clearly more grainy touches, hints of chestnuts and liquorice. Earthy notes. Plenty of sappy wood, still with a metallic edge. and a very light medicinal note (something in between bitter cough bonbons and eucalyptus).

Finish: medium long, a little rough perhaps, with grainy notes, cider apples and a little tobacco.
Not exactly the light, fruity spirit we've come to expect from modern Irish whiskey. Not too complex either. While the nose does have some fruity touches, the palate is mainly grainy and metallic with some vaguely sweet undertones. A priceless experience for sure, but difficult to score, more of an emotional score.
Score: 87/100