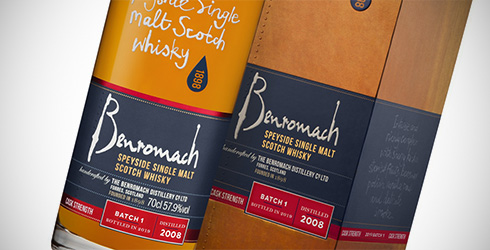 Benromach distillery has just released the Benromach Cask Strength 2008 Batch 1, matured in first-fill sherry and bourbon casks.
It replaces the Benromach 100 Proof in the Classic range, retaining the age and overall flavours but introducing subtle variations on this profile, reflecting the specific casks chosen from the vintage year.
It is available worldwide with the exception of China and the US. These markets will receive Cask Strength Vintage exclusives later this year.
Benromach Cask Strength 10 yo 2008 (57,9%, OB 2019, Batch #1, 5500 btl.)
Nose: the sherry notes stand out, bringing toffee and toasted nuts to the earthy, gravelly spirit. Hints of chocolate and red plums, distant smoke and hints of linseed oil. Stewed apples. Worn leather. Candied ginger and walnuts.

Mouth: rather hot and dry, with nutty notes, dark fruits (especially blackcurrant) and smoky embers, including a touch of gunpowder. A good dose of black pepper. Some punchy oak comes through, with a slightly winey / tannic edge. Cinnamon and clove.

Finish: long, on chocolate, all-spice and nutty notes with a lingering smokiness.
Too bad I wasn't able to compare them head-to-head, but this seems to have more heat and wine influence, leaving less room for the old-school character of the 100 Proof. Still good though. Around € 70, this should be available soon from Master of Malt and The Whisky Exchange.
Score: 85/100