Cheaper by the Dram is a new whisky sample service specialized in rare and unique drams. They are sourcing collectable whiskies from auctions and collections and make them available as 3 cl samples.
It's a shame that they can't mention the distillery on the sample bottle, nor publish a picture of the actual bottle that is being shared. It has to do with SWA labeling requirements and copyrights, they claim most other sample services are walking on a thin line. However they can link to Whiskybase profiles.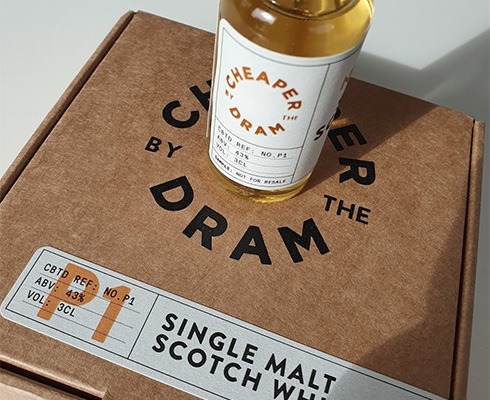 Anyway they offered me to test-drive the service and sent me a sample of this Glen Garioch 21 Year Old 1965, the lighter version at 43% bottled in the mid 1980s (there's also a darker bottling and one at higher strength). A perfect experience: nice packaging with shrinkfoil sealed screwcaps, reliable shipping, no complaints at all. In fact I find the name quite strange: it's not cheap in any way (and it shouldn't be).
Other whiskies are already announced on the website, often in pairs: the first Octomore, old Macallans, Laphroaig 15 Years from the 1980s and 1990s, etc.
Glen Garioch 21 yo 1965 (43%, OB mid 1980s, light vatting)
Nose: oldskool whisky. Herbal notes, menthol, old metallic tools and silver polish, a little chalk. Old waxed papers and leather. Wet limestone. A great minerality and linseed oiliness, with very light coal smoke. Light fruits in the background. They don't make it like this any more.

Mouth: sweeter, but with plenty of herbal notes. Cough sweets and tea. Mint liqueur. Plenty of tobacco. Candied ginger. Light hints of meadow flowers and chamomile, but no perfumy notes. Orange peel. Pepper and eucalyptus.

Finish: pretty long but thinner, with herbal tea, light coffee, minty notes and resin.
Complex, 'slow' whisky with some degree of austerity but also very seductive touches. I love these hints of garages and metal workshops. Truly old-style. Not available but be sure to check the other great offerings from Cheaper by the Dram.
Score: 92/100