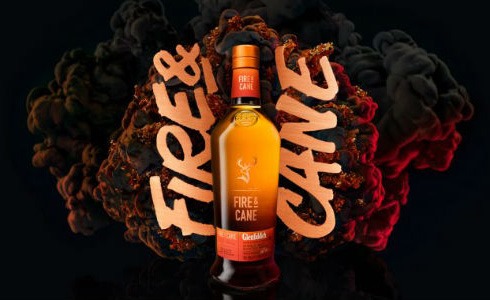 The fourth release in the Glenfiddich Experimental Series is a combination of the classic unpeated whisky with some of their rarely-seen lightly peated spirit (8 ppm phenols, hence '"Fire"). This was matured in ex-bourbon casks, married and finished in a variety of Latin dark rum barrels (hence "Cane") for three months.
Although it is officially ageless, it is said to be between 12 and 15 years of age.
Glenfiddich Fire & Cane
(43%, OB 'Experimental series' 2018, dark rum finish)
Nose: surprisingly medicinal for such a moderate peat level. Herbal notes, tiger balm, sage. Hints of smoky cedar wood. Underneath there is a creamy sweetness of bananas and brown sugar. Toffee. Orange peels. Cinnamon.

Mouth: creamy but perhaps a little underpowered. It starts on rounded fruits (apricot, lime) but quickly moves towards herbal notes, slightly acrid smoke, nutmeg and clove. Big peppery notes. A slightly harsh rummy note too.

Finish: quite long, with plenty of spices and a bitter edge.
While most reviewers seemed to like it, this doesn't really work for me. It's not a bad whisky but the peaty notes feel like a burden rather than an asset. Still available from Master of Malt or TWE.
Score: 79/100