Compass Box recently did two anniversary bottlings for importers. One is Compass Box Ethereal, bottled for the 65th anniversary of La Maison du Whisky in France, sort of a homage to their very first blended malt ever, called Eleuthera. The other was created for the 15th anniversary of The Nectar in Belgium. Both have a similar concept: a marriage of fruity malts with a dose of Islay whisky.
Compass Box Ethereal contains a Highland single malt (43% Old Pulteney), a Speyside single malt (17% Miltonduff) and two Islay single malts (39% Caol Ila + Ardbeg), all between 17 and 26 years of age.
The Nectar 15th Anniversary bottling on the other hand has 55% Laphroaig at its core, the rest is a 14 year-old Highland malt from the custom (highly toasted) French oak barrels that are so typical for Compass Box. It's a nice nice follow-up to their 10th anniversary bottling.
Compass Box Ethereal 'Conquête' (49%, Compass Box for La Maison du Whisky 65th Anniversary 2021, recharred and refill barrels, 2430 btl.)
Nose: starts with plenty of citrus acidity (lemon juice, marmalade, lemon tartlets) as well as unripe apple and green almonds. This mixes with coastal notes (sea spray, wet stone) and a grassy note (pine needles). Also vegetal oil and wee hints of camphor.
Mouth: still this tart, bright fruitiness from the start (lemons, oranges), now with a light tropical touch (pink grapefruit and pineapples). Hints of vanilla and honey, with a moderate peaty and tarry note in the background. White pepper. Iodine and mezcal notes as well.
Finish: quite long, getting a tad sharp at times, with lightly bitter herbs and cloves, seawater and peat.
The nose is citrusy and surprisingly narrow, but once we put this to our lips, it convinced almost instantly. The combination of peat smoke, juicy fruits and coastal notes works well. Still available from La Maison du Whisky for around € 180.
Compass Box 'The Nectar fifteenth anniversary' (49%, Compass Box for The Nectar 2021, recharred hogsheads + French oak casks, 1200 btl.)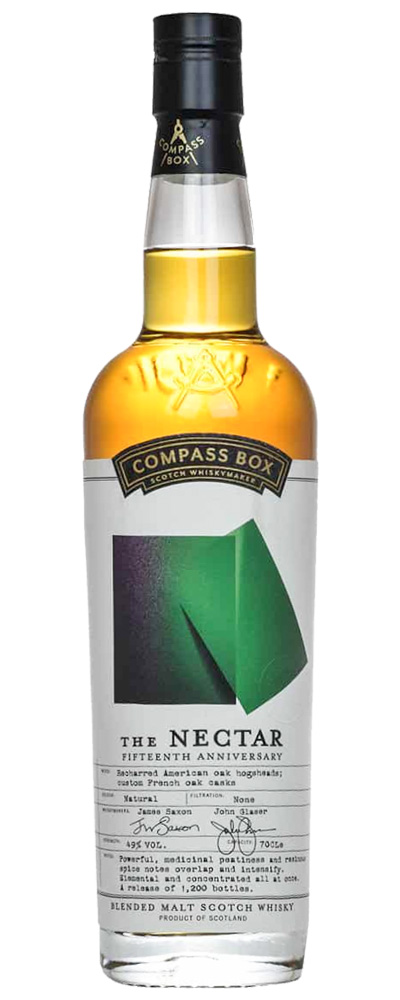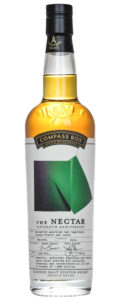 Nose: this one is rounder and fruitier right away, showing more depth and balance. Also the Laphroaig smokiness is more prominent. Lemon candy, iodine and a warmer, bonfire kind of smoke. Warm ashes and roasted nuts. Just a hint of vanilla and pineapple in the background. This is not necessarily more complex, but more attractive anyway.
Mouth: sweet, quite fruity, also with tropical hints. Pineapple, honey, light papaya. It gets a little sweeter still, with toffee and light chocolate notes, while also showing black peppercorns, mint leaves and light liquorice. Again a tad rounder and warmer than its French counterpart, with darker peat smoke.
Finish: quite long, still with a great balance of fruits and warm peat. French oak spice and menthol in the end.
I can't really put my finger on it, but this seems more coherent and more balanced at the same time. The fruits are still there, and the smoky warmth and additional roundness lift it a little higher. It's considerably cheaper as well (around € 120) but I'm not sure you can still find it at the original price. Score: 90/100