The first whisky is unpeated Bruichladdich 2010 from a Rivesaltes barrique – similar to what we already tried from Artful Dodger perhaps.
Rivesaltes is one of the Vin Doux Naturel wines from the South of France. I visited the region last year and definitely recommend you look into the wines from producers like Cazes, Rombeau, Vaquer, Castelnou, or some of the 'independent bottlings' in the L'Archiviste series. Wine styles are quite wide, from a golden colour to dark red, most aged between 1 and 5 years but often a lot longer, developing wonderful rancio aromas, not unlike old Oloroso. Seeing these demijohns in the blistering sun is pretty impressive.
The other whisky is Lochindaal 2010, a peated spirit that is in between Port Charlotte and Octomore in terms of smokiness.
Bruichladdich 12 yo 2010 (52,1%, The Whisky Agency 2022, ex-Rivesaltes barrique, 255 btl.)
Nose: rich and sweet, with a lot of grape aromas (Muscat style), raisins, fruit jelly and plum syrup. Melons too (could be the spirit)? Caramel notes underneath, with brown sugar and a light hint of hazelnuts and hay. Also cola candy. Just a touch of sourness in the background, keeping the balance right.
Mouth: again a little grape-y, but instead of the expected (fresh) Muscat profile, we're now getting darker notes and a leafy profile. Hints of tobacco and earth, with light tannins and quite a lot of peppery notes. Brown sugar and toffee, with a hint of dark chocolate. A subtle herbal bitterness in the very end.
Finish: long, still spicy, mixing with the earthy sweetness and leafy notes.
This is a modern profile that I didn't expect from The Whisky Agency, to be honest. It's rather wine- (and cask-)driven. While this adds richness and while the result is quite tasty and perfectly clean, it takes away a lot of the Laddie character. A nicely contrasting partner to the next one though…
Lochindaal 10 yo 2010 (53,8%, The Whisky Agency 2021, barrel, 232 btl.)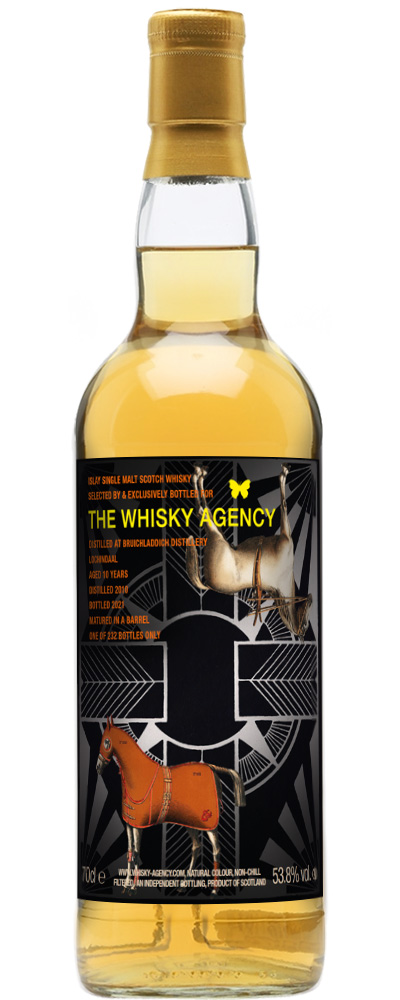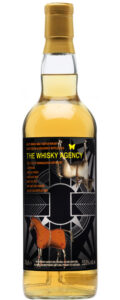 Nose: ah, this is the rather farmy and slightly rustic style of peated Laddie. A lot of intense aromas, like anchovies, antiseptics, tar and black peppercorns, against a background of goat stables. There's something of 1970s Brora to it. Sooty smoke and just a hint of citrus.
Mouth: bold and fatty, with a distinct peatiness that is quite mentholated and sweet at the same time. Again not too clean – I love this farmy side. Olive brine, smoked lemon, hay. Sweet spearmint and a hint of vanilla. Hints of yellow fruits, even light banana (?) and white pepper in the end.
Finish: long and peaty, with maritime notes, pepper and hints of sweet lemons.
I know Lochindaal spirit is hard to get as an independent bottler, but it's well worth trying. A very punchy, sooty style but so thick and wide, with lovely farmy notes. Now available from DeinWhisky for instance (let's not think about the current price/age ratio of Islay whisky, ouch…). Score: 90/100