Today Malternative Belgium releases the last batch of cognac bottlings for 2022. There is also a (nicely acidic) Pineau des Charentes from Daniel Bouju, but we'll focus on the cognacs.
The first cognac is undisclosed. It comes from a small bouilleur de cru in Juillac-le-Coq. The spirit has been stored at ORECO with a certification as a 1928 vintage. It rested in oak until 2018 and then moved to dame jeannes.
Cognac Grande Champagne 1928 'La Patine' (40,2%, Malternative Belgium + Passion for Whisky 2022, 240 btl.)
Nose: keeps the middle between different styles. There's a deep fruitiness (stewed stone fruits, overripe pineapple) but also a rounder hints of caramel toffee and candied ginger. Very fresh mint leaves and herbal tea at the top. Light tobacco too, but the rancio is not overpowering.
Mouth: similar thoughts. Generous fruity notes (always stewed, ripe and candied fruits) leading up to toffee and caramelized notes. Orange notes. A lightly toasted element. Tobacco leaves are more prominent now, as well as light hints of cedar. The roundness and gourmand character means there's never oaky dryness to be found though, even after 90 years. Hints of acacia honey and mint towards the end.
Finish: not too long, but the combination of minty freshness and caramel sweetness is quite perfect.
Above all this is a rich and highly drinkable cognac. I'm guessing this was a rather rustic style but time polished it. The low strength, the sweetness and the absence of wood make this a very balanced and lively oldie. The price is quite fair too. Available from Malternative Belgium and Passion for Whisky.
The next cognac comes from the house of François Voyer. Pieter already bottled an impressive Lot 71 La Fête, so we have high hopes.
Cognac François Voyer Lot 48 'La montgolfière en bois' – Grande Champagne (49,2%, Malternative Belgium 2022, 42 btl.)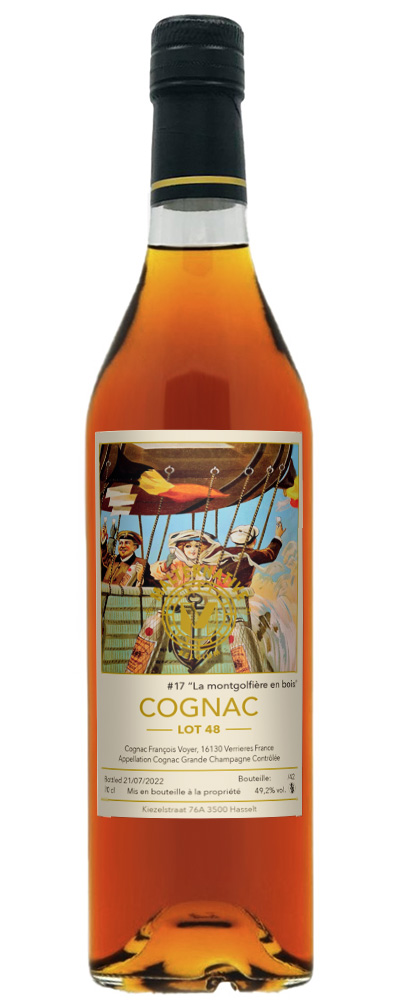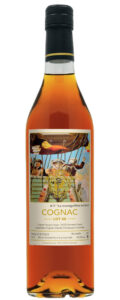 Nose: un spectacle. This displays a rare finesse and gorgeous hints of polished oak alongside bright fruits. Pineapple and hints of bergamot, with apricots and mangoes underneath. Hints of vetiver and verbena. Then floral honey and aromatic peppercorns. Beautiful.
Mouth: a fruit basket explosion, even more tropical now. Pink grapefruits, passion fruits, quinces and hints of lychee. A few golden raisins but also a bright acidity. Light minty notes and subtle floral touches. There's a hint of liquorice and nutmeg which adds structure, but again, hardly any wood.
Finish: long, very bright and fresh, with more of that juicy fruitiness coupled to light spice.
This is a future classic. Really exceptional cognac, full of fruits, exactly how we like them. I understand it was a tour de force to present this one, but it was worth the trouble. I'll link to the Malternative website but I'm guessing it will be gone by the time you read this. Score: 92/100
The next cognac is a Lot 75 from Laurichesse. Handmade on a wood fired small alambic Charentaise. A sister cask already featured in the line-up from Malternative Belgium (see this Laurichesse 75 with The Whisky Jury).
Cognac Laurichesse Lot 75 'Le chef de meute' – Grande Champagne (50,3%, Malternative Belgium 2022, 520 btl.)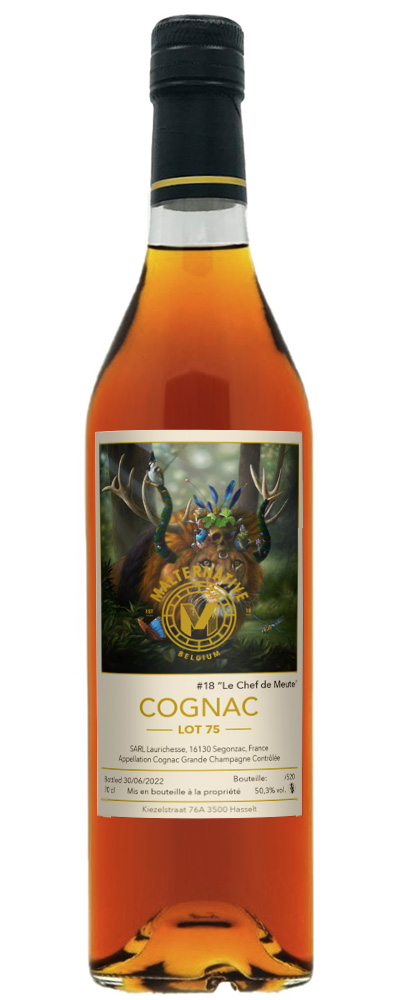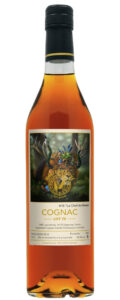 Nose: this also has that heady side of wood polish (or rather silver polish), followed by some leathery notes. Behind it there are tangerines and candied orange peels. Dried herbs and hints of cinnamon. Also juicy apricots and a very light whiff of potpourri. Really good.
Mouth: again a nice citrusy acidity (tangerines, oranges and pink grapefruits) quickly followed by cinnamon and black peppercorns. Moving towards liquorice and leather, with some (almost rummy) overripe pineapple in the background. Some red berries in the distance.
Finish: long, minty, with a subtle drying note of clove and herbal tea.
Another excellent haul from the young house of Laurichesse. Such a nice, acidic fruitiness combined with power. In this line-up the Voyer has a slight edge (until you take the price into account). Available from Malternative Belgium. Score: 91/100