It's been over six weeks since we did our last cognac session. We catch up with seven expressions today, most of which are really new. There's cognac from the house of Delamain, as well as Vallein Tercinier, Jean-Luc Pasquet and Grosperrin.
We also have the brand-new Cognac Laurichesse bottled by Malternative Belgium together with The Whisky Jury.
Delamain 1963 – Grande Champagne (40%, OB +/- 2015, 180 btl.)
Nose: an elegant composition around honeycomb and plums, with orange oils, bergamot tea and beeswax. Hints of women's powder, white flowers and fresh leather. Apricots and vanilla in the background. Quite expressive considering the low ABV, but excellent aromatics.
Mouth: a beautiful fruit basket with apricots, figs, pink grapefruit, candied orange peels and juicy passion fruits. There's a big minty core and a floral element, which adds to the fresh appeal but also leads to a slightly woody side. Nice randio notes. Fruit tea and liquorice come out before it becomes more honeyed and more fruity again.
Finish: could be longer with a bit of extra oomph. Mint, woody rancio, with hints of walnuts and beeswax.
This proves that (certain) big cognac houses like Delamain have equally impressive spirits in their warehouses, with exactly the kind of profile we are looking for. While I wouldn't call this underpowered, smaller houses do understand that going beyond 40% often adds some extra magic. Sold out in most places – I found it at Wine4You.
Vallein Tercinier 'Lot 68' – Fins Bois (46,3%, OB for Kirsch Import 2022, single cask, 156 btl.)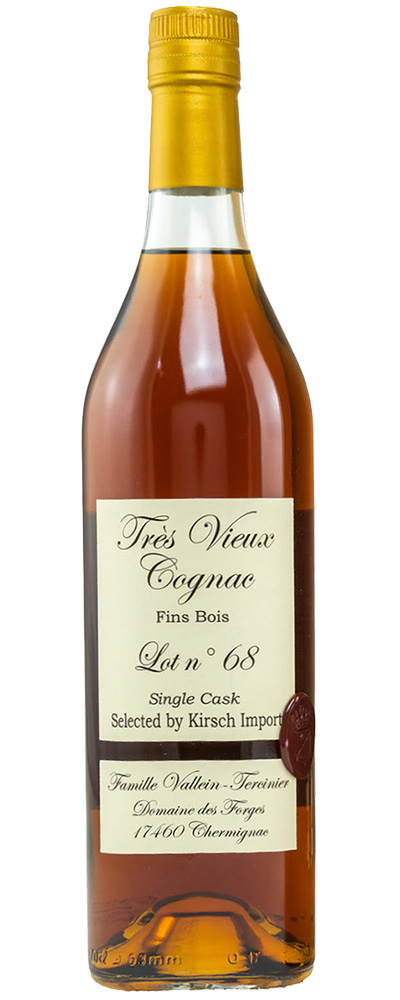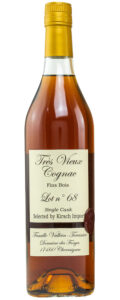 Nose: a lot more voluminous already. Plums, quinces and tangerines, before it becomes more heady. Leather and hints of earthy cinnamon, with light camphory touches and verbena. Some butter pastry notes in the background.
Mouth: the fruits are still present (apricots, berries) but there's also a growing caramelly theme and hints of mint tea. A bit of leathery dryness and aromatic wood spice. It's more robust in style than the 1963, with some tannins showing up, although they're kept in check.
Finish: quite long, with more of this herbal bitterness and green edge. Tea leaves and a vague sweetness.
Pleasant cognac with a great nose but a slightly rougher, more robust style on the palate. Relatively compact compared to some others in this session. The purity and elegance of the Delamain are more impressive than the intensity of this Fins Bois expression. Now once you take the price into account, the conclusion would be very different… Score: 88/100
The next one is a private bottling for Dirk Vanhoutteghem, who used to be a member of the Belgian Lindores whisky club. While he's born in 1973 and started looking for something from his birth year, the quality was more important than the actual vintage.
JL Pasquet 'Lot 73 – Le Trésor du chef d'escadrons' – Grande Champagne (50,1%, OB for Dirk Vanhoutteghem 2022, 24 btl.)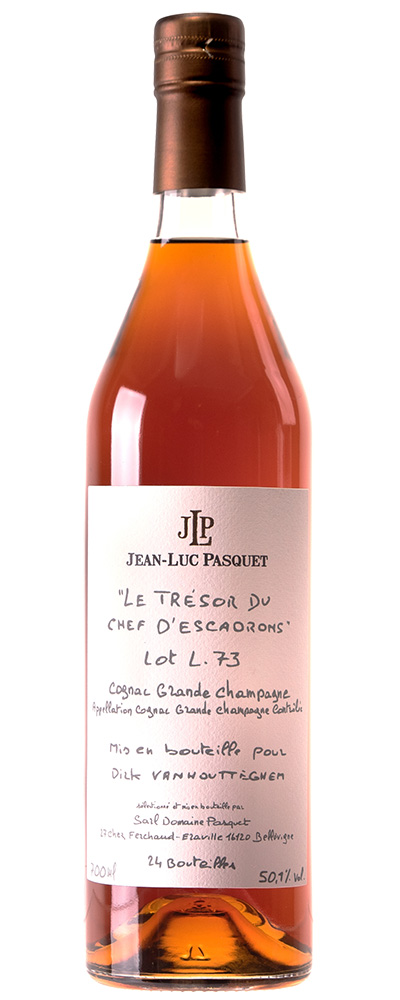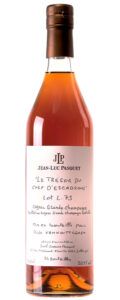 Nose: a more refined, but highly aromatic style again. Mirabelles and mango, as well as orange peels and raisins. Mixed with a few drops of camphor. Then hints of floral honey, cigar boxes and a lovely aroma of old, leather-bound books. Very pleasant.
Mouth: now the real fruitiness comes out, in a rather tropical way. You get pineapple, pink grapefruit and passion fruit, plus candied oranges and vague hints of red berries. Then hints of tobacco, mint and mildly peppery oak in the end.
Finish: very long, with more of these fruits, a hint of Darjeeling and sweet oak.
This shows a great combination of fruitiness, intensity and old age rancio. More or less at the crossroads of the previous two cognacs. Excellent Grande Champagne – nice selection work! Score: 91/100
Another Belgian release, a joint bottling by Malternative Belgium and The Whisky Jury. It is sourced at the little-known producer Laurichesse, a young brand created in 2018 by Olivier and Léa Laurichesse. This cognac was distilled in 1975 in a wood-fired small alambic charentaise by Olivier's father Guy, who kept some of his own eau-de-vies aside in a secret cellar. I believe this is the first release of this house after two official bottlings earlier this year.
Laurichesse 'Lot 75' – Grande Champagne (50,4%, Malternative Belgium & The Whisky Jury 2022, 519 btl.)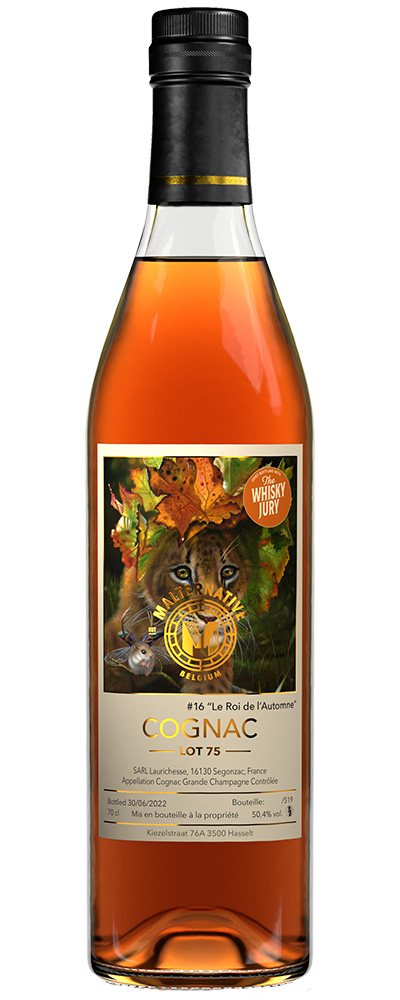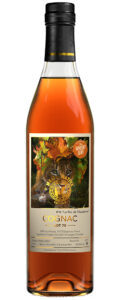 Nose: absolute elegance again, very seductive. Plenty of fruits show up over time, starting with tangerines, bananas flambéed and raisins, later followed by dried apricots, candied pineapple and mango. Subtle hints of dried herbs, sandalwood, leather, brass polish and mint. Freshness and expressiveness: both excellent.
Mouth: now it really bursts open. An oily texture with more mango, combined with passion fruits, pink grapefruits, tangerines and peaches. Then some Earl Grey tea and pineapple cubes, with a hint of floral honey and jams. There's beautiful rancio too, with a light touch of minty oak and a few drops of Chartreuse.
Finish: very long, fresh and minty, with herbal tea and an afterburst of fruity notes.
Excellent cognac, showing the most brilliant, jammy fruit basket of the entire session. If that rocks your boat, this is one of the best cognacs in the Malternative portfolio so far in my opinion. Hardly any oak too! In Jerez they used to wear Oloroso as a perfume, I'm sure this cognac would work too. This bottle should go on sale today in the Malternative Belgium shop. Score: 92/100
Grosperrin Héritage N.72 'Grande Champagne' (51,9%, Cognac Sponge 2022, 180 btl.)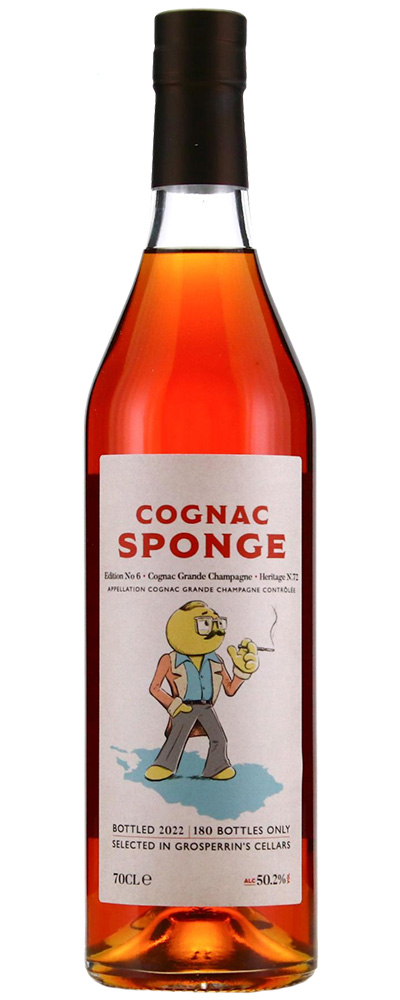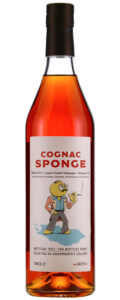 Nose: a slightly more waxy and oily profile, showing more pastry notes, dried fruits and acacia honey as well. Mint, eucalyptus and lime leaves add freshness. Subtle hints of tobacco. Another very fine nose.
Mouth: more oak-driven now, with a tense combination of peppery notes, ginger, earthy hints and tobacco leaves. Later also mint liqueur and herbal teas. Meadow flowers. Cigar boxes as well. Some red berries and heather honey in the background, but they're a little too shy to pierce through the woody base.
Finish: long, with more minty freshness, subtle apricot and caramelized nuts.
This started off on a high level, but lost a few points on the palate. The rustic edge may not be an issue when sipping this on its own, but the competition in this session is quite fierce. Still available from Decadent Drinks. Score: 88/100
Vallein Tercinier 'Lot 66' – Petite Champagne (51,3%, OB +/- 2016)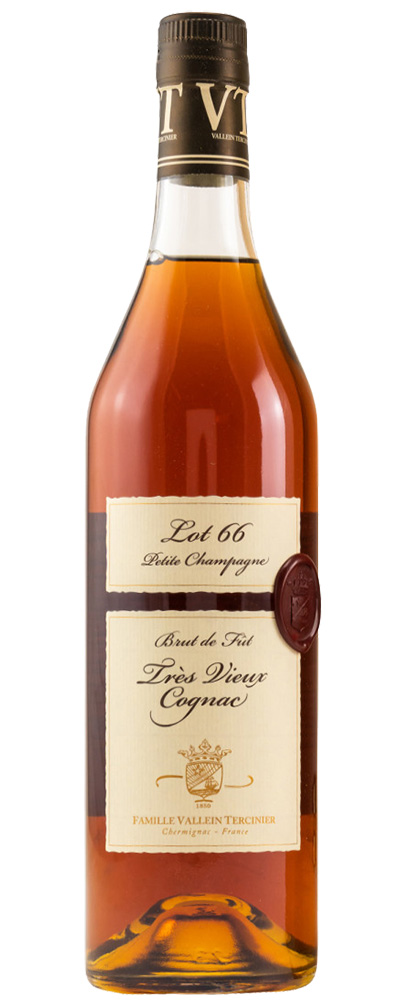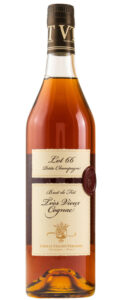 Nose: starts really heady, with whiffs of jasmine and eucalyptus, oak oils and even a little turpentine. Then there's vanilla and leather polish, as well as poached pears, stewed peaches and white flowers. Hints of undergrowth in the background.
Mouth: powerful, with more eucalyptus and mentholated notes. This evolves to liquorice and walnuts, as well as hints of cold coffee. Eventually also plain tannins and some sappy oak. Earl Grey tea and resinous notes in the end.
Finish: long and resinous. Slightly bitter pine wood mixed with raisins and peppermint tea.
This appears to be an older bottling that is still available. I love the heady aromatics of the nose, but the drying wood is a little too strong in the mouth and aftertaste. This vintage is nearing the point of no return, in my humble opinion. I found this bottle at Wine4You. Score: 87/100
Vallein Tercinier 'Lot 70' – Petite Champagne (52%, OB 2022)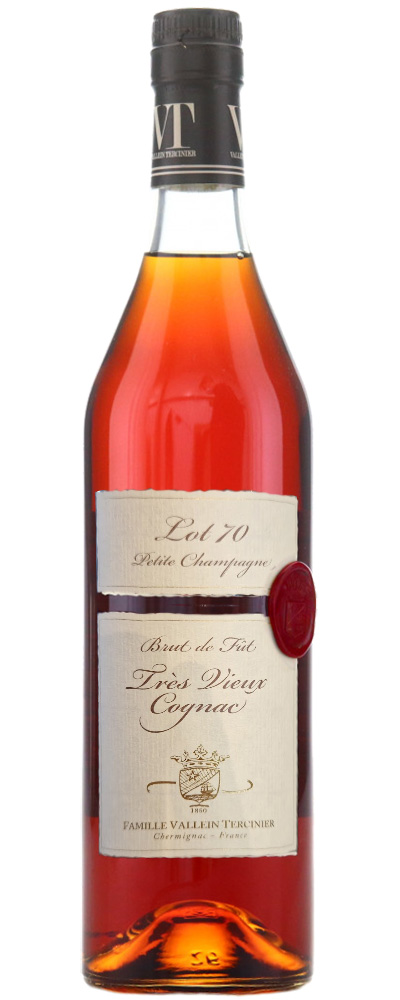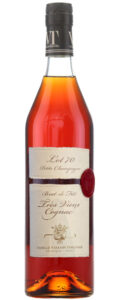 Nose: not all that different. A similar heady profile, with lots of polished oak. Leather, jasmine, some cigar leaves and perhaps a little more toffee than in the 66. Also darker hints of blackberries and prunes, cedar wood and cough bonbons underneath.
Mouth: wider than the Lot 66. That means darker notes like dark chocolate and liquorice, as well as a lightly tannic hint of dark brew tea. That said, the fruity brightness is bigger here, with blackberry, mango and peach. The whole is kept together by refreshing minty notes.
Finish: rather long, half fruity, half oaky. Tobacco and resinous notes in the very end.
Slightly more robust than the Lot 66, but finding a better balance and keeping the drying wood at bay. My favourite Vallein Tercinier release in this session. I found this bottle at Wine4You. Score: 90/100
I now realize I had an almost identical Lot 70 Petite Champagne in my previous session. However the labels are slightly different: in this 2022 release there is no 'VT' in the middle and no ABV on the front label either. While we're at it, cognac producers could definitely make it easier to distinguish different batches…