In this rum session we'll try five distilleries from five bottlers. There's an old Enmore Alpha & Omega released by Jack Tar (bottled with a red Alpha label and a blue Omega label). We also have the latest Bellevue 24 Years from The Whisky Jury and a Long Pond 1998 by Rest & Be Thankful. Also interesting is the Hampden Pagos, which is matured entirely in sherry casks.
We start with Foursquare Indelible, the 18th release in their Exceptional Cask Selection. It is a single blended rum (molasses based): double retort pot still + column still from the same distillery. One of the casks was fully ex-bourbon matured, the other five years in a Zinfandel wine barrel followed by 6 years in ex-bourbon.
Foursquare Indelible 11 yo 'Mark XVIII' (48%, OB 'Exceptional Cask Selection' 2021, single blended rum)
Nose: quite a fruity nose, displaying a lot of oranges and tangerines. Then ripe bananas, slightly acidic pineapples and hints of peach jam. Caramelized almond and cinnamon set in, alongside aromatic woody notes. A rather gentle expression.
Mouth: again quite accessible. We find caramel notes, gingerbread and stewed plums. Coconut flakes and vanilla, then ginger biscuits and cloves. There's marmalade on the palate but otherwise less fruits than the nose suggested. Hints of toasted wood and black peppercorns grow stronger over time.
Finish: medium, clearly drier, with more orange peels, nutty notes, clove and ginger. Quickly getting thinner.
A nice rum, easy to drink due to the slightly lower ABV and the rounder flavours. The Zinfandel adds some tannins without overdoing it. A good choice for those who like sweet spices. Still available in some places, often with a markup though.
Enmore 1988-1990 'Alpha & Omega' (51,6%, Jack Tar 2021, cask #40+42+55, 503 btl.)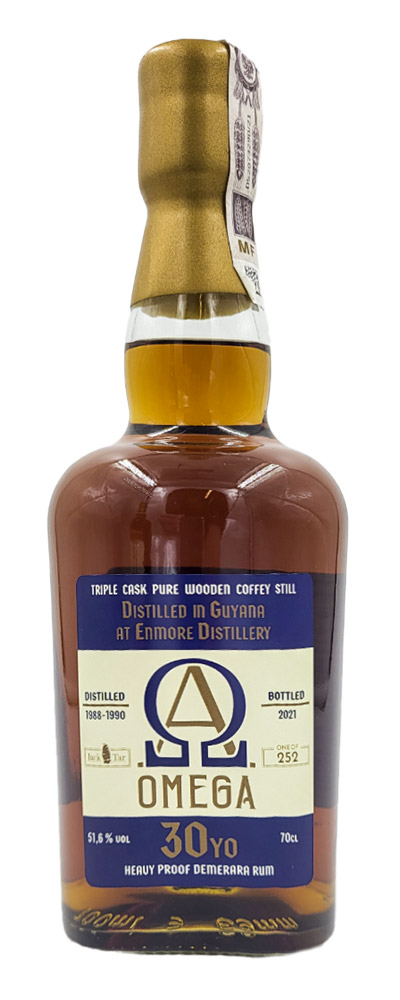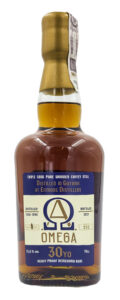 Nose: dark caramel aromas with multigrain bread, liquorice and molasses. Plenty of caraway seeds and whiffs of eucalyptus. Light hints of roasted pineapple. Then a light rubbery note, mentholy herbs and dark brew tea. Uncommon, dark, but nice.
Mouth: a bit strange. There's milk chocolate and quite a lot of Mokatine candy, mixed with cigar boxes and pinewood. After Eight. Angelica. Light hints of black olives and petrol, but the sweet woody notes cover up most of the estery / industrial side. Cedar wood, hay, dark chocolate and a subtle salty edge.
Finish: quite long, fairly dry, with more chocolate, mint and toasted cedar wood.
This is pleasantly different, with a few uncommon flavours. Enmore is often a rum that I can't seem to put my finger on, like a chameleon. Usually really good though, like here. Score: 90/100
Bellevue 24 yo 1998 (54,4%, The Whisky Jury 2022, cask #19, 237 btl.)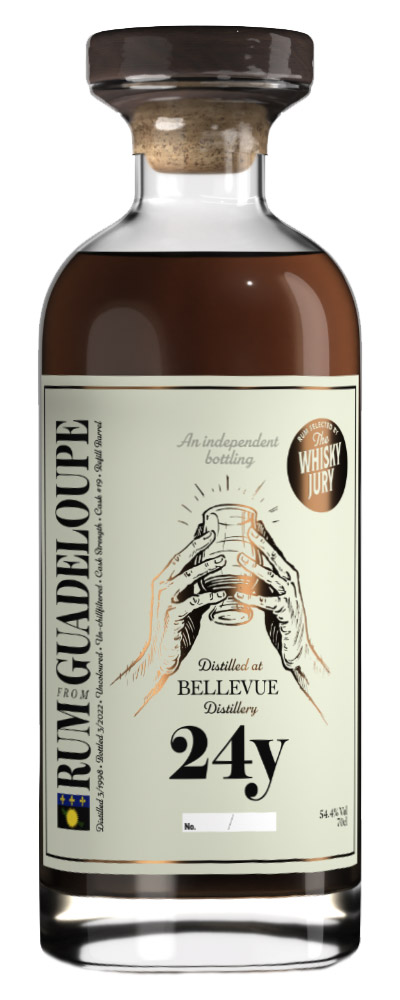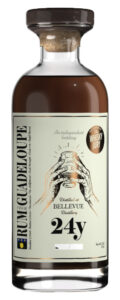 Nose: also quite full-bodied, this time on overripe bananas and mango chutney. Black olive tapenade as well. Tiny hints of tar, with nail polish at the very opposite side of the spectrum. New plastics and nice earthy touches. Close to cask #10 bottled some time ago, perhaps a little sweeter though.
Mouth: quite hot, same classic mix of bananas and pineapples that should have been eaten yesterday. Still these varnished, tarry and lightly petroly notes. Also beautiful herbs and peppermint candy, with liquorice sweets and caramelized nuts underneath. Lime and the other fruits keep shining throughout, really good.
Finish: long, on sweet herbs, mint, bananas. Grassy notes in the end.
Bellevue is always a great exemple of the mildly funky but very rich profile. This cask really grew on me and came accross nicely fruity in my opinion, but I must admit I didn't get to compare directly to #10. Score: 90/100
Next up is Hampden Pagos. Now Pagos is the Spanish term for vineyard plots, crus if you like, which deliver a sense of terroir. For sherry wine there is still a very long way to go, as most bodegas have sold their vineyards in the 1970s and are now mostly buying unidentified grapes from large cooperatives. Only a handful of producers can really present single vineyard sherry. I'm always a little weary of the appropriation of these terms by whisky (or in this case rum) producers, as if there would be a sense of this terroir in their particular casks.
Anyway, Hampden matured this 3 year old rum in a set of 20 Oloroso and PX casks from Bodegas Lustau.
Hampden Pagos 3 yo (52%, OB 2022, Oloroso + PX sherry casks)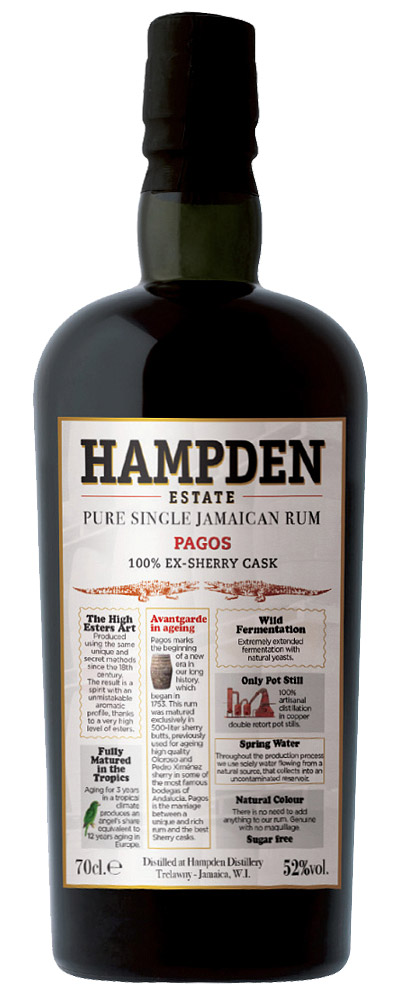 Nose: high esters now, with acetone up front. Then the classic sherry notes appear, like blackberries and redcurrant jam. Light whiffs of orange peels and chocolate. Some of the expected industrial notes like petrol and rotting bananas are present, albeit clearly in the background. Eucalyptus and dusty wood too.
Mouth: now more spirit character, think banana nectar, cane juice and overripe pineapple. Hints of vanilla and cocoa, then back to rotting pineapple. Next it becomes nicely jammy, with blueberries and honey. It's constantly pinballing between sherry and Hampden.
Finish: quite long, still some jammy fruits and chocolate alongside pineapple and sweet banana liqueur.
Some people love remixes, others will always prefer the original song… This Hampden is unquestionably interesting, even though I feel the spirit itself is young and not very exceptional. Somehow it feels like on of the early sherry finished whiskies, as the sherry influence is perhaps a little too firm. However, once the balance is right, I think sherry casks are here to stay in the rum world. Score: 86/100
Long Pond LSO 23 yo 1998 (59,6%, Rest & Be Thankful for LMdW 2022, cask #10269, 188 btl.)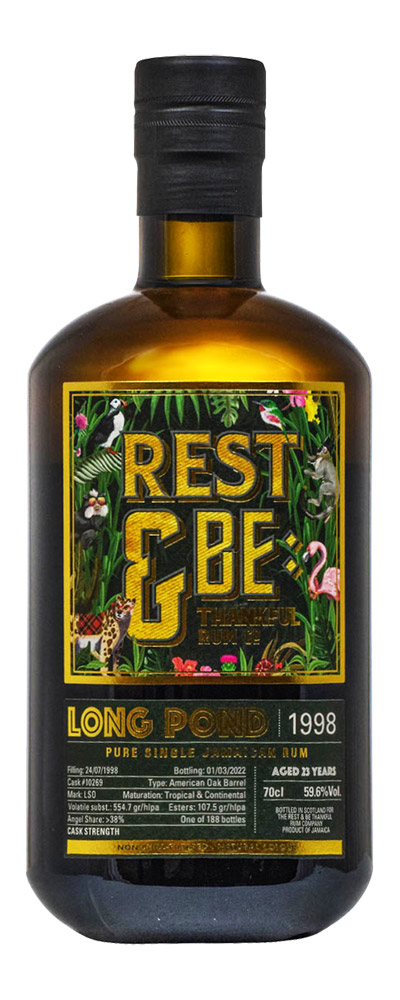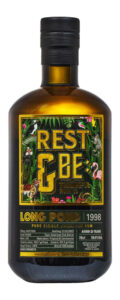 Nose: less expressive and less funky now. There are pineapple notes, as well as kiwi and orange peels, but most of it is grassy, leathery and woody. Also roasted nuts and white pepper.
Mouth: again more narrow. It has a lighter style and at the same moment a very high ABV. Fresh, bright fruits like pineapples and kiwi again, leading up to peppery notes and ginger. Herbal touches. Moving towards aniseed, but also aspirin.
Finish: long and hot, with more ginger, drying salty liquorice and hints of grapefruit.
Much more narrow, and much more astringent than the ones before, I'm afraid. This Long Pond simply fails to impress in this particular line-up. Still available from LMdW and partner stores. Score: 82/100