Earlskine is a series started by Andreas and Christian in Germany. They're running the Whisky Erlebnis shop and started as an independent bottler in 2020. So far the series contains three releases. We'll try them all today.
First up is a Bunnahabhain from a first fill sherry cask. Then we have a young Ledaig 2010, also from a sherry cask but apparently showing a very light colour. The last one is a Benriach 1999 finished in a Port cask. This is a brand-new release.
Bunnahabhain 11 yo 2009 (50,2%, Earlskine 2020, first fill sherry cask, 130 btl.)
Nose: starts on sweet wood, in a nicely aromatic way. A lot of cigar boxes. Then brass polish, hints of a bodega in Jerez and some herbal tea. Dark berry sweetness underneath, with raisins, dates and a whiff of chocolate. Walnuts and chestnuts. Subtle tobacco and candle wax too. This is a really nice composition.
Mouth: again quite an active cask apparently, bringing along some heat. Cinnamon and pepper, hints of clove too, but raisins and chocolate as well. Dry tobacco notes, walnuts and a maritime hint. Minty notes and leather in the end. Spicy sherry is dominating the fruits here, but expertly so.
Finish: quite long, with a subtle leafy sourness, blackberries, walnuts and dark chocolate.
A really nice sherry bomb, in a very aromatic style that has lots of sweetness and dryness at the same time. If you like tobacco, leather and spice, this is for you. Still available from Whisky Erlebnis and other retailers.
Ledaig 9 yo 2010 (59,2%, Earlskine 2020, sherry cask, 144 btl.)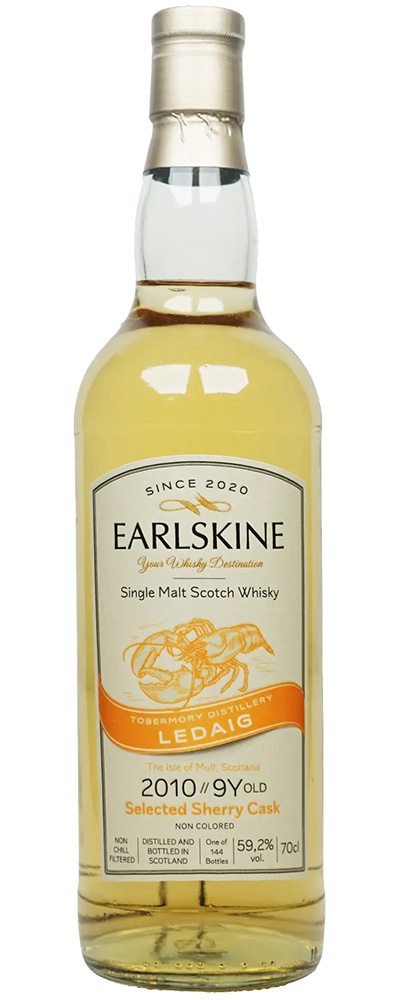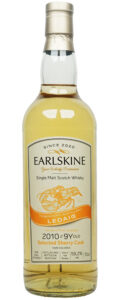 Nose: smouldering leaves and campfires, with carbolic notes, smoked sea salt and hints of fried car wiring. More than a hit of diesel. Tweed jackets, straw and burnt bread crust in the background, as well as sweet yellow fruits and a very subtle mentholated note.
Mouth: very powerful, with a punchy attack, medicinal smoke and hints of tar and burnt herbs. Hot peppers, some mint again. Then also a bright fruity note (grapefruit, or maybe scorched pineapple). Gherkins. Hints of mustard and anchovies. Some nice notes of smoked olive oil too.
Finish: long, smoky and herbal. A big dash of seawater alongside black pepper and lemons.
Ledaig in an Ardbeggian style. It packs a lot of punch and would easily trick you into thinking this was Islay whisky, because of the generous medicinal and deeply coastal notes. The sherry cask may have added some sweetness, but doesn't really come forward. Really good value for money. Available from Whisky Erlebnis. Score: 89/100
BenRiach 21 yo 1999 'The Spider' (52,9%, Earlskine 2021, Port Cask Finish, 174 btl.)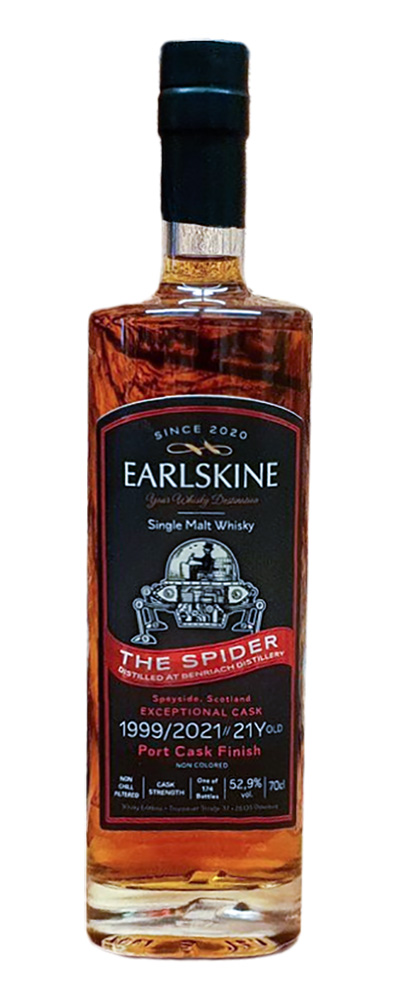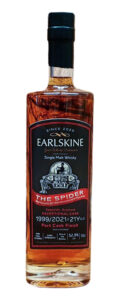 Nose: cranberries and cherries up front, with oranges and apricot jam behind them. Also slightly fragrant notes (hint of potpourri and fresh oak shavings), probably from the initial bourbon maturation. Then some tobacco notes, pink grapefruit peels and candied ginger. Light hints of chocolate. Aromatic and slightly woody, but not too evidently Port-ed, nice.
Mouth: an active cask again, with a more funky and winey character now. The sour cherries and cranberries are back, with hints of lemon peels and marmalade. Then plenty of oak spice: ginger, pepper and clove, giving it a herbal and bitter edge.
Finish: quite long, with the oak spice sticking around, alongside candied ginger and a resinous touch.
This appears to be an unpeated Port finish, while most of the similar Benriachs seem to be peated. It's nicely aromatic but becomes quite winey in the mouth, not able to hide its Port influence. In short, not my favourite in this session. Available from Whisky Erlebnis. Score: 82/100