Here's our irregular overview of the most interesting rum samples that reached us in the past few weeks. This time I explicitely wanted to include some of the lesser known names (to whisky lovers at least), like Rhum J.M., Labourdonnais, Belle Vue and St Lucia. These are complemented with an old Uitvlugt and an extreme DOK HD.
There's a second part to this session with heavy hitters, mostly from Jamaica and Trinidad. We'll publish it in a few days.
Rhum J.M. 21 yo 1999 'Single Barrel' (43,6%, OB for Kirsch Import 2021, bourbon cask #180007, 369 btl.)
Nose: interesting hints of Palo Cortado at first. Almonds and hazelnuts, orange peels, and hints of caramel. Heady hints of polished wood (cedar perhaps) and nail polish. Pleasant musty notes: rotting bananas, leather bound books, incense, earthy hints and dusty spices. Really good.
Mouth: lots of oak spices and herbal notes, like pepper, cinnamon sticks and peppermint, rosemary and herbal tea. Tobacco leaves and liquorice. Pine resin. A bit dry and tannic around the edges, but an impressive depth of flavours. Tiny hints of overripe mango but fruits are not what this is about.
Finish: long, woody, resinous and herbal, with a touch of salt.
The nose offered a lovely profile that I hadn't seen in rum before (I may need to check out J.M. more often). Fairly oak-driven on the palate, with the mouthfeel of a very old bourbon whiskey. In conclusion: good rhum, still available in some (German) shops for around € 200.
Labourdonnais 10 yo 2010 (51,9%, Liquid Treasures 2021, refill ex-Islay butt, 353 btl.)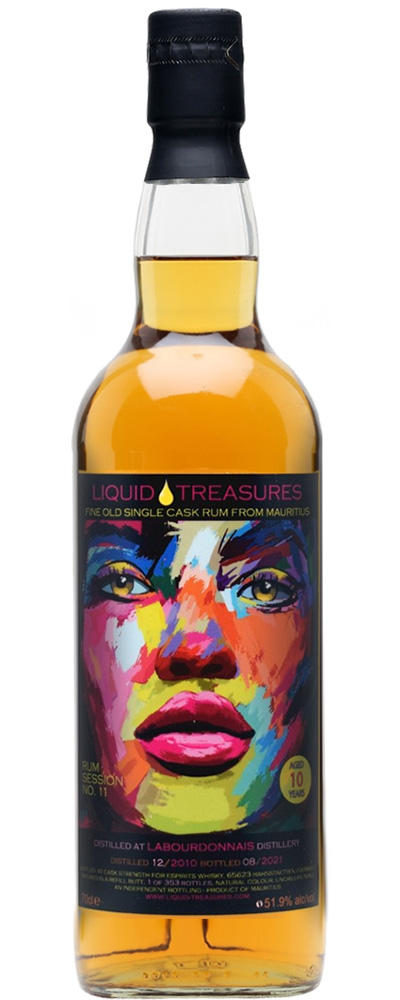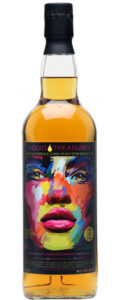 Nose: clean and slightly spirity, mostly on bananas and herbs. Also orange peels and hints of apple cider. Then juniper berries, caraway seeds, leafy notes and very faint hints of black olives. Quite naked, with an eau-de-vie character.
Mouth: starts on rather sweet cane sugar notes, still spirity. More apple and lemons, chilli and orange oil. Wee touches of Earl Grey tea. Grapefruit. Hints of ginseng and gentian. I can't say the Islay cask left a big mark.
Finish: quite long, slightly austere despite the sugary undertone.
Another really curious and unexpected profile, rather light and naked. The Islay cask didn't leave a big mark either. Labourdonnais is a relatively young distillery in Mauritius, which you don't see often from indy bottlers. To conclude: not a very complex rum, but well suited for the summertime, with ice perhaps. Still available from eSpirits and others for around € 70. Score: 82/100
Bellevue 23 yo 1998 (53,2%, The Whisky Jury for TastToe 2021, refill barrel #10, 245 btl.)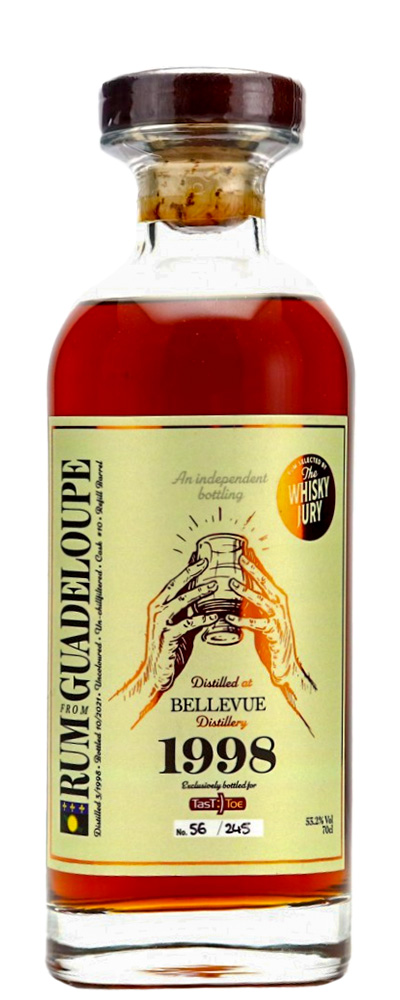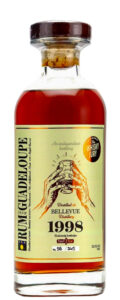 Nose: rather Jamaican, showing tapenade, petrol and polished wood. Lighter fruity notes (fresh and dried bananas, pears), becoming grassier and woodier over time. Hints of fresh paint, vanilla, liquorice and wee hints of garden herbs like dill and parsley. A touch of alcohol too.
Mouth: a mix of overripe bananas and pineapples, with a light funky note, more of these garden herbs and a good dose of wood. Minty freshness, but growing darker over time, more on caramelized nuts and liquorice. Salty touches as well. Quite robust, the oak is heavier than I expected.
Finish: long, with cough pastilles, walnuts and hints of cold coffee.
This Bellevue hints towards the heavier Jamaican style but in the end it only shows a mild funkiness. Instead there's a good dose of oak here, adding plenty of robust spice and richness. Still available from TastToe (last time I was there). Score: 88/100
Uitvlugt 30 yo 1990 'Early landed' (55%, Rum Sponge 2021, refill barrel, 226 btl.)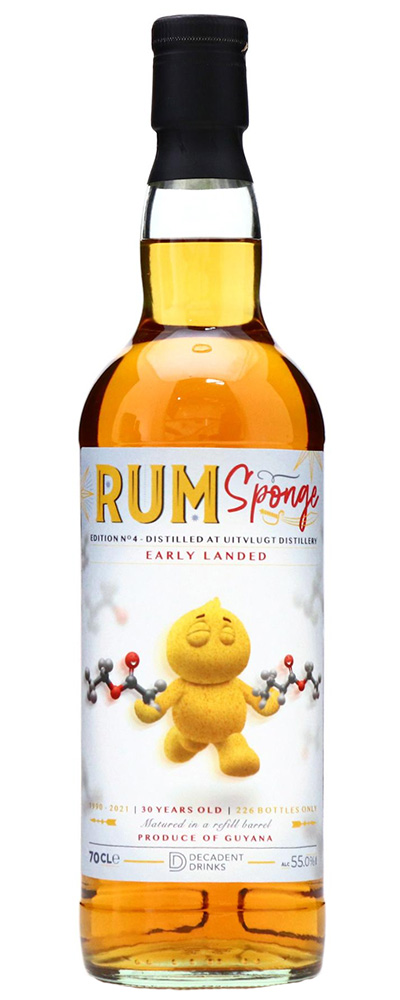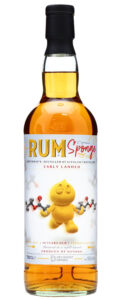 Nose: ester alarm. Rotting pineapple with lots of dusty notes (books in old cabinets, whiffs of sandalwood) and dried herbs. Hints of Barbour grease. Over time the fruitiness comes out more, adding hints of mango.
Mouth: more of these overripe fruits with generous drops of bitter herbs, more black olives and an almost medicinal side. Then some burnt / charred notes. Chilli and growing spices like aniseed. More narrow and more austere than I expected.
Finish: long, narrow, slightly citrusy with liquorice and a salty edge.
A really vertical rum, curiously compact. It's almost frustrating, as if it doesn't like to show its full feathers. Not our favourite rum from this excellent bottler, alghouth it's still an interesting bottling. Sold out. Score: 86/100
DOK (HD) 2009 (56,6%, TastToe 2021, 198 btl.)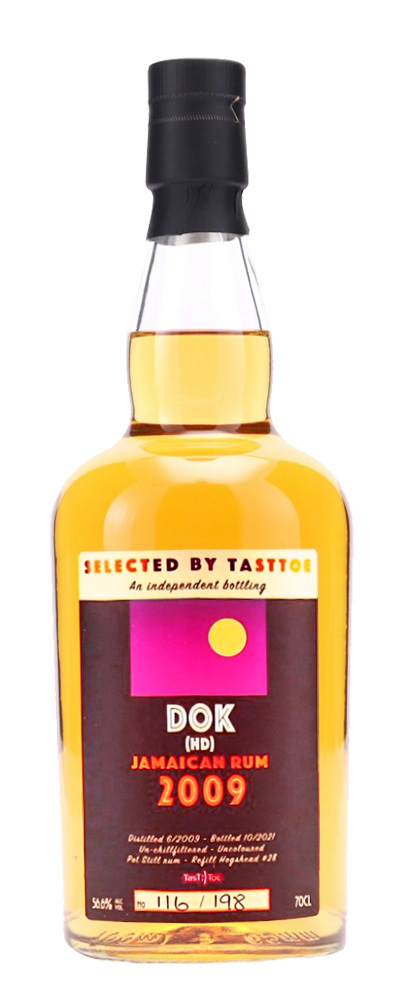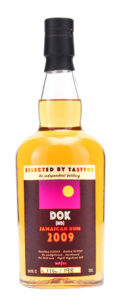 Nose: ester levels are going through the roof now (DOK being the highest at around 1500-1600 g/hl). It's all on new tyres, sour pineapple juice, lemons and banana foam candy, acetone and solventy glue. Later also green olives, wet earth, ginger and something of syntetic almond aroma.
Mouth: still totally extreme. Tarmac, cardboard, olive brine, sour puréed bananas and mouldy pineapple, something plastic-y and oily. More varnished notes and sour wood, balanced by a fruity banana sweetness. Astringency in the most gracious way?
Finish: long, with minty notes, pineapple and all these funky estery notes.
Wow, isn't this ester level illegal in any way? In fact would this be the reason why the name H*den is not on the label? Obviously this isn't for everyone, but it's a superb expression of this style. Available from TastToe. Score: 90/100
Saint Lucia Distillers 15 yo 2005 (61,5%, OB 'Master's Selection' for Grape of the Art & Rum X 2021, cask #06012000, 232 btl.)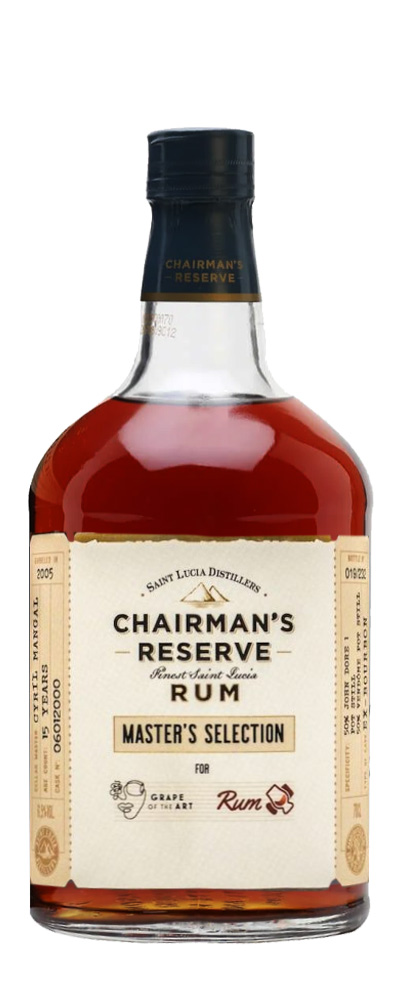 Nose: herbal notes at first, like eucalyptus and mint, with camphor. Later some funk appears, with tar and paint, as well as orange peels and sour tobacco leaves. Overripe mango with hints of blueberry. Some vanilla and a subtle smoky edge as well.
Mouth: very hot – too hot. It's full of chocolate, black pepper, cinnamon and a big earthy notes. Oily / tarry hints, a bit of rubber and black olive. Roasted chestnut. Fruity sourness. Overall not as dirty or funky as some of the above, but not exactly clean either. A lot of spice and woody dryness, in a medicinal way almost.
Finish: very long, herbal, on peppermint, cinnamon and pepper.
Authentic rum with huge power and quite some extractive wood influence. I was missing some fruity notes here, but it's an interesting, warming dram. Score: 87/100