Apart from the three wine influenced 2007 Vintage Casks we reviewed a few weeks ago, Mossburn also released two special bottlings. Both are over 20 years of age. First we have a Jura 1993, followed by a Springbank 1999. Indie Springbank indeed!
Jura 28 yo 1993 (48,2%, Mossburn 'Vintage Casks' 2021, cask #20.0493.SC5, 220 btl.)
Nose: oh so very waxy – it reminds me of a 1970s Clynelish or even these 1966 Ben Nevis. Behind this we find marzipan, buttercream, cooked apple and hints of papaya. Then back to castor oil, putty and whiffs of shoe polish. Damp hay and gorse flowers. Digestive biscuits. My kinda whisky.
Mouth: fairly fruity with an oily, waxy texture again. More biscuity notes, as well as old oak, almonds, dandelions and sunflower oil. Hints of curry spice and aniseed. It stays on the sweet side while others have showed some bitterness and mustard – not here. Instead we have branches and leafy notes, spearmint and sweet herbal tea. Hints of dusty books as well.
Finish: quite long, with spearmint, aniseed and wildflower notes.
This Jura 1993 (a vintage we hadn't seen from indies before) starts great, with beautiful waxy notes and an old school, dusty side. Then on the palate it's creamy but a little less complex. More recommended Jura! Available from Master of Malt or cheaper from TyndrumWhisky for instance.
Springbank 22 yo 1999 (54,7%, Mossburn 'Vintage Casks' 2021, bourbon barrel #01.1099.SC4, 206 btl.)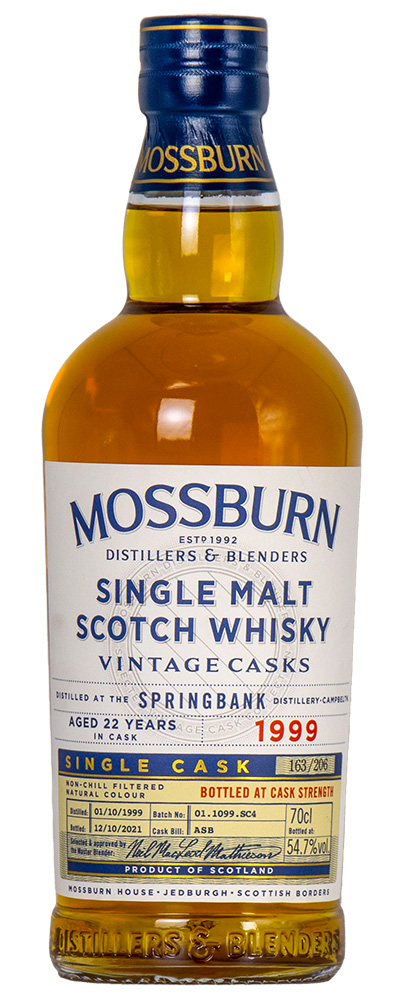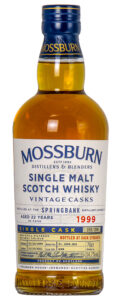 Nose: a fairly gentle profile. We find some of these waxy notes again, at the expense of the usual coastal / medicinal Springbank notes. Some vegetals, chalk and buttery notes. Sweet lemons and stewed fruits in the background. A hint of yellow apple. Then also leathery notes and a wee hint of smoky tobacco.
Mouth: at last, some peat smoke and a hint of camphor and menthol that add a medicinal side. Hints of cardamom and pepper, with a slightly bitterness from the wood. It stays quite round and sweet though, with fruitcake and sweet mint.
Finish: long, rather classic, with gentle sooty notes, a vague fruity sweetness and hints of black peppercorns.
Two really good whiskies. In fact they're closer together than you'd expect. Although this Springbank shows some classic markers and a high drinkability, some die-hard fans will probably think it's too smooth. A complex dram but I think the Jura is more unique. This one is sold out at Master of Malt anyway, and I'm not sure where you could still find it. Score: 89/100