The Vintage Cask series from Mossburn Distillers & Blenders (soon much better known as the owners of Torabhaig) is a collection of small-batch whiskies from specific vintages. Recently they presented the fifth batch which consists of three new releases, all from the 2007 vintage.
We have Auchroisk matured in refill hogsheads and finished in Bordeaux barrels for one year. Next is Craigellachie matured in ex-bourbon barrels and finished in Oloroso hogsheads. Finally there's also Macduff finished in Ruby Port hogsheads. Quite a diverse trio.
Auchroisk 14 yo 2007 (46%, Mossburn 'Vintage Casks' 2021, Bordeaux barrel #10.0407.30)
Nose: starts on earthy notes with vanilla and malty notes. Hints of old wine barrels and black peppercorns. Also a subtle layer of raspberries and cranberries on top. Slightly sour apple and fizzy sherbet too. The wine is not overtaking the whisky, good.
Mouth: same balance. The Auchroisk spirit is rather light, showing apples and malty notes, subtle toffee and hints of honey. Then there is a hint of berries and floral pepper. A lightly tannic feeling of grape pith, oak and aniseed towards the end.
Finish: medium length, on sour berries, with a hint of earthy char and dark chocolate.
Light and pleasant on the nose, with nice depth from the red wine barrel. On the other hand it doesn't feel entirely balanced in the mouth. To sum up, a decent wine finish. Available from The Whisky Exchange or Master of Malt for instance.
Craigellachie 13 yo 2007 (46%, Mossburn 'Vintage Casks' 2021, Oloroso hogshead #12.1207.28)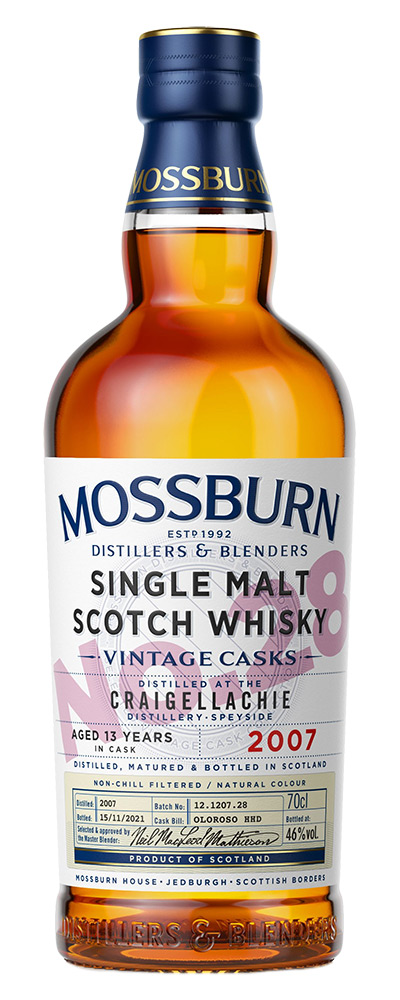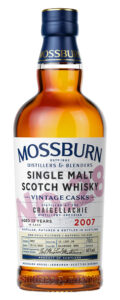 Nose: a more weight and slightly more classic profile than the Auchroisk. Raisins and fruit cake stand out, with autumnal notes like mulchy leaves. A whiff of gun smoke as well. Bright orange peels and chocolate dipped hazelnuts in the background.
Mouth: sweet and spicy, with a nice texture. There is some blackcurrant jam and toffee, as well as cappucino. Black peppercorns. Drops of cough syrup. Tobacco leaves and a hint of leather. It's a meaty spirit, which pairs well with the sherry.
Finish: medium, on oak spice, chocolate and more tobacco leaves.
A very robust, meaty style of whisky (worm tubs…) which lends itself to a sherry finish. Despite the heavy weight, this is quite rich and autumnal. Available from The Whisky Exchange or Master of Malt for instance. Score: 85/100
Macduff 14 yo 2007 (56,4%, Mossburn 'Vintage Casks' 2021, Ruby Port hogshead #05.1107.29)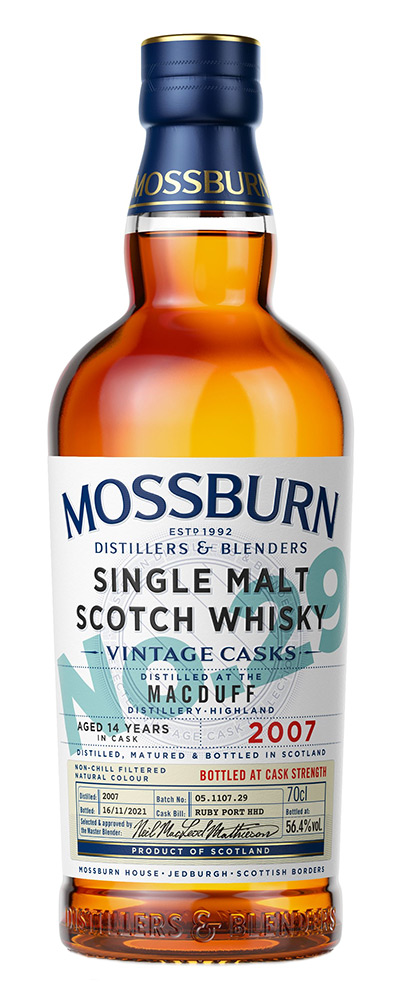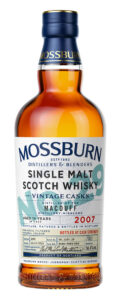 Nose: it's the floral, fruity side of Port wine. Violet candy, toffee, red apple, mixed with biscuits. A subtle smoky, leathery touch. Dried grassy notes. Finally a fragrant, almost soapy note too. This goes in different directions, hard to pin down.
Mouth: not my style. The high ABV combines with lots of punchy pepper and clove. Blackberry leaves and jammy plums, but always with this fragrant edge. Then ginger and a bittersweet woody note. Too much wine for me.
Finish: medium length, spicy and winey. Some stewed fruits in the background, but they fail to come out.
This crosses the line of becoming too winey in my opinion. In any case not for me, but Port finish lovers may disagree. Now available from The Whisky Exchange or Master of Malt for instance. Score: 78/100