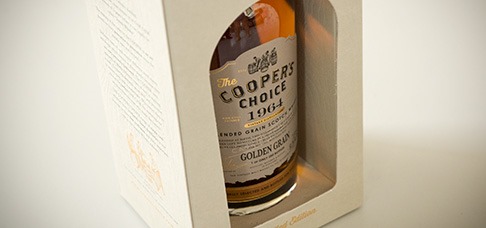 Some time ago, I received three samples of Golden Grain whiskies bottled in the Cooper's Choice range. Two had been bottled before, the third was a cask sample. I was asked to give my opinion, and in the meantime it has been bottled for True-Whisky in Berlin, Germany.
They are blended grain whiskies, all blended at birth. It is a rare practice, supposedly started by Joseph Hobbs in the late 1950s. He owned the Lochside and Ben Nevis distilleries, where he produced malt and grain whisky. Both were used for blended whiskies like Sandy Macnab, and Hobbs was an advocate of blending whiskies right after distillation, as opposed to right before bottling.
In the same tradition, these distilleries also produced single blends (malt + grain whisky), e.g. the Lochside 1964 single blend or the Ben Nevis 1970 single blend. However the practice seems to have faded after Joseph Hobb's death in 1964. In any case the Lochside column still was dismantled in 1970 and Ben Nevis produced only malt whisky since 1984.
Although there is no real evidence, there is a good chance the Golden Grain whisky we're trying today comes from Lochside and Ben Nevis.
Golden Grain 50 yo (50%, Cooper's Choice 2016, fresh bourbon cask #0042, 250 btl.)
Nose: warmer, with a little more vanilla and warm leather than the others. Nice rummy bananas flambéed, subtle herbs and some glue. Possibly the most rounded, sweet nose of the trio, really luscious.

Mouth: fruity notes (peaches on syrup, roasted pineapple), hints of vanilla and honey. Golden raisins. Ginger and pepper from the wood. Hints of tobacco. Polished wood. Hints of cognac, hints of bourbon whiskey too. Some resinous notes, more oaky roughness than in the 1964 cask #1307.

Finish: medium long, a bit more spicy and herbal now, with hints of gingerbread.
I found out I tried this one earlier this year. My notes are a confirmation of what I wrote back then: it's a great grain whisky, very round but maybe a tad sweet for some. Around € 230.
Score: 90/100
Golden Grain 51 yo 1964 (51%, Cooper's Choice 2016, fresh bourbon cask #1307, 240 btl.)
Nose: a little flatter, it's slightly less emphatic and aromatic. When nosed after one of the others, you can't seem to pick up much. When trying them the other way round, it is always overtaken by the next one. Nonetheless it has the same aromas: vanilla, polished wood, including a hint of glue. Warm leather. Hints of women's powder.

Mouth: perhaps a little fruitier than the first one, but differences are small. Peaches, apples, berries. Hints of cigar boxes. Peppery notes. Brown sugar and caramelized almonds.

Finish: medium long, smooth and sweet.
This one seems a little less emphatic. That's not an advantage on the nose (at least not in a direct comparison) but it also means it's even smoother, rounder in the mouth. I prefer the 50yo but they're close together. Around € 230.
Score: 90/100
Golden Grain 51 yo 1964 (50,3%, Cooper's Choice 2016, fresh bourbon cask #1301, 250 btl.)
Nose: fresher, with more minty oak as well as a slight green tea / citrus note. Nice marshmallows. More hints of coffee roast, chocolate and spices too, the vanilla roundness is a little less present here. Sweet oranges. Light pencil shavings. If the other were reminiscent of bourbon whiskey, this seems to have a small dash of rye added to it. Very good again.

Mouth: sweet, with caramelized sugar, a little liquorice and coffee roast again. Polished oak. Coconut flakes. Fruit gums. Cinnamon pastry.

Finish: long, spicier and slightly drier butnot at all woody. Hints of maple syrup and walnuts.
I think this finds an excellent balance between sweetness and spices. My favourite, although you should remember all three are extremely close together, so the tiniest note can make a difference. Around € 210 from True-whisky.
Score: 91/100