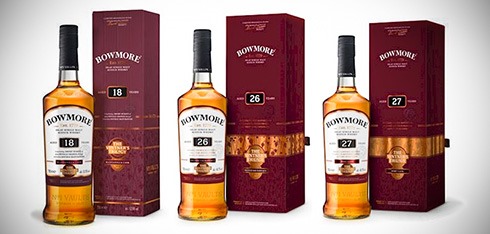 This Bowmore 26 Years is part of the Vintner's Trilogy, a series of three wine finished single malts. We already had the Bowmore 18 Years Manzanilla before and it turned out to be rather excellent.
This 26 year-old expression was matured for 13 years in ex-bourbon barrels and then given a second maturation (another 13 years) in French oak wine barriques – something that I usually approach with caution.
Bowmore 26 yo 'French oak barrique' (48,7%, OB 'Vintner's Trilogy' 2017, wine matured)
Nose: starts on a slightly farmy (yes!) peat, with hints of sheep stables. Love that. Some oily notes and menthol. Then there's blackberry jam, blueberry muffins, Black Forest gateau and dark chocolate. Wait a bit longer and you're in for tropical fruits (barbecued pineapple). Hints of roasted coffee beans as well.

Mouth: same feeling of gentle peat smoke with dark fruits (blackberry, black cherries) as well as (now more discrete) hints of sweet mango and pineapple. Lots of raisins and chocolate with a pinch of salt. Gentle herbs too. It's a little more winey / oaky but few tannins.

Finish: long, on sweet peat, chocolate and traces of oak.
Expensive, but quite a special dram. Nice peat, subtle farmy notes and tropical fruits as well. Again not too winey, just excellent. Available from Master of Malt or The Whisky Exchange among others.
Score: 91/100