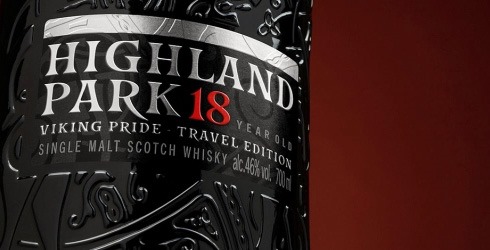 This is part two of our review of the new Highland Park travel retail line-up, which focus on important animals of the Viking culture. In the first part I looked at Highland Park Spirit of the Bear and Highland Park Wings of the Eagle
Highland Park Loyalty of the Wolf is a 14 year old matured in American oak sherry casks and bourbon barrels.
Highland Park 14 yo 'Loyalty of the Wolf' (42,3%, OB 2018, travel retail)
Nose: rather sweet and malty, plenty of cake aromas, vanilla custard and apples. Light ginger and pepper in the background, as well as dried grass, a whiff of beer and smoke.

Mouth: a little watery at first. Then there's a burst of spices and smoke. Cinnamon and nutmeg. Seville orange. It's only towards the end that it regains citrus sweetness, salted nuts and gentle sherry notes.

Finish: medium length, with some grassy bitterness and salty smoke.
Although it started with a fairly bright nose, on the palate it's harsh and thin at the same time. The worst option in the current travel retail line-up, in my opinion. Just avoid it, even the cheaper Spirit of the Bear offers more. Around € 65 in duty free (1-litre bottle). Also available from Master of Malt.
Score: 77/100
Then there's a travel edition of Highland Park Viking Pride, a higher strength version of the classic 18 Year Old, supposedly a 'naturally darker whisky with a fuller flavour'. It is composed from a selection of 120 sherry seasoned European oak casks, married together before bottling and bottled at 46% ABV, the marrying strength.
Highland Park 18 yo 'Viking Pride' travel edition (46%, OB 2018)
Nose:  nicely aromatic, with a sweet and sour fruitiness (toffee, red apples, hints of cherries), dried apricots and gentle hints of milk chocolate. Hints of Szechuan pepper, walnut cake with cinnamon, heather honey and a bit of charred oak. A coastal touch. Perhaps a little spicier and drier than the regular version.

Mouth: similar honeyed spicy profile, with marmalade and grapefruit zest, a few raisins mixed with cinnamon and pepper. Heathery notes. Dark chocolate, a little burnt sugar and salty smoke.

Finish: medium, more bitter chocolate, toffee and wood spices.
Much more like it. Delicately smoky and coastal, with a nice chocolate theme and heather honey. Around € 110 (70cl bottle). Available this month in global travel retail – in the US from December.
Score: 88/100