Some time ago I wrote an article about the best whisky glass – it's time to add a new one to this series…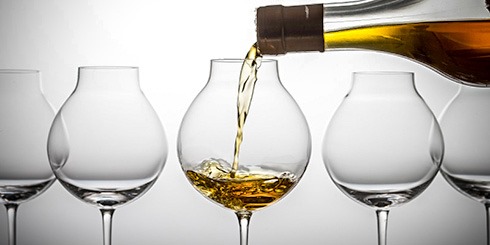 Last year whisky consultant / writer Angus MacRaild teamed up with Speciality Drinks (TWE) to produce a modern recreation of an old whisky glass used by blenders in the 1920s. You can find it in old publications but by now it had largely been forgotten, so they tried to come up with a new glass that stays true to the original qualities.
The 1920s Professional Blender's Whisky Glass has quite a unique onion shape, with a very wide bulb, easily twice as wide as most other whisky glasses, yet the opening at the top is more narrow.
I've been able to try it for a few months now, with different whiskies.
1920s Blender's Whisky Glass: my thoughts
I must say it is an exceptional amplifier. Where this excels is with old, low-proof whiskies that have a delicate profile. It concentrates the aromas, compared to a Glencairn it will make you think you're trying totally different whisky. Obviously the amplification makes it easier for the whisky to express itself, but the glass doesn't distort the aromas and generally keeps a nice balance of base aromas and more volatile notes.
I wouldn't suggest using it for cask strength whisky or heavier styles in general (modern peated drams or wood-infused bourbon whiskey for instance).
I'm glad the glass works fine with small quantities, even 1 cl is enough to make it work. Moreover you can pour almost 3 cl, put the glass on its side and roll it to cover the entire inner surface with aromas, nothing will be spilt and you'll get even more intense aromatics.
So far so good: the best glass on the market for older or more delicate whisky.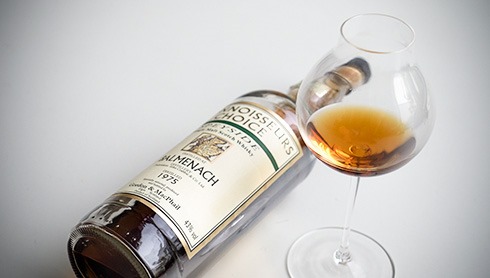 The downsides of the Blender's Whisky Glass
There are two: it is very fragile and a tricky whisky glass to clean.
It is a hand-blown piece of art but I have the impression the connection between the stem and the tulip is a weak point. Mine is still intact but I've seen more than few broken glasses come by on Facebook, always around the stem.
Update: as Billy from TWE pointed out, they've updated the design and addressed the flaws: the stem should be much less fragile now!
Cleaning is difficult because the opening is so narrow, you can barely get in with your hand or with a towel. At least the tulip is not as high as many wine glasses these days: you can still reach the base of the tulip with your fingers. Nonetheless a lot of attention is required while cleaning this beautiful piece of history.
There's another minor thing: the onion shape seems to attract dust like no other glass.
Final thoughts
You can get the Blender's Glass for around € 30 each from The Whisky Exchange, or less if you buy a pack of six.
Pricey indeed, and therefore I will stick to TWE's Bugatti kelch as a daily whisky glass, which is more of an all-rounder for all kinds of whisky styles, at a fraction of the price. The Blender's Whisky Glass is here to stay though, I'd certainly recommend it for special drams.
ps/ While you're at it, TWE has the new Ardbeg Grooves in stock today… and Master of Malt as well.