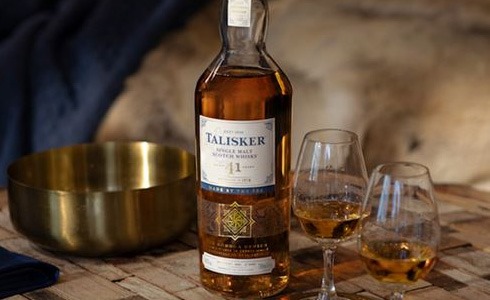 This little whisky blog was started 11 years ago, we're celebrating…
The Bodega Series focuses on the long standing connections between whisky distilleries and sherry bodegas. Apparently the Talisker archives proved they have already been buying sherry casks from Delgado Zuleta (one of the oldest sherry producers in the area) since their founding in 1830.
The first release was a Talisker 40 Year Old, matured in refill barrels before being finished in five sherry butts that were taken from a superb Amontillado solera. The wine which was matured in these butts is called Quo Vadis, also (at least) 40 years of age – which for sherry means an average age. I often have difficulty explaining to people that I've paid € 275 for a 3 cl sample of this, no kidding.
The second instalment is a Talisker 41 Year Old, bottled a few months ago. They turned to Delgado Zuleta again and used six Manzanilla casks this time, from the La Goya solera, their flagship wine and the precursor to Quo Vadis. In both cases you can assume the casks were very old, often over a century, only the age and type of the wine would be different.
Supposedly a third entry will round off this series. Next year perhaps?
Talisker 40 yo 1978 (50%, OB 'Bodega series' 2018, Amontillado finish, 2000 btl.)
Nose: very rich and warm, with a sweet exotic fruitiness that brings us back to the 1960s or 1970s. Pineapple, orange peel, sultanas, hints of papaya and tangerines. Beautiful hints of polished sandalwood and cigar boxes, with whiffs of jasmin tea and lime leaves. Light sea breeze. Honeyed touches and just very mellow phenolic notes and peppercorns. Lovely.

Mouth: more powerful than expected, with the typical peppery notes coming out, against a backdrop of waxy fruits and oak. More smoke as well. Peaches, pears, lime. A zesty note mixed with salt. Soft herbal notes. Very elegant and complex.

Finish: good length, with the same complex mix of fruits and salinity. Subtle smoke and polished oak.
A remarkable dram, especially on the nose where this is more balanced and more special than its older sister. The old-style fruitiness and balanced sandalwood is great. Still pretty perfect on the palate, the best Talisker I've tried so far. Still available from The Whisky Exchange and other places.
Score: 93/100
Talisker 41 yo 1978 (50,7%, OB 2019, Manzanilla finish, 2000 btl.)
Nose: slightly sharper, and it misses some of the exotic fruits. It's more on apples, plums and banana, with a much bigger fresh side of mint leaves and salty top notes. Subtle hints of roasted nuts, vanilla cake and slightly more smoke than in the younger version. Old waxed paper. Interesting differences.

Mouth: this one grows more gradually, with a sweet and slightly medicinal onset, growing to black pepper, leather, baking spice and coastal notes. Salted caramel. Nutty notes. Apple peel.

Finish: quite long, with smoky notes, pepper, orange peel and the return of the minty freshness.
This one is slightly less complex and misses some of the fruity magic. It does unfold theatrically on the palate though, with more coastal notes overall. What a pair! (TWE / MoM). Thanks for making this possible, Arno.
Score: 92/100