23 July 2019
Diageo Special Releases 2019 (+prices)
Tasting notes by Ruben Luyten - Posted in * News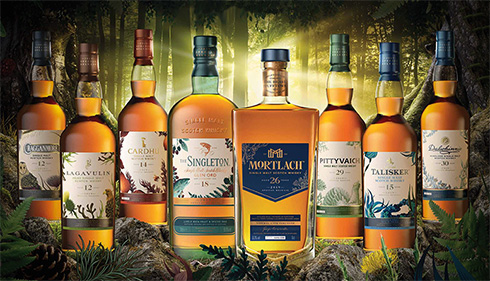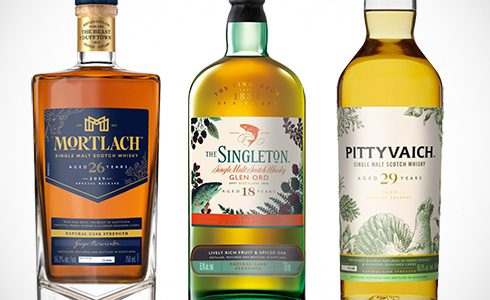 Diageo Special Releases 2019
Diageo has announced the Special Releases 2019, themed "Rare by Nature". For the first time it seems there is a visual theme in the whole series, with these jungle / retro plant motifs and animals. Most whiskies are in the same bottles and nicely match in terms of colour and identity. Although this is a nice touch, I suspect some people may be disappointed that whiskies are not presented in their own traditional brand identity (e.g. the typical Lagavulin dark bottle), breaking their collection a little.
Here are the confirmed details, including the recommended prices. I hope to add my tasting notes in the future.
Cardhu 14 Year Old
55%, Amontillado casks, around € 140
Cragganmore 12 Year Old
58,4%, smoky version, around € 100
Dalwhinnie 30 Year Old
54,7%, around € 600
Lagavulin 12 Year Old
56,5%, around € 130
Mortlach 26 Year Old
53,3%, 3888 btl., around € 1800
First-fill Pedro Ximénez and Oloroso seasoned casks
Pittyvaich 29 Year Old 1989
51,4%, 5568 btl., around € 390
Finished in Oloroso & PX seasoned casks
Talisker 15 Year Old
57,3%, around € 130
Singleton of Glen Ord 18 Year Old
55%, around € 150
"lively rich fruit & spiced oak", probably sherry matured
Cask Strength Special Releases
Perhaps a little underwhelming (or accessible, depending on your view). The Special Releases are starting to become a series known for their cask strength rather than for exceptionally old releases from distilleries that are otherwise unavailable. We used to have 30-40 year-old whiskies at the top, now it's mostly 10-20 years of age. No special blend this year, no grain whiskies either.
That said, I'm looking forward to the Talisker at cask strength, the Mortlach from first-fill sherry casks and the Pittyvaich which is hopefully along the lines of last year's offering. That Mortlach is so expensive though!
Buy Special Releases 2019
The Special Releases 2019 can already be ordered through Master of Malt, The Whisky Exchange or Whisky Shop. Other retailers will probably follow soon.
Diageo Special Releases 2019 (+prices)
Ruben Luyten
2019-07-23