Brora distillery was officially re-opened last Wednesday 19th of May. They started preparations back in March already but this week the first spirit was filled into cask #001. Wonderful news of course.
The 'new' Brora was finetuned based on old documents that had a detailed description of all the technical elements, in order to replicate the style as closely as possible. I believe they have a handful of different spirit styles but it seems they've been able to get the waxy character, the fruity notes and peat levels right.
The new distillery will welcome visitors in rather upscale half-day experiences (£ 300 and £ 600) including food and tastings of recent Brora expressions as well as the new make spirit. At the same time they will release a distillery exclusive Brora 39 Year Old 1982.
As part of the celebrations Diageo recently released the Brora Triptich, a £ 30,000 set of three expressions from the three iconic styles: Brora 1972 (the farmy style), Brora 1977 (the more peated style) and Brora 1982 (the waxy style with less peat). Four casks of each vintage were selected and married to create 300 bottles. One of these sets arrived in Belgium and I had a once in a lifetime opportunity to try them…
Brora Triptych 38 yo 1982 'Timeless Original' (47,5%, OB 2021, 300 btl.)
Nose: quite a fruity, almost tropical Brora, showing a great mix of ripe peaches and mango, mixing nicely with typical wax candles and coconut cream. Herbal honey. Hay. Also delicate mineral oils and mint leaves. After some time in the glass it develops light floral touches.
Mouth: quite punchy and very waxy. Still this exhuberant fruitiness of overripe apricots, pink grapefruits and bergamot. Then some heather honey, fruit tea and a light hint of bubblegum. There's no significant peatiness but a light hint of menthol and charred oak spice nonetheless. In the last sip even a very light hoppy aromatic.
Finish: long, still rounded and waxy, with minty overtones.
This is an excellent example of the 'Clynelish style' of Brora, which means hardly any peat but full-on fruits and an unparalleled waxy texture. Not the epitome of Brora's soul in my opinion but in itself the whisky is magnificent, probably the best from this vintage.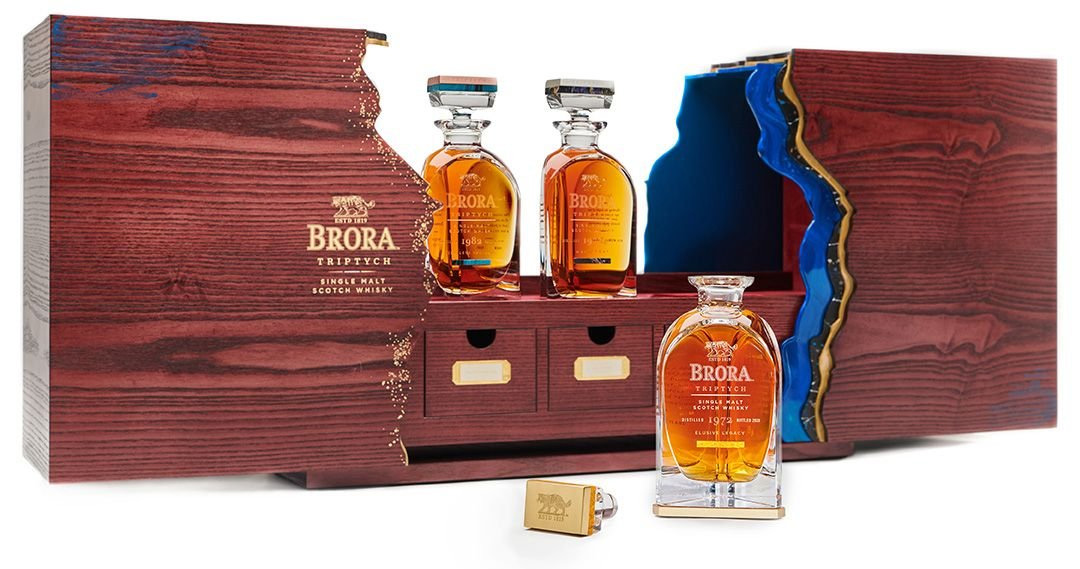 Brora Triptych 43 yo 1977 'Age of Peat' (48,6%, OB 2021, 300 btl.)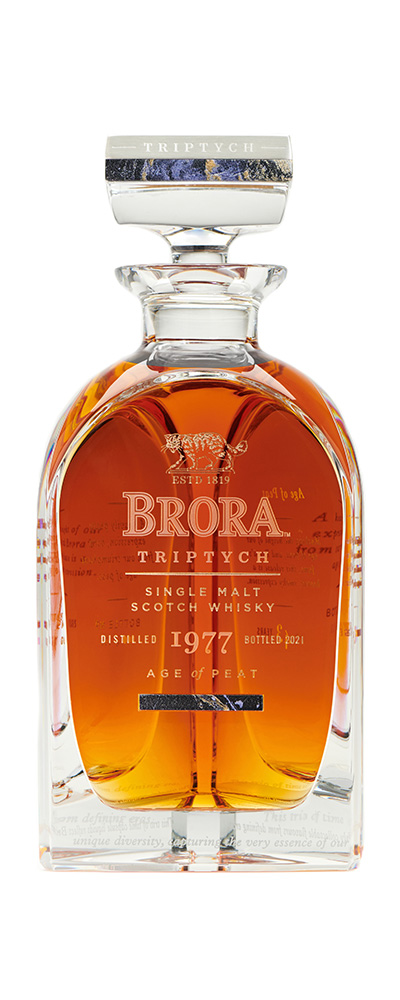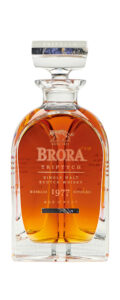 Nose: more robust, with (moderate) earthy smoke and cold ashes, some pine wood, slightly floral herbs like eucalyptus and some shoe polish. Hints of barbecued banana, peach and vanilla in the background.
Mouth: drier now, a lot less rounded than the 1982, with hardly any fruits (perhaps a hint of sweet apple) but rather sweet herbs, leather, cinnamon and mint. A mild waxy note. Also gingery touches and a sharper coastal edge. Herbal tea.
Finish: long and earthy, with ashy notes and subtle liquorice.
While this is definitely sharper and more robust, there's not a lot of peat left (as such). It's nicely transformed into herbal notes and makes this the earthy expression in the set.
Score: 92/100
Brora Triptych 48 yo 1972 'Elusive Legacy' (42,8%, OB 2021, 300 btl.)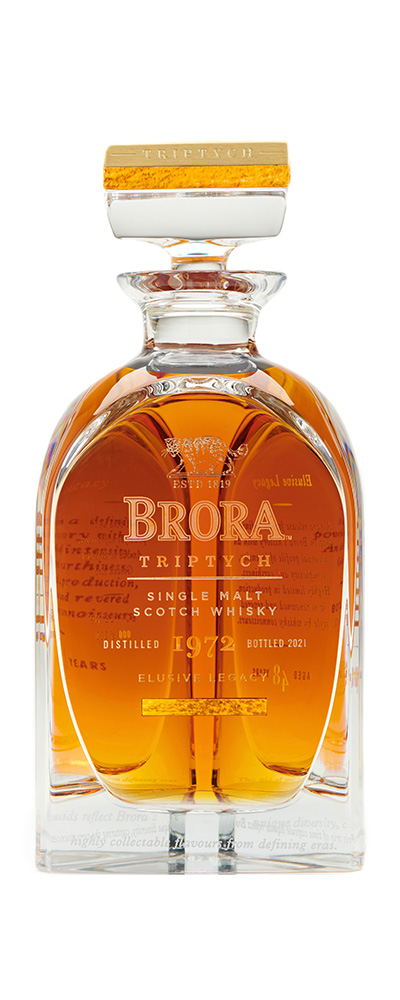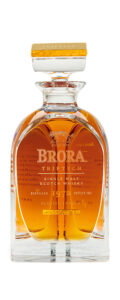 Nose: now we're talking. To me Brora is about farmy notes and they are certainly here. Wet hay and goat stables, mixed with wet wool, fresher spearmint, green herbs, seaweed, almonds and warm leather. Precious balms and ointments, the sweetness of roasted pineapple and a very light hint of tarry ropes as well. Lots of tiny nuances – this is a marvellous combination, quite delicate but a joy to unravel.
Mouth: deep flavours yet slightly fragile at the same time, with slightly less of that creamy, oily texture. There's more chocolate here, crushed peppercorns, faded peat and faint metallic notes. Also clove and a hint of dark brewed Pu-Ehr tea. Menthol. Subtle hints of cigar leaves.
Finish: very long, oilier again, with tea and quintessential mint.
This nose alone is out of this world and totally unique – this can be nothing but Brora. The age turned it into a sophisticated gentleman, but it's still very vibrant and full of life, even at almost 50 years of age. Now imagine they could reproduce this… In any case, congratulations!
Score: 95/100