Bruichladdich recently presented series 12 of its heavily peated Octomore range. Three fairly young releases, all 5 years old.
Octomore 12.1 is seen as the baseline expression of this series (in standard first-fill whiskey barrels), with 12.2 being an alternative maturation example (Sauternes) and 12.3 as an Islay grown barley version combined with a certain degree of ex-solera sherry cask maturation. More details are found on the Bruichladdich website.
Octomore 12.1 5 yo 2015 (59,9%, OB 2021, first-fill American whiskey casks)
Nose: a mineral start with some earthy notes, reminding me of mezcal, although the smokiness doesn't seem that loud. The freshness of spearmint and lemon peel quickly comes out. After a while I also started picking up sweetness, like vanilla cake with chocolate nibs. Back to raw wool. Green apple and a hint of coconut flakes.
Mouth: sweet peat with plenty of white pepper and chilli (Taliskomore). Burnt heather and liquorice. Much more smoke than the nose suggested, and more coastal notes and iodine as well. Dark chocolate. Quite a dry, slightly acrid note with grapefruit zest and earthy minerals towards the end.
Finish: long, rather more herbal now, with a hint of salt and slightly floral touches.
I wonder what kind of casks were used to mature this Octomore – probably not those of a sweet bourbon. There's not much going on in terms of added wood or wine influence, so you get a mix of cereals and feisty peat. Not very complex, not really my style. Available from Bruichladdich or The Whisky Exchange for instance.
Octomore 12.2 5 yo 2015 (57,3%, OB 2021, 1st and 2nd fill whiskey casks + first-fill Sauternes finish)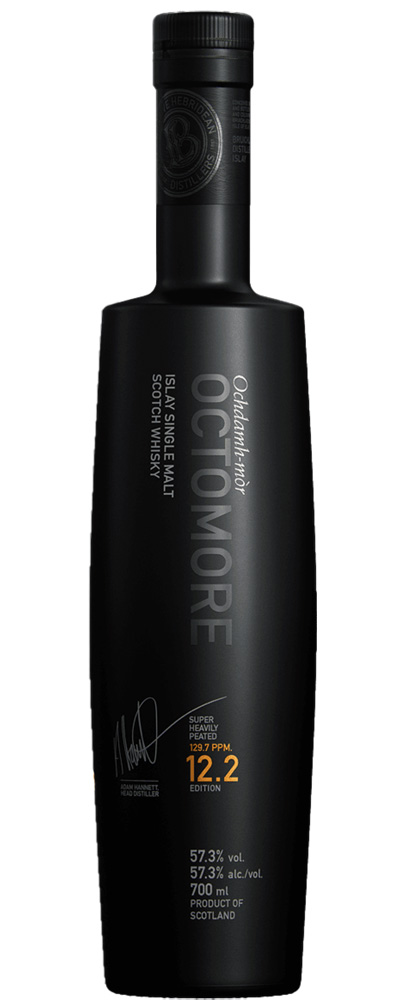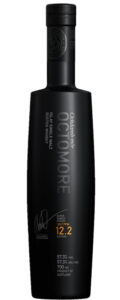 Nose: sweeter and fruitier right away – for me Octomore needs this. Honeydew melons and peaches, then some blood orange peels and yellow apples. All of this mixed with generous, warm smoke of course and whiffs of honey glazed meat on the barbecue.
Mouth: more of this grape sweetness and honey, even a hint of orange blossom, mixed with black peppercorns and earthy peat smoke. Smoked almonds, hints of clove and resinous touches, getting slightly thinner and mintier towards the end.
Finish: long, now with a salty edge, lemons and smoldering ashes.
This is much more to my liking. I once wrote about 04.2 Comus that it was the best Octomore I had tried until then. It was finished in Yquem casks and 12.2 proves the combination with Sauternes still works really well. Performing beyond its age. Available from Bruichladdich or The Whisky Exchange for instance.
Score: 88/100
Octomore 12.3 Islay Barley 5 yo 2015 (62,1%, OB 2021, 75% ex-American whiskey barrels + 25% FdC sherry casks)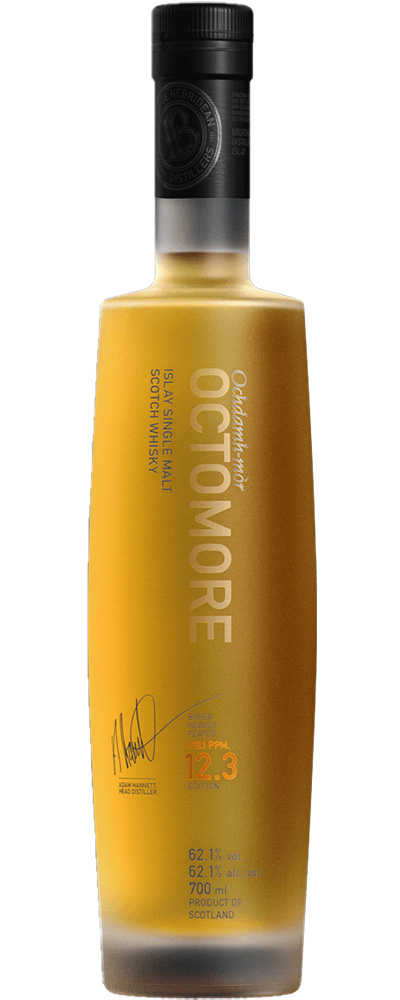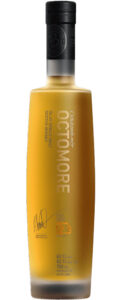 Nose: more dried fruits now. Raisins, berries and toffee, as well as some leathery touches and a hint of moist bodega. Burnt oak and tobacco leaves. A freshly opened bag of charcoal and hints of carbon paper. Subtle touches of citrus from the spirit as well.
Mouth: quite fierce and peppery again, with bitter chocolate and tobacco in second row. Dark brewed black tea and oak char, again showing a slightly acrid / winey note. Burnt orange peel, toasted grains and dark chocolate. Plenty of dark, sooty notes with some herbal notes as well. Not the amount of sherry I was expecting from the nose.
Finish: long, becoming more grapefruity and coastal, with salt and a chocolate bitterness.
I expected a bigger sherry influence but of course these are ex-solera casks (from Fernando de Castilla), and 75% of the recipe was probably quite close to 12.1. Nice enough but for me 12.2 is head and shoulders above the others. Available from Bruichladdich or The Whisky Exchange for instance.
Score: 86/100