Boogieman Import is the bottler pseudonym of Passion for Whisky, one of the leading whisky shops in The Netherlands. Last week they announced two grain whiskies, a Cameronbridge 1974 and North of Scotland 1971. Even for grain whiskies these are unusually old bottlings.
Cameronbridge is the oldest working grain distillery in Scotland, it also has the biggest production capacity of them all. North of Scotland (also known as Alloa) on the other hand was fairly modern (established in 1957) but it didn't live long, as it closed down in 1980.
Cameronbridge 46 yo 1974 'East' (40,1%, Boogieman Import 2021, hogshead, 54 btl.)
Nose: a mix of tropical fruits, like pineapple, tangerine, passion fruit. A little mint. The usual coconut flakes are also present, but further in the background, together with subtle vanilla. After a while the fruits grow sweeter and more candied, with a hint of strawberry and honey. All this kept together by old oak.
Mouth: the age turned the usual woody notes into a certain bright sourness, which evokes more passion fruits and citrus, as well as fresh pineapple and pink grapefruit. Really nice, I can't think of other grains with this kind of profile. Hints of lemongrass and Thai basil. Subtle juniper and clove in the end.
Finish: not too long. A tad more vanillin and leather now, with a thin fruitiness and hints of fruit tea.
This Cameronbridge lacks the creaminess and obvious vanilla of most other grains. Its thin and subtle profile is really an asset here. Fruity and complex, as well as utterly drinkable. Recommended. Still available from Passion for Whisky.
North of Scotland 49 yo 1971 'West' (40,4%, Boogieman Import 2021, hogshead, 56 btl.)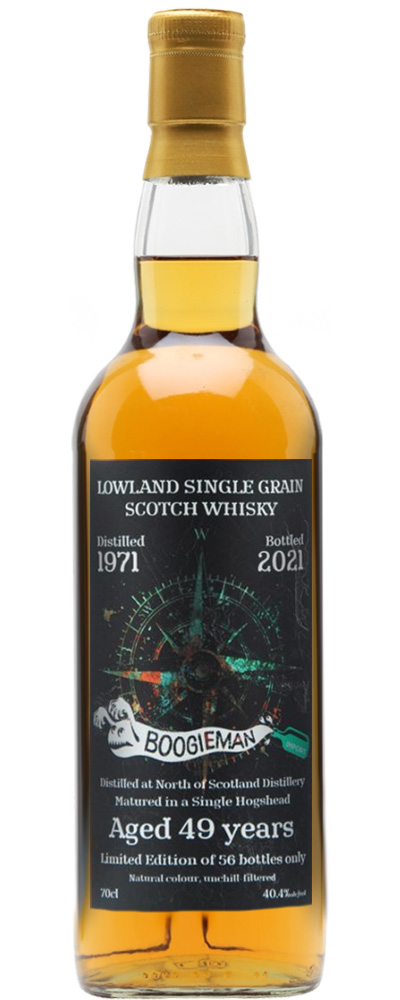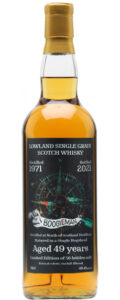 Nose: slightly more oak polish and very light solventy notes up front. Hints of lamp oil, aniseed, sawdust, ginger and orange marmalade. Hints of vanilla, leather and brown sugar in the background. Closer to American whiskey – and classic grains – than the Cameronbridge.
Mouth: drier with more oak again, leading to white pepper, sawdust as well as a touch of bitterness (cinchona bark). Leather. Hints of baked apple and orange peels, aniseed and hints of pine resin.
Finish: longer than the Cameronbridge, but also drier. Leafy notes, some pepper and over-infused green tea.
A nice nose again, steering of the usual pitfalls of very old grain whiskies. On the palate I feel the wood is taking the upper hand, developing a (relative) astringency that costs a few points. Also still available.
Score: 87/100