Here's the last batch of notes from the Blind Tasting Competition by Bestofwines (see here). It was a fun experience, even though I was constantly lagging behind. Starting sick and having to come up with tasting notes on Saturday and Sunday was quite hard.
While some of the drams were just so-so (mostly the overdone whiskies, either with too much wine influence, or too much wood in general), a few of them were also very good. I think blind tasting is the ideal way of assessing whisky, but in practice it's too hard to organize for a blog with daily tasting notes.
Glen Scotia 11 yo 2010 (56,8%, OB for The Netherlands 2021, heavy char American oak barrel, 1918 btl.)
Nose: sweet and mildly peaty. Narrow smoke in the sense that the highly coastal (Islay) component isn't there. Peaches, sweet apple, some lime and fruit gums (darker, almost red fruit). Becomes more floral over time, with a hint of bubblegum in the background. Also wee hints of damp canvas or sheep wool.
Mouth: punchy, with a fruity core again mixing nicely with the peat. All-spice and a general wood feeling again, with hints of liquorice. The fruitiness behind it is quite bright and lemony, with a certain sourness. Then there's a slightly sweet sherry edge to it as well, it wouldn't surprise me if this was given a short sherry finish.
Finish: quite long, with sweet fruits and a sharp peaty tang.
I imagined this could be one of the peated Loch Lomond styles, middle-aged. The heavy charred finish made this a tricky one. It's certainly not a bad whisky though, I rather liked it.
Highland Park 11 yo 2008 (66,4%, OB for The Netherlands #2 2020, first-fill European oak sherry butt #2519, 675 btl.)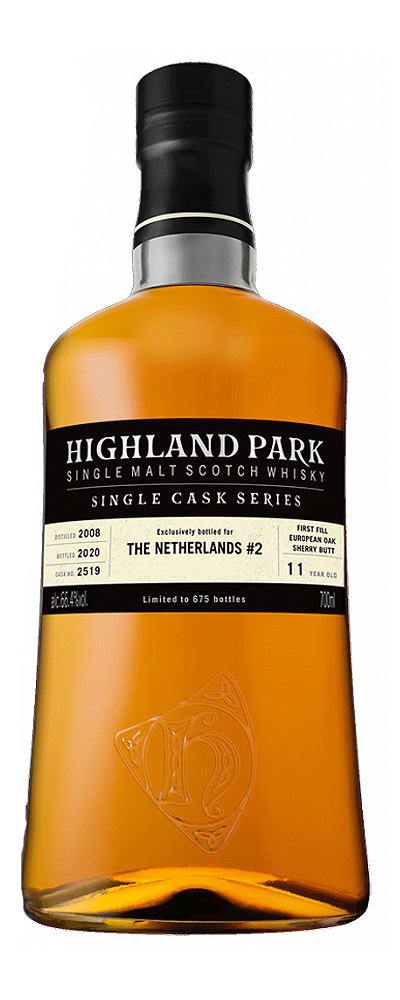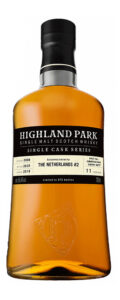 Nose: a rather raisiny start, with dried apricots, stewed apples and honey. Quite some juicy fruits. After a while there are nutty notes with a hint of dusty wood, leather and increasing wood spice. Increasing rubbery notes too.
Mouth: the fruity core is still there, albeit now with a boozy attack, a slightly winey side and some tannins. Figs and cherries, with hints of golden syrup. Fruitcake. Then clove, ginger and hints of aniseed. A touch of bitter chocolate and oak char in the end.
Finish: quite long, on liquorice, more wood char, burnt nuts and leafy notes.
I couldn't decide between a sweet wine cask (rubber tends to do that for me) or classic Oloroso. In the end I went for the more common choice of a (over-)sherried Speysider, say a 12 year old Glenrothes. I couldn't detect much peated spirit here, it's all on cask char. Not a bad dram, just not very balanced. Score: 84/100
Old Rhosdhu 29 yo 1990 (48,2%, WhiskyNerds & Wu Dram Clan 2020, refill hogshead #416, 346 btl.)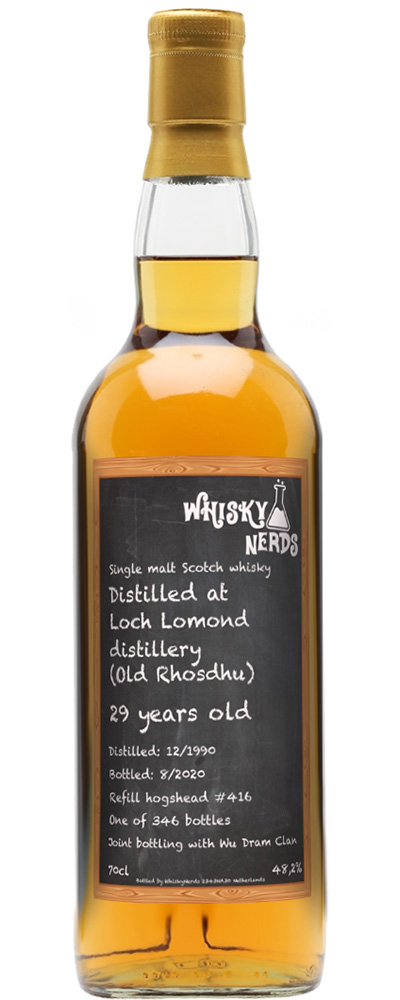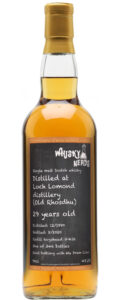 Nose: a lot of dusty notes, like fresh wood dust. Also hints of Ikea packs (combo with cardboard). Rubber? Rather funky and rather dirty. Hints of bruised apple in the background, as well as mulching leaves. After a while there's a mentholated touch and sweeter orchard fruits.
Mouth: sweet, with the fruits coming to the fore now. Orange candy, peaches, some grapefruit. Even something creamy, like mango pie. Gets a little drier towards the end, with a chalky / mineral side. Cleaner, rounder and much nicer than the nose. A lovely exotic aftertaste.


Finish: … but it loses strength quickly. Straw and fruity echoes, with a wee mineral edge.
Wait a minute, I have already reviewed this one. I had difficulty getting over the nose now. It took half an hour before it lost its funky side and showed a fruity core. Nice enough once it gets there though, and the palate is much easier to like. My guess was a middle-aged Inchmurrin. Score: 87/100
Kilchoman 13 yo 2007 (55,5%, OB 'Private Cask release' for Max & Julia 2020, bourbon barrel #69)


Nose: elegant smoke, with subtle iodine and other medicinal notes, and a citrusy layer underneath. Oranges, lemon candy, maybe unripe peach. Subtle mint, even a farmy touch hidden in the back. Old Laphroaig can be like this, but something also hints at Bowmore or Port Charlotte.
Mouth: medium sweet with a big burst of warm, slightly tarry smoke, coastal notes, some black peppercorns and very light medicinal notes. Seawater. Rather fat, rather round, with a very nice sweet / sour balance as well. Some herbal notes and lemon candy in the end.
Finish: long, softer, with more lemon and warming smoke.
Another one that I already reviewed. This is a beautiful whisky, which seemed a lot older and reminded me of these secret Islay malts of late. One of the best Kilchomans to date, it deserves a few extra points. Score: 90/100