The Whisky Jury is three years old already and celebrated with an undisclosed Islay Single Malt 1989. I've written lyrically about similar casks before, so we have really high hopes!
At the same time a new Ben Nevis 1996 is released, exclusive to Asia. Joeri already explained that reserving casks to certain markets helps him manage demand and keep all his fans happy.
Islay Single Malt 32 yo 1989 (52,1%, The Whisky Jury 2022, refill barrel #4416139, Third anniversary, 269 btl.)
Nose: oh man, these casks are so good! There's the sharpness of iodine, germolene and seashells, but also rounder marzipan notes and the intensely refreshing mentholated notes and bandages. All kinds of herbal notes too, walnuts and plenty of gouache. Linseed oil. The farmy Brora-like touch and wet sheep are present as well. Ace.
Mouth: terrific intensity. Still this medicinal and coastal sharpness, followed by polished leather and varnished woods, walnuts and brine. Light floral top notes. Green lemon peels, black pepper and herbal tea. Seawater runs through it as well. Hints of gentian, grapefruit and resins too. Really vibrant and punchy.
Finish: long, resinous, with seared lemons, green leafy notes, brine and cold ashes. A few drops of cod liver oil too.
Terrific – the combination of Islay intensity and the complexity that only comes with high age is just perfect. Great selection and hip, hip, hooray indeed. Worth tracking down.
Ben Nevis 26 yo 1996 (48,5%, The Whisky Jury 2022, refill hogshead #522, bottled for Asia, 257 btl.)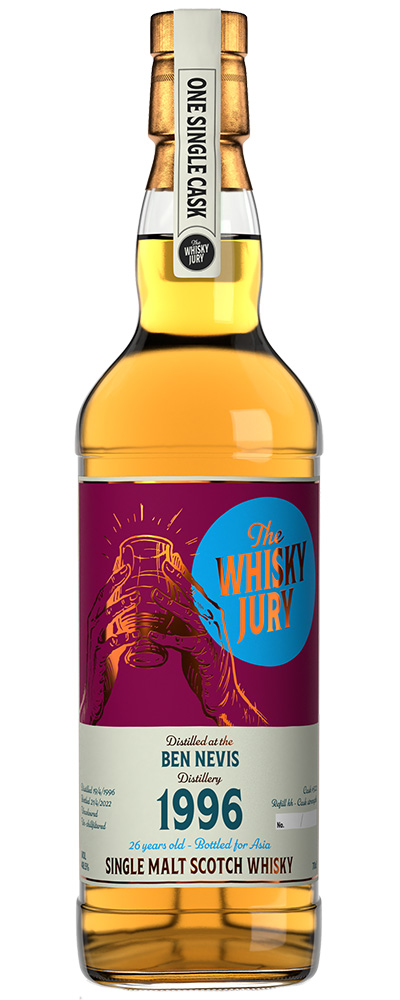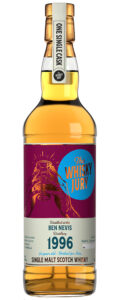 Nose: a very waxy profile – a lot of lemon balk and candle wax. Also hints of clay and chalk at first. It takes a while but eventually there's also a typical pineapple and vanilla notes. A couple of drops of water help to open it up. Tangerines and honey. Later it returns to wet wool and wet chalk.
Mouth: oily but way more fruity now, with beautiful pineapple, ripe mango and papaya, as well as plenty of waxy notes and a growing kind of 'old herb' note (almost medicinal) and mint leaves. Polished wood, with a gentle bitterness and chalk as well. Quite salty too. A unique combination of funkiness and sheer attraction.
Finish: long, on sweet herbs and liquorice, with drops of honey and traces of fruits.
On the nose this focuses on the waxy side, leaving us a little disappointed perhaps. However once you're sipping it, the tropical fruits and herbal side lift this to unexpected heights. Maybe not as pure and bright as some of the other casks, but really complex and intruiging. This will probably arrive in Asia soon – check thewhiskyjury.com for a list of retailers. Score: 90/100