Brora distillery, originally known as Clynelish, was closed in 1967 after the new (current) Clynelish was built next-door. However, due to a shortage of peated whisky, the original distillery was re-opened in 1969 and assumed the name Brora. Bottlings of the whisky it produced between then and its second closure in 1983 are now increasingly sought after. Brora was first bottled as a single malt in 1989 (SMWS 61.1) and the first official Brora bottlings appeared in 1995 (1972 Rare Malts).
A new chapter is in the making as Brora was re-opened in May 2021 and is producing single malt again.
Last year, in times of lockdowns and Zoom tastings, Whisky Auctioneer organized a once-in-a-lifetime masterclass Brora: A Lost Treasure led by Serge Valentin and Angus MacRaild. It had an epic line-up, it was limited to 25 spaces and turned out to be one of the highlights of Corona times for me. Somehow I didn't get around to posting my tasting notes, until now.
Clynelish 12 yo (70 Proof, Ainslie and Heilbron, early 1970s, 26 ⅔ Fl.Ozs, UK market)
Nose: smooth in terms of alcohol, but otherwise relatively assertive. More ashy notes than expected, as well as shoe polish. Mineral oils, lamp oil, waxes and wet stonesl. Dried grass. Some fruity sweetness in the background. Caramelized almond, orange peels and wee hints of pineapple. Subtle mashy notes, the level OBE is noticeable.
Mouth: oily texture and outperforming its ABV again. We get a herbal side that's both sweet and a little austere, subtle medicinal notes and spice (nutmeg, pepper). Very light metallic notes. Also a vague sweetness in the background, maybe sweet apple and lemon.
Finish: not too long, with the waxy notes, faint mint and herbal notes staying strong.
A wonderful old style, further finetuned by OBE I'd say. There are certainly better versions of this whisky (often a bit of a guess when opening a bottle), but as an aperitif to this session it's already interesting.
Brora 1972 (40%, Gordon & MacPhail Connoisseurs Choice, new map label, 1997)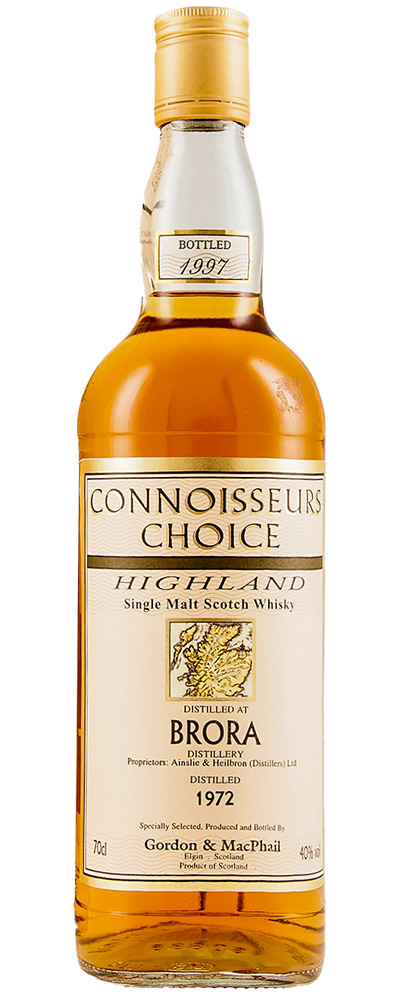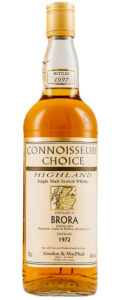 Nose: cow stables. Goat cheese, horse dung and dirty hay. So great – you only really get this level of farmy notes in Brora. Then some mentholated hints, some walnuts and minerals. Wet hay. Coal soot. It becomes ever more accessible over time, with a vague waxy sweetness, vanilla pods and paraffin. Obviously not very assertive but complex and unique nonetheless.
Mouth: nicely peaty and much more sooty now. Smoky medicins, some salted notes and iodine. Walnuts, hints of smoked lemons and roasted almonds. Olive oil. Getting a little sharper and mineral towards the end, with a hint of chilli and liquorice.
Finish: medium length, quite soft, with some salty peat, mineral notes and a touch of caramel sweetness.
A complex Brora that perfectly defines the unique character of this distillery. It has been a while since I experienced these typical farmy notes. It may be lacking a bit of punch but due to the aromatic profile I'll still give it a very high score.
Score: 92/100
Next up, a Douglas Laing bottling.  We've had stunning Broras from this bottler, but this one is from the lower priced Provenance range bottled at 46%.
Brora 26 yo 1976 (46%, Douglas Laing McGibbon's Provenance 2002, Winter Distillation, cask #742)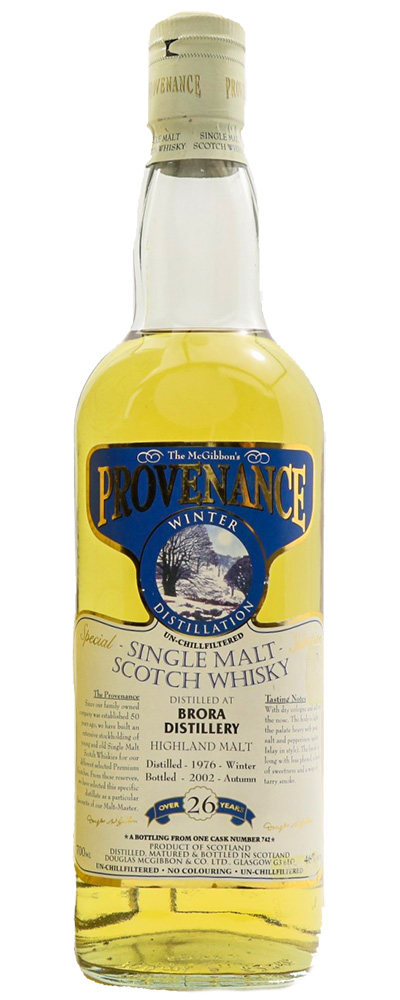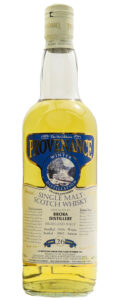 Nose: rather citrusy now, waxy with lots of herbal freshness and a sour edge. Some cut yellow apples. It shows little peat, or at least a thinner, more flinty style than the two before. Wet chalk too. During the masterclass analogies were made to Talisker and indeed this would not be identified as Brora right away.
Mouth: still this firm herbal side with an unexpected sourness. There's *almost* a fruitiness but not quite. Green apple and lemon. Hints of white pepper and wet wool. Leafy notes, chalk and walnuts. The peat is of a rubbery kind.
Finish: good length, with peppery notes, grassy sharpness, more wool and lemons.
This is a sharper, rather uncommon style of Brora that's closer to Banff or Glen Mhor, albeit with a smoky Talisker hint indeed. Interesting whisky, for sure, but more educational than downright impressive.
Score: 90/100
Brora 21 yo 1977 (56,90%, OB Rare Malts 1998)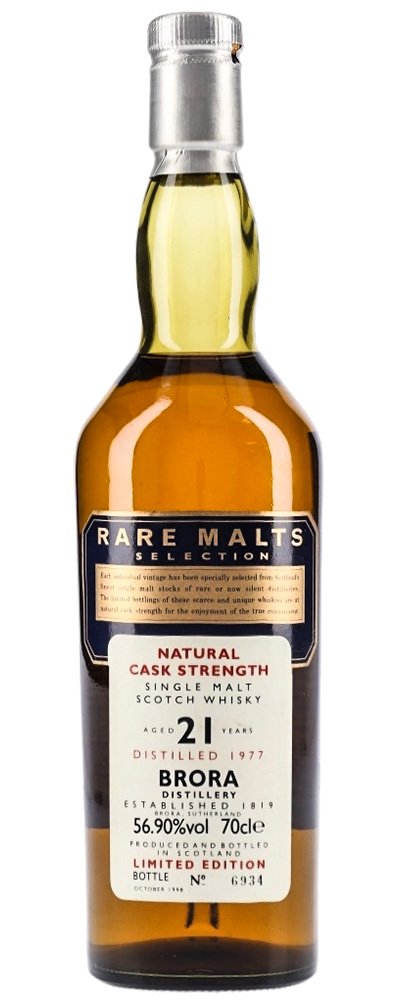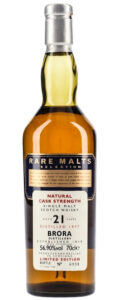 Nose: the really waxy and coastal style now, with more seashells and iodine than before. Wet dogs, wet cardboard, hints of leafs in a forest after the rain. Herbal peat, definitely less smoky than the 1972 but certainly peated! Shoe polish and antiseptics. A very intense mineral style, not farmy but perfectly chiselled.
Mouth: very full. Great sharp peat, mixed with herbal teas and grasses. Lots of coastal notes like oysters and brine – two drops of Springbank? Peppery notes, subtle wax and a hint of tobacco. Plenty of lemon (peels) too. A bit of woody sweetness in the end, certainly with water. Very balanced despite the high ABV.
Finish: long, sharp and clean. Plenty of medicinal and coastal notes.
A really vertical take on Brora, deeply coastal and mineral, typical for the late 1970s. Funny how they suggested to add two parts of water to one part whisky on the back label. How appreciation of cask strength whisky has changed!
Score: 93/100
The session ended with a Brora 30 Year Old, in fact the first in this legendary series. Check my review of the Brora 30 Years 2004 release for instance.
Brora 30 Year Old (52,4%, OB Special Release 2002, 3000 btl.)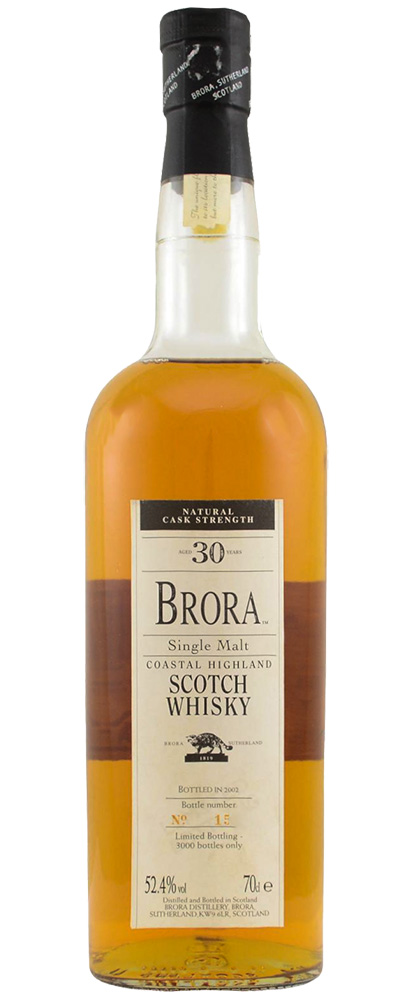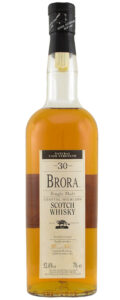 Nose: complexity is skyrocketing now. Farmy peat again, muddy and dungy. Pepper and a lot of mentholated notes. Sweet grassy notes and curry spice. Some tiger balm. Coal ashes underneath. There's also a buttery note, sweet almonds and a hint of vanilla pods. This is Brora alright.
Mouth: very rich, oily and very forthcoming, with sweet peat, much warmer again than the 1976 and 1977. Lots of warm ashes. Liquorice and tea, both herbal tea and Lapsang Souchong (Lagavulin style). A little ginger, grapefruit and lemon peel. Menthol, black peppercorns and mint. Hints of dried fruits too, there must have been some amount of sherry in here, or so I'd think.
Finish: very long, stilly oily with the herbal notes turned up a notch, including a gentle bitter note. Warming smoke and salted walnuts as it dies out.
So yes, this is near perfect Brora. A lot of punchy peat, spicy notes, but also sweetness and elegance. Maybe not as farmy as some of the 1972 vintages, but a great multi-layered drop in any case. A fitting finale to a great masterclass.
Score: 94/100