The Wu Dram Clan was founded three years ago. The triumvirate is celebrating this with three bottlings, sourced from the Signatory Vintage stocks. It includes Caperdonich, Glenburgie and an unnamed Islay single malt. They're between 22 and 30 years of age, what more do you need to be excited?
Caperdonich 22 yo 2000 (55,2%, Signatory Vintage for Wu Dram Clan '3rd anniversary collection' 2022, hogshead, 246 btl.)
Nose: rather fruity, but not full on, I'd say. Juicy quinces and peaches, with acacia honey and vanilla waffles. On the other hand, also sunflower oil, coconut cream and buttercups. Plain wood shavings in the background and subtle floral / minty touches.
Mouth: a really nice oily texture. Mashed bananas with orange syrup, sweet pear and hints of honey. Sweet and fruity, but also quite modern and wood-oriented, on vanilla, white pepper, candied ginger and more coconut. A nice profile, rather thick and waxy.
Finish: long and sweet. Some syrupy fruits combined with a soft bitterness and minty notes.
This Caperdonich is in line with previous bottlings, showing a thick, syrupy texture, a subtle waxiness and nice fruits, but also a firm bourbonny side. A nice warming dram.
Glenburgie 27 yo 1995 (57,7%, Signatory Vintage for Wu Dram Clan '3rd anniversary collection' 2022, hogshead, 193 btl.)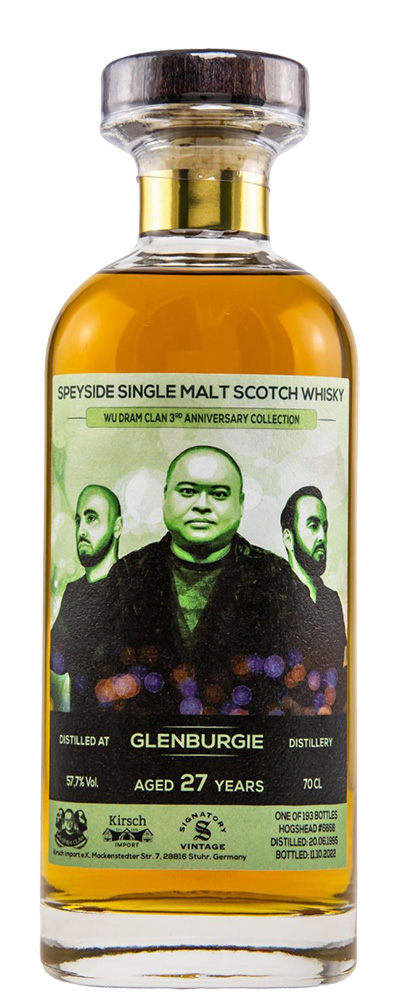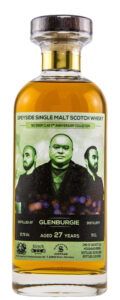 Nose: this too is an example of a good American oak cask. Melons, gooseberries and apricots, even a hint of mango. Hints of marzipan and vanilla. Then meadow flowers and a hint of chalk. Rubbed mint leaves and a very light grassy touch.
Mouth: bursting with fruits now. Apricots, melons, mango and green banana. A nice sourness, as well as a faint hoppy side. Whiffs of marshmallow and honey. This could have been Irish whiskey. Later it moves to grapefruits and greener notes (green tea) with a grassy side again. It's slightly boozy but a few drops of water bring the focus back to the fruity side.
Finish: medium long, still combining citrus, lightly tropical fruits and greener notes.
This is a high-flying fruity whisky that outshines the Caperdonich 2000 in my opinion. Really excellent whisky. The name Glenburgie should always trigger an alarm among whisky enthusiasts. Score: 90/100
Unnamed Islay 30 yo 1991 (51,4%, Signatory Vintage for Wu Dram Clan '3rd anniversary collection' 2022, hogshead, 237 btl.)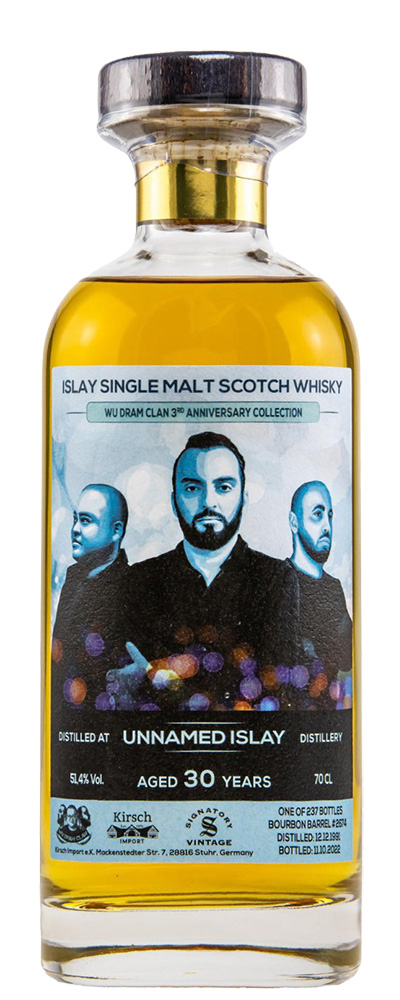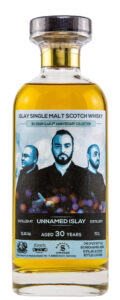 Nose: lemons, salt, minty notes and cold ashes, as well as light hints of bandages. Then green apples, herbal ointments and smoked fish. Whiffs of coal dust. After a while it becomes sweeter, adding hints of honey, vanilla and banana. Very balanced and complex.
Mouth: oily, with both citrusy notes and sweeter vanilla. Peaches, sweet lemons, mixed with this gentle coastal note and hints of sweet pepper. Medicinal smoke. Then hints of mocha and Lapsang tea.
Finish: very long, warmer now, with hints of coffee, ashes and medicinal notes.
Harmony is key here, it's just a pure Laphroaig, expertly polished by time. Really good, as expected. Check the Wu Dram Clan website for distributors. Score: 91/100