Two cognacs today, both of which were selected at the Grosperrin cellars.
First up is the latest bottling in the L'Essentiel series from Cognac Expert. The provenance is explained with great details on their website. As you'll see in the lovely photos, it comes from a small grower in Matha Le Goulet, who stored a couple of barrels in a pig hut at the back of his garden.
Grosperrin cognac A29 – Fins Bois (47,8%, Cognac Expert 'L'Essentiel' 2022, single cask #940, 152 btl.)
Nose: good Fins Bois tends to have these ethereal hints of tangerines and wax. Check. Also great rancio, leathery notes and whiffs of menthol and verbena. Golden raisins and clove studded oranges. Then also soft hints of stewed apricots and delicate resin. Pretty great.
Mouth: a nice mix of oily notes and fruits again. Mirabelles, berries, (blood) oranges, alongside mentholated notes and mead. Now sweeter, thicker than expected. Fine polished oak sets in, with a bit of herbal tea and cinnamon. Touches of tobacco and leather as well.
Finish: long, more spicy now, with mint, nutmeg and oranges.
A great combination of bright fruits, subtle rancio and balanced minty freshness. And it's utterly drinkable as well. In short: easy to recommend and there are still bottles available from Cognac Expert.
The next cognac is quite a lot older and comes from the Petite Champagne region. Even though this lacks the romantic story of the L'Essentiel, we can count on Grosperrin's high standards again. This 73 cognac is exclusive to Passion for Whisky who recently also bottled a Pasquet Lot 71.
Grosperrin cognac No.73 – Petite Champagne (54,6%, OB for Passion for Whisky 2022, lot #969, 64 btl.)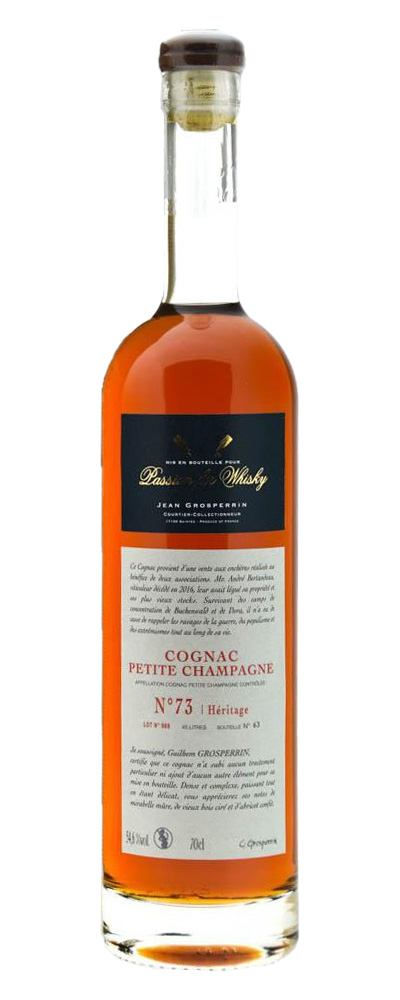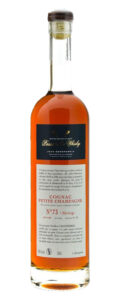 Nose: more robust and jammy, full of damsons, ripe quinces and mirabelles, with furniture wax and ginger biscuits in the background. Gourmand, as they say. Some thuja wood and hints of cedar, as well as some cardamom notes.
Mouth: an intense, minty profile, with wood polish, leather and glorious rancio. Still some plummy notes and raisins. Then orange peels and white pepper, as well as some tobacco leaves that leave a drying fingerprint. Earthy notes and sandalwood as it fades.
Finish: very long, very minty, with resinous notes, oranges and honeydew. Drying oak in the very end.
This shows more grittiness and power, underscored by the higher ABV. It's a drier profile with more wood influence – both are quite excellent. Available from Passion for Whisky. Score: 90/100