The Roots is a new Belgian independent bottler, started Joren Nuyts. He's a passionate whisky enthusiast with an eye for quality who recently decided to take the jump and start his own label.
Like most of the independent bottlers today, he's not looking at whisky alone. In fact his inaugurual batch does not even contain a malt whisky. Instead there's a single grain whisky, a French cognac and a rum from Guadaloupe. Bottles have just arrived at retailers, but the yields are fairly small (for now).
Invergordon 49 yo 1972 (40,3%, The Roots 2022, barrel, 60 btl.)
Nose: classic vanilla custard and vanilla cake, with a lot of honey and whiffs of cellulose varnish. Biscuity notes, mashed bananas, peach and hints of raisins. Some peanuts and sweetcorn in the background. It's a very elegant and smooth, with no rough edges. Perhaps not very surprising given the modest ABV.
Mouth: really soft indeed, but this also makes it utterly drinkable and rather un-grainy. Baked apples and bananas flambéed, with a sour edge (oranges and lime leaves). Then also floral / fragrant hints of lemon-scented candles. Honeyed pastries with cinnamon. Overall there's a little more oak than we expected after the nose, with a touch of green tea, mint and leafy tobacco.
Finish: medium length, on honey, bananas and this subtle citrusy note.
A nice single grain which manages to hide rough woody notes and cheap coconut aromas. That said, there's a softness and fragrant edge that gives away its high age. The Roots is working with three retailers in Belgium and one in Holland. Check the website for more details.
Bellevue 24 yo 1998 (51,5%, The Roots 2022, refill barrel, 115 btl.)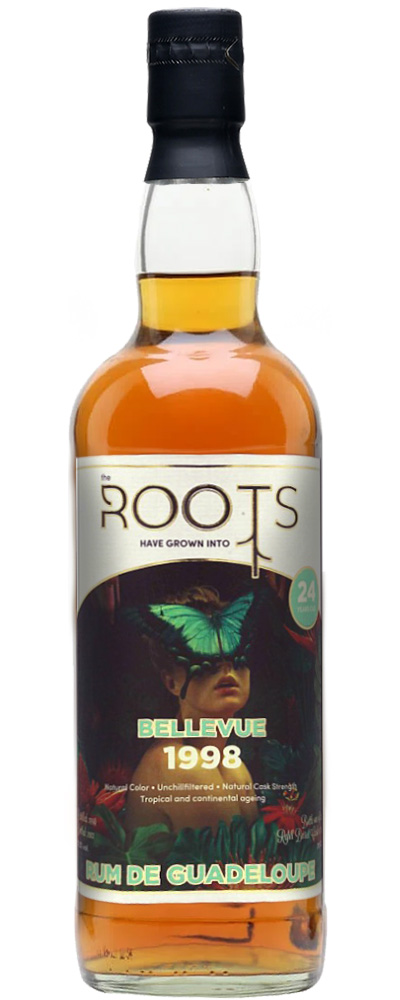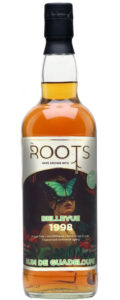 Nose: banana galore. A lot of overripe and dried bananas, with Pisang in the background. Then some black olive tapenade and subtle hints of diesel. Then light hints of pears, dark caramel, brown sugar and fresh cane juice, later followed by light pine resin and moderate grassy notes. Some liquorice and almonds too. Overall I've had drier, more extreme, more 'Jamaican' examples if you like, but this intermediate level of esters and heavy sweetness works really well in my opinion.
Mouth: a lot of liquorice and syrupy caramel now, mixed with these overripe bananas and sweet pineapples. Add some menthol and earthy (fern) notes, what more do you need? Some herbal and grassy notes towards the end, as well as tree sap, subtle tar and salted nuts, with a hint of cocoa.
Finish: long, herbal and minty, with an underlying hint of burnt caramel and hints of pine brandy.
This is mildly funky in comparison to some others, bringing richer caramelized notes and woody hints to the table. The real asset is the balance between dark overripe fruits, resins and high drinkability. Score: 88/100
The next bottling is a cognac from the house of Prunier. Now it appears to be a re-labeling or a re-release of the Lot 40 by Wine4You. Of course we already expressed our appreciation for this cognac, it's a great spirit that we'll happily try again even if it is identical. That said, re-releasing is a funny (almost inappropriate) practice unless there is full transparency.
Prunier 81 yo 'Lot 40' – Grande Champagne (55%, The Roots via Wine4You 2021, 42 btl.)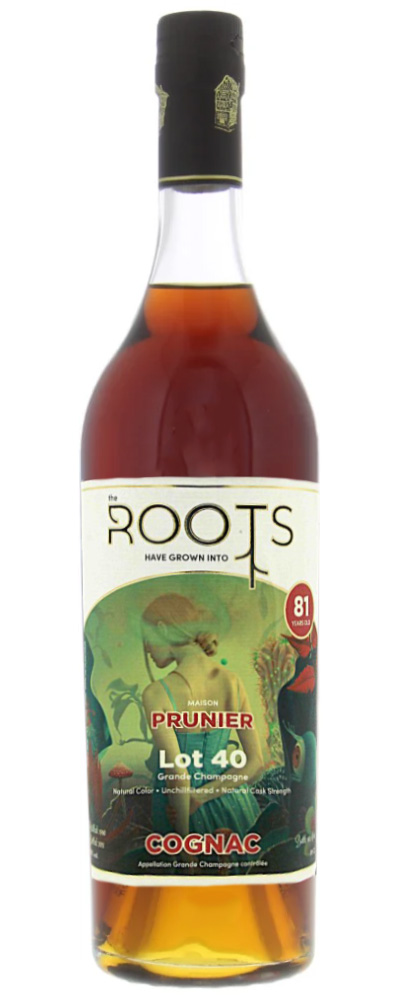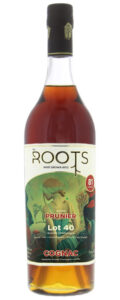 Nose: a heady start with fragrant leather, old varnishes and orange blossoms. Also bergamots and orange peels, on top of yellow plums and apricots. Hints of candied ginger, oily notes, tiny herbal notes and fruit tea. Distant whiffs of cedar too.
Mouth: starts slightly rustic with a syrupy side, ginger and caraway, before it bursts into pink grapefruits and passion fruits, mango and orange. Mint, hints of pine wood and oak spice. Echoes of chocolate. Again a rustic dry side but also really attractive, bright fruits.
Finish: long, still a bright mix of fruity notes and wood spice.
Excellent. As I said before. Score: 92/100