The Ukrainian Whisky Connoisseurs Club was born in 2003 in Kiev. Founder Alexey Yakovlevich and club members went on several trips to Scotland, discovering single malts that were so hard to find in their home country. Nowadays the club is managed by his son Oleksiy and his wife Iryna. The club became a business, based around the Whisky Corner restaurant which serves as the headquarters for the club.
They also worked to create unique independent bottlings, making them one of two indy bottlers in Ukraine (alongside Scyfion). There are over fifty of them already – just look at this page and you'll quickly understand they have an impressive track record.
We're looking at three Club's Choice releases, from Allt-à-Bhainne, Tobermory and Fettercairn.
Allt-à-Bhainne 25 yo 1995 (46,9%, Ukrainian Whisky Connoisseurs Club's Choice 2021, first fill Pedro Ximénez sherry cask, 122 btl.)
Nose: intense and very juicy. A lot of ripe cherries and plums, raisin bread, redcurrant jam and stewed blackberries. Caramelized figs, cinnamon and drops of mocha. Then also hints of synthetic almond essence. A bit of mint and earthy spice in the background.
Mouth: nice sweet and sour balance. Truckloads of figs, dates and raisins, alongside sour cherries and redcurrants. Candied ginger and hints of caramel. Some dark chocolate too. Then raspberry jam, almonds, nutmeg and apple cider, as well as some green / grassy hints. Great drinking strength and no woody overdose.
Finish: long, with the same tart side and drying hints of black tea. Still plenty of sherry influence as well as fine spices.
A very rich and fruity PX cask, a great selection. Of course the sherry is overtaking the whisky a little, but when it comes to sherry bombs this is rather impeccable.
The next whisky was matured in wood from the département Allier (roughly north-west of Lyon). Here, in the forest of Tronçais, grows a type of French sessile oak, with a fine-grained structure. Grown north-west of Lyon, it is considered to be one of the best sources of wood in France, used mostly for wine and cognac maturation.
Tobermory 25 yo 1995 (55,3%, Ukrainian Whisky Connoisseurs Club's Choice 2021, first fill Allier cask, 113 btl.)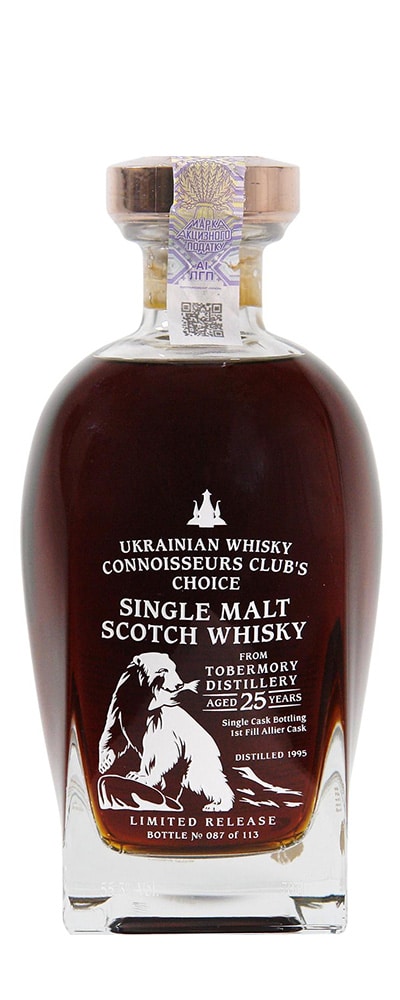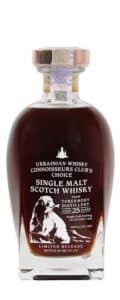 Nose: in fact a rather similar, tart style. The wood is slightly more fragrant and slightly more present here. Tobacco stands out, as well as cigar boxes, alongside cherries and blackberries. Baked apples and mint or eucalyptus in this case.
Mouth: a tad drier now, with more wood influence. Cherries and figs again, as well as black pepper and dark cocoa powder. Then also a tart citrus note with a salty edge. More tobacco leaves. Candied ginger and cinnamon, as well as light earthy notes and hints of pine needles. This one attacks your mouth a little, due to the higher ABV and perhaps a more active wood type.
Finish: long, on cedar wood, dark cocoa, black tea and old leather.
You do feel more woody notes in this Tobermory. That said, this is equally intense, clean and impressively juicy. Score: 90/100
Fettercairn 35 yo 1978 (53,5%, Ukrainian Whisky Connoisseurs Club's Choice 2013, 297 btl.)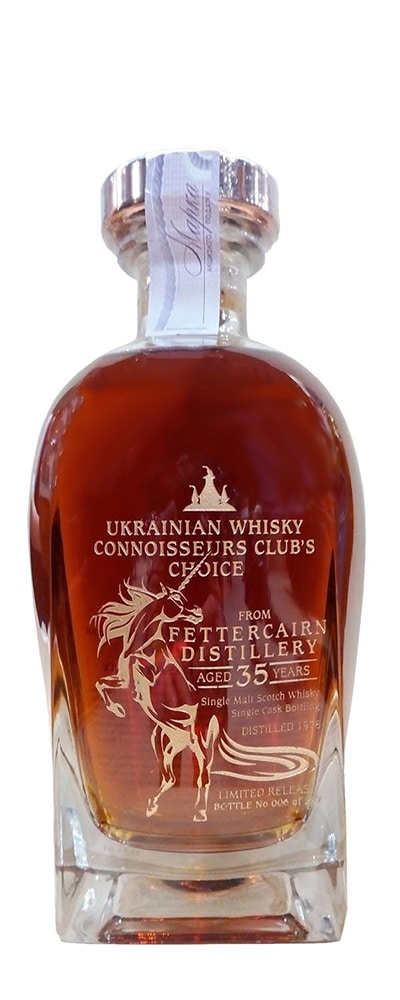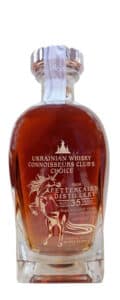 Nose: awesome. There's some of that sherry but much more subdued. It mixes with beautiful tropical fruits. Mango, passion fruits, with hints of vineyard peach, juicy pears and lime. Also yellow plums. Then moist tobacco leaves, hints of leather, honey and walnuts.
Mouth: fantastic. The fruitiness keeps going, with pink grapefruits, papaya, maracuya and mango. Benriach 1976 comes to mind. Hints of bergamots, almond and marmalade. Then slowly moving towards orange oil, eucalyptus and floral honey. Subtle leathery notes. Nectarines and hints of polished wood, as well as hints of cigar leaves.
Finish: long, still fruity, with fruity sweetness, herbal freshness and elegant hints of oak.
Dang! Who was expecting this from Fettercairn? Such a vivid, bright and fruity whisky that takes us back ten years or so, when this 1970s Speyside profile wasn't too hard to come by. Today it reminds us more of cognac, I must add… Elegant and seductive: these good people in Ukraine certainly know their whisky – this is a stunning Fettercairn, the best I've had. Score: 93/100