Decadent Drinks released two 30-somethings in the Whisky Sponge series.
First we have a Glen Spey 1989 from a refill cask. Then there is a Glen Moray 1992 – matured for 10 years in refill wood and then 'finished' for 20 more years in a Port barrique.
Glen Spey 32 yo 1989 (60%, WhiskySponge 2022, refill hogshead, 114 btl.)
Nose: ripe fruity notes (melons, bananas, gooseberries, apricots) with honeysuckle and meadow flowers. Light beehive notes. A little hay and old, polished wood. Then orange peels and mint leaves. You know, classic old-style notes, not that far from these 1970s Secret Speysiders. Very aromatic and deeply fruity. Albeit quite punchy in this case.
Mouth: still surprisingly punchy. Dried grasses and more mineral notes now, with quinces and grapefruit zests in the background. Then a light herbal, almost hoppy note and a touch of oak that reminds me of cognac rancio. Hints of lime and mint with a firm peppery layer. A beautiful waxiness too.
Finish: medium length, fruitier, with sweet citrus and oak spice.
This must have been quite a powerhouse, since it was brought back from 65% to 60% before bottling. Approach with caution, but once you're accustomed, you will be rewarded with lovely complexity and old-style fruits. Sold out from Decadent Drinks but still available from The Whisky Exchange for instance.
Glen Moray 30 yo 1992 (49,7%, Whisky Sponge 2023, refill hogshead + first-fill Port barrique, 142 btl.)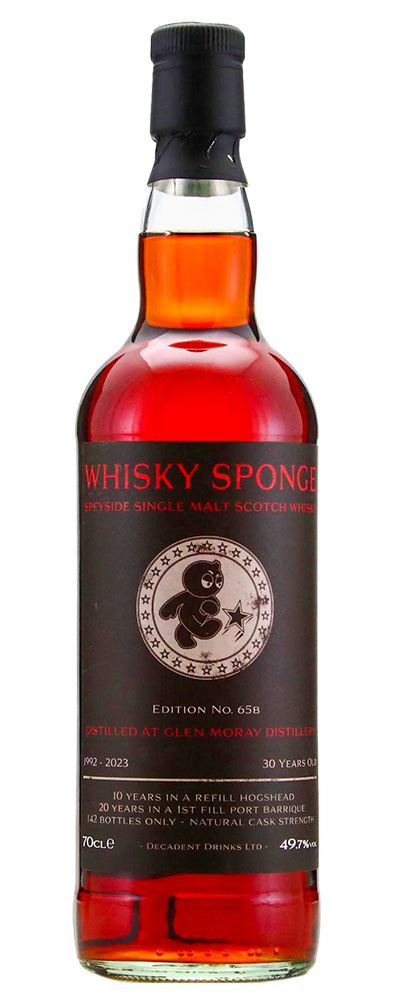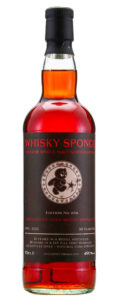 Nose: red apples with cassis and raspberry compote. Peaches and cranberries. Light hints of vermouth (with clove and wormwood) but no winey side as such. Than also notes that could have been sherry as well, like wet tobacco leaves and a faint nutty side. Growing whiffs of rosemary and mint too.
Mouth: more of this sweet and sour style, with hints of orange peels and marmalade, tobacco, cherry stem tea and cranberry jam. Drops of Ginjinha, even Schaarbeekse Kriek. This sour side is a little peculiar but I really like it. Then dark chocolate with rose pepper and hints of cherry syrup. Like the Glen Spey, this one has some rancio as well.
Finish: long, with more dried cranberries, blood oranges, herbal bitters and lingering tobacco.
This Glen Moray defies categorization. I love the sweet and sour combination. Excellent selection. Available from Decadent Drinks and TyndrumWhisky. Score: 91/100