Last year Gordon & MacPhail presented The Recollection Series, an annual series of rare single malts from closed distilleries. Correction: lost works of art from now closed distilleries. You may remember the stunning St Magdalene 1982, as well as an impressive Glen Mhor and Lochside.
One year has passed so here is The Recollection #2. A total of 18 casks from 15 distilleries will be available this year, including Banff 1976, an even older Glen Mhor 1973, Caperdonich 1979, Imperial 1979, Lochside 1981, Rosebank 1991 and so on. Here's the full list, in case you're interested. Mind that every cask will be available in specific markets, given their low outturns.
G&M partnered with acclaimed French illustrator Tom Haugomat to design special artwork to revive the character of these closed distilleries. Read more about this on the G&M website.
After seeing such a list, it is all the more heartbreaking to read Gordon & MacPhail will stop purchasing new stock for its independent bottling portfolio in 2024. They really are a league of their own.
For now we are able to try three casks from The Recollection #2, the only three that are available worldwide. We're starting with this Port Ellen 1981, bottled at 42 years of age. It comes from a single refill sherry butt, which after so many years yields only 181 bottles.
This is almost the oldest Port Ellen ever released (there seems to be a 43 year old Prima & Ultima release). Gordon & MacPhail keeps it at the oldest ever sold by them.
Port Ellen 42 yo 1981 (52,5%, Gordon & MacPhail 'Recollection series #2' 2023, refill sherry butt #290, 181 btl.)
Nose: this is a rounder Port Ellen – at a glance you could even miss the smoke. There's a hint of smoked almond and extinguished fireplaces, but the sherry influence is bigger. Cassis and blackberry jam, with chocolate coated dates. Hints of ginger and cinnamon. Then light camphory notes, walnuts, tobacco leaves, cedar wood in the background and a nice sourness that I always appreciate in a sherried whisky.
Mouth: now the smoke is bigger, with plenty of warm ashes as well as earthy black tea, some brine and smoked chocolate. Baked apples and tart cherry. Then a hint of spearmint, orange peels and herbal infusions. Some tangy walnut and chestnut honey too, alongside liquorice and black peppercorns. Subtle tarry notes in the end.
Finish: very long, with more bonfire smoke, tarry notes, smoked coffee and echoes of dried fruits.
Port Ellen is one of the truly unbreakable spirits that withstand high age. You do feel the age in this particular cask, but there's an impressive balance of glorious sherry and faded peat smoke. It is good to know there is still a huge stock of old whisky at Gordon & MacPhail. Enough to keep us busy for many years.
Banff 46 yo 1976 (50,4%, Gordon & MacPhail 'Recollection series #2' 2023, refill sherry butt #2887, 109 btl.)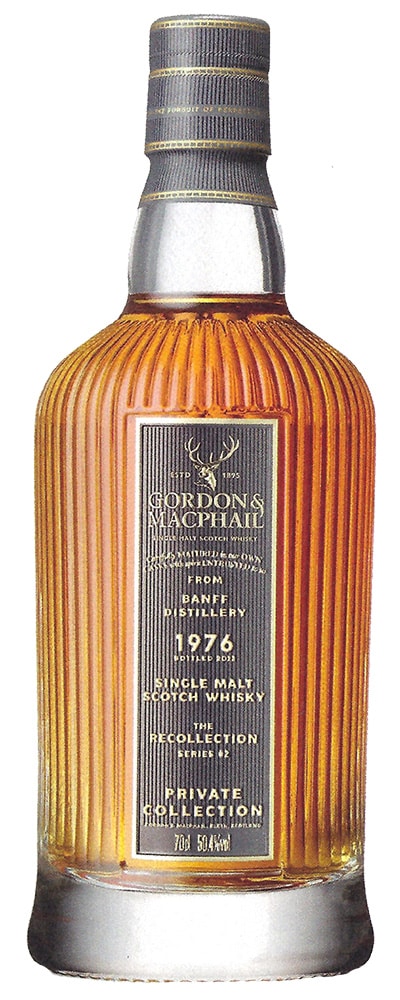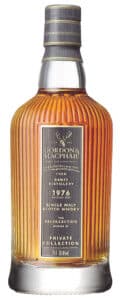 Nose: ah Banff, with its peculiar greasy and grassy profile. A metallic edge too, which slowly evolves towards subtle fruits. Apples and oranges but also hints of sour mango and plums. Then back to dusty notes, ink, pollen and old waxed paper. Also hints of an engine workshop, as well as cloves and a kind of medicinal chalk.
Mouth: oily, showing a quirky combination of dusty notes, blood oranges, ginger and something of potpourri. Love it. Grapefruits and tangy pepper, old metallic tools. Then some mango again, as well as toasted walnuts. A sour woody note and lightly bitter tea as well. Drops of mustard even. Nice hints of old oak in the end.
Finish: not too long, zesty and slightly grassy again. Never over-oaked or too dry though.
The best whisky ever? Let's be honest: no, it isn't. One of the most individual distilleries? Definitely. Banff always has this un-sexy edge and even at 46 years of age it shows this highly intruiging character. Hopefully not our last Banff. Score: 91/100
Glen Mhor 49 yo 1973 (47,2%, Gordon & MacPhail 'Recollection series #2' 2023, refill sherry hogshead #85026801, 170 btl.)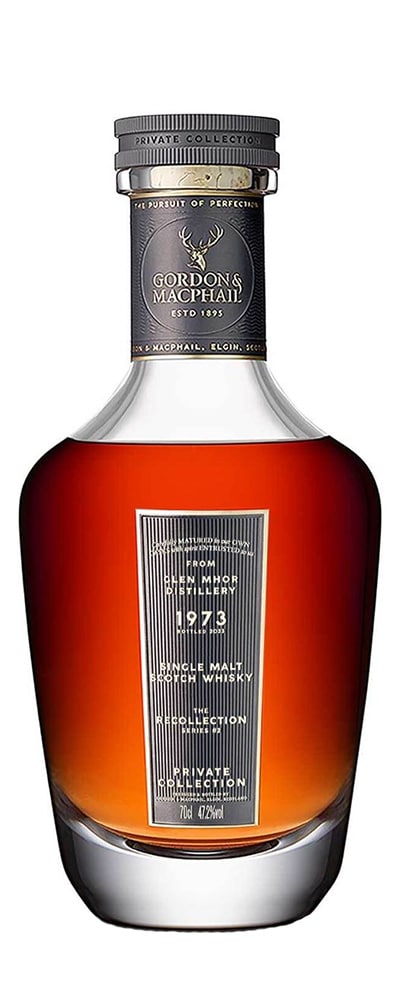 Nose: supreme sherry. Cherries, raspberries and other red fruits with raisins and fresh figs. Then cigar boxes, leather bounds books and gentle whiffs of furniture polish. Drops of soy sauce, thin mints and black pepper. Walnuts and almonds too. A proper sherry cask, perfectly balanced and elegant.

Mouth: slightly smoky now, think roasted nuts, oak char and hints of coffee beans. This evolves towards dark chocolate, black pepper and light meaty notes. Mid-palate a fresh wave of juicy red fruits appears, with a nice hint of sour cherries and bergamots. Hints of brown sugar and mentholated oak.
Finish: quite long, with more echoes of Jerez. Jaffa cakes, peppermint, old Oloroso and cante jondo in the distance.
Less intruiging than the Banff perhaps –  this shows a more timeless beauty and a kind of sherry influence that you'd expect from other distilleries with more fame. A great cask, even better than the one from last year. Score: 93/100