Destilerias Acha is located in Spanish Basque country. Founded in 1831 they have been producing pretty much every type of spirit. Rum, gin, vodka, as well as Spanish specialties like Karpy (orange liqueur), Pacharán (anise / sloe berry liqueur) and vermouth.
In 1926 the nephew of the founder Manuel Acha went to Scotland to study whisky production. This led to Haran Whiskey (which means valley in Basque). Together with DYC, Liber and Nomad, this is one of the few whisky options from Spain.
Now there's Haran 8 Year Old, 12 Year Old (including three versions finished in Sherry casks, Cider casks and Porto casks), 18 Year Old and a 21 Year Old. We're having the Haran 12 Year Old Port finish and the 18 Year Old. They use a combination of American oak, French oak and Iberian oak casks.
Most retailers seem to catalogue it as a single malt, but I doubt this is the case. The label mentions 100% malt but it could be partly sourced perhaps? Their website states selected malts of the highest quality but no mention of single malt either. Transparency please?
Haran 12 yo – Porto Cask finish (43%, OB 2022, 2643 btl.)
Nose: friendly vanilla, sweet lemon candy and orange peel aromas at first, with clean malty notes and a light hint of chocolate. In the background there seems to be a hint of new mezquite wood, as well as some aniseed and a subtle touch of new plastics. I'm not getting much Port here, I must confess.
Mouth: still a little phenolic somehow, although I'm quite sure it is unpeated. Yet there is this hint of plastic. Then oranges appear with a vague berry sweetness, but rather in the background and definitely unrecognizable as a Port cask. Then also mint and aniseed, as if a few drops of Pacharán were added. A clean profile, with balanced wood, but rather limited.
Finish: short, with bready notes and a vague hint of herbal candy.
I love the Basque country and I love the fact that there's a hint of their herbal aguardiente in this whiskey. That said, there are a few synthetic notes and the complexity is low. The Port cask investment didn't really pay off either. Available from The Whisky Exchange and Master of Malt for instance.
Haran 18 yo 'Original Small Batch Reserve' (45%, OB 2022, Batch #1, 2228 btl.)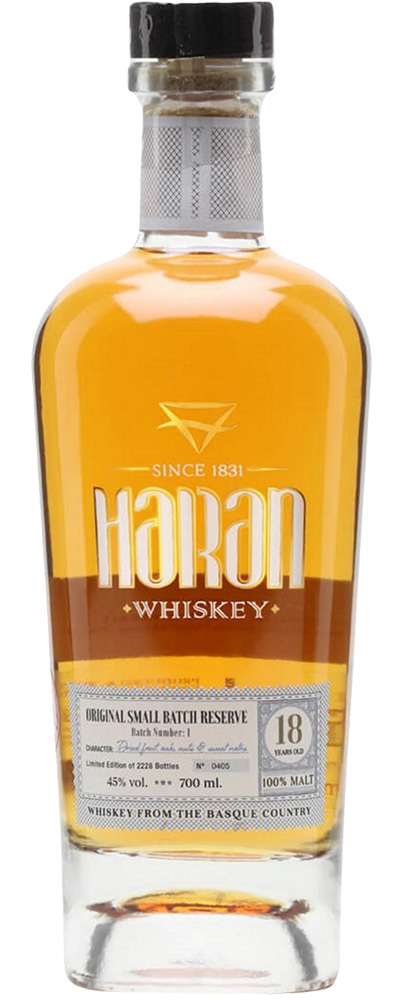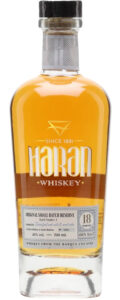 Nose: more fresh oak shavings in this one. Light orange aromas and more lemons, corn flakes and vanilla biscuits. Also nutty notes like almond and walnuts. Subtle minty notes. However less forthcoming than the 12 year old in my opinion.
Mouth: not bad. It has a nice mouthfeel with a bright, lemony profile. White pepper and hints of juniper come out, leading to young woody notes. A little leather and dark sweetness too. This could be a (younger) Scotch whisky, if not for the slightly synthetic touches, similar to the 12 Years.
Finish: short, on malt and spice. Even a lightly charred or smoky note in the aftertaste.
Not bad, easily drinkable and slightly more classic than its 12 Year Old brother. Therefore more enjoyable in my opinion. However I can easily think of better Scotch whiskies for the same price. Available from The Whisky Exchange and Master of Malt for instance. Score: 79/100